Help Loving Neighbor Community Services be great!
Think positive. Think Loving Neighbor!
Project Description
                        
Did you Know?
People with developmental disabilities are regularly dehumanized and devalued. Whenever a group of people is deemed less valuable or less important, they become vulnerable to abuse, neglect, discrimination and exploitation.  

People's perceptions of what it's like to live with a disability is one of the most foundational barriers. Stigma, stereotyping, discrimination and prejudice are some examples of attitudes that can make it difficult for someone with a disability to be able to participate in everyday life.

 
Here is where Loving Neighbor Community Services comes in.......
The State of Nebraska has a growing need for independent agency providers. Agencies are able to offer there participant habilitative and non-habilitative services tailored to their specific needs. The programs will range anywhere from going into a persons home to help with activities of daily living to offering day programming where a participant can come and learn life skills, interact with individuals, or go out inthe community and be productive. There will be other services offered that will be more hands on for an example shared living providing and that is where a participant will go and live with an independent contractor hired by the agency to provide and meet the participant in services needs 24 hours a day. The need for provider agencies are growing rapidly in the state of Nebraska as there are individuals waiting up to a year to qualify for the Medicaid waiver in order to get the services that Loving Neighbor Community Services will offer.
Solution
When at the time Loving Neighbor Community Services is granted certification by the State of Nebraska we will be able to operate as a full functioning provider agency.  That means that we will be able to accept referrals, hire employees, and provide services needed by our DD community. One more agency in Nebraska will aide in the reduction of waiting extended periods of time to get the services they need to live their lives as meaningful and normal as possible.
About the Founder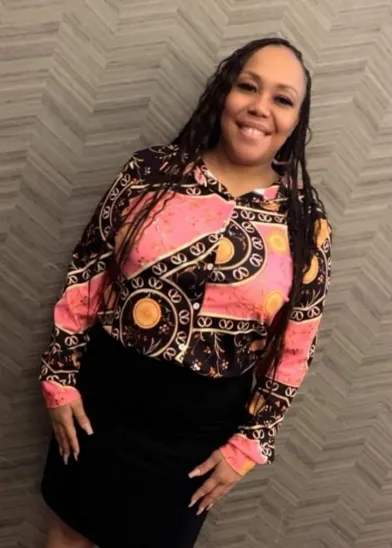 I was born on the North side of Omaha Nebraska. I have been in the medical field for over 20 years holding various positions doing this such as CNA, Phlebotomy, clinic work the list goes on and on. When I was a teenager my grandfather was diagnosed with dementia and eventually could not care for himself so at a the age of 17, I did not realize it then,  but I became a caregiver. When he passed away caregiving became a passion of mine.
The real motivation behind my wanting to become an agency provider is my 12 year old son. He is on the autism spectrum and would qualify for most of the services my agency would offer. So for him I will pride myself in providing the BEST quality care for individuals enrolled in my agency. Loving Neighbor Community Services will be the best agency in Omaha!
Conclusion
As of 11/17/2022 the State of Nebraska requires potential agency providers to have 10k in a business bank account to ensure readiness to operate according to the regulations required by the state. I am asking for donations to help me reach that 10k amount so that i can get my certification and operate my agency.  This business will be a dream come true for me so please help Loving Neighbor Community Services get its certification. 
Join me by backing this campaign.
Thank you!
Updates
The Campaign FAQs
Frequently Asked Questions:
What will the campaign funds be used for?
The campaign funds will help Loving Neighbor Community Services reciever their certification by the State of Nebraska. The state requires potential providers to have 10k in a business bank account before they will issue certification and allow your agency to operate. 

 

Monetary Contribution
$3,000

Monetary Contribution
$100

Amberley Cradit
11/01/2023
Monetary Contribution
$100

Monetary Contribution
$50
Monetary Contribution
4 Supporters
Select this reward
Rewards
Monetary Contribution
4 Supporters
Select this reward