Vows of Style Bridal Planning App
Vows of Style is an international agency advancing how brides engage with contemporary wedding brands.
Project Description
Introduction
Vows of Style is an online platform advancing how brides engage with their favorite bridal designers, wedding photographers, fashion stylists, and more. As the top online destination in the US, Vows of Style consists of a portfolio of emergent creators across beauty, fashion, fine art, travel, and experimental media.
Vows of Style will build a SaaS for brides-to-be, offering a personalized directory for finding, collecting, and organizing vendors. Brides complete a questionnaire to receive algorithm-generated recommendations (based on location, per-item budget, personal style, etc.), with the option to filter manually and search through the vendor directory. Scalability and automation are key objectives.
 
The Big Idea
Now more than ever, emerging creatives are breaking the norms of the bridal industry and curating nontraditional wedding day looks for the modern bride. Vows of Style's mission is to be the premier platform highlighting a collective of bridal tastemakers and innovators through a curated vendor index, digital magazine, and e-commerce shop. 
The bridal industry, in general, has seen explosive growth over the last year. Bridal brands have converted to unconventional and innovative methods to meet new demand and to attract newly engaged couples to compete in this $78 billion wedding market. Bridal-focused companies are marking a rising trend plus the economic power behind DTC brand focus and niching down to the specific needs of the contemporary bride.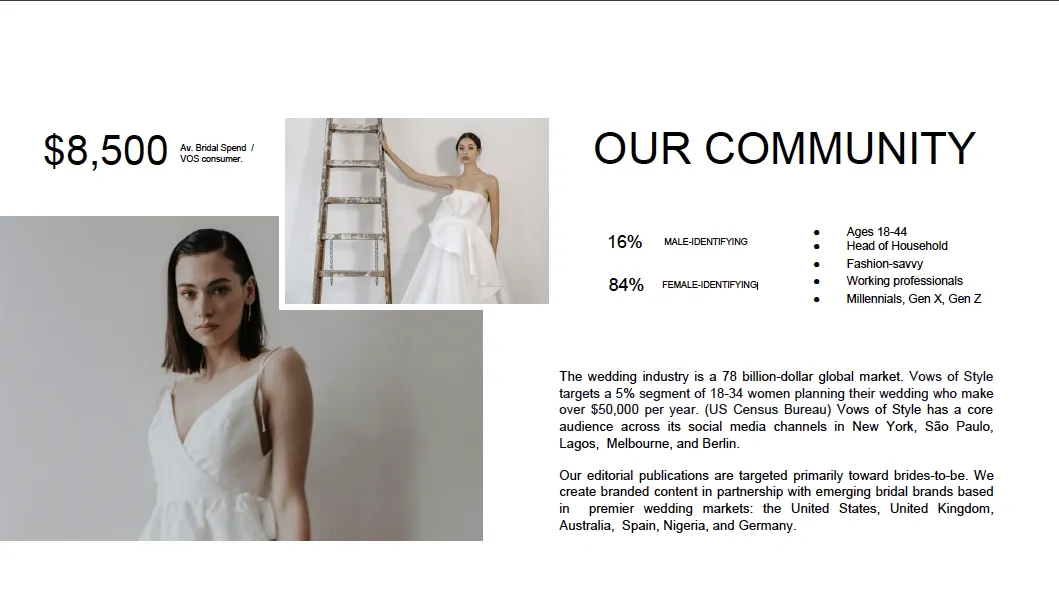 How it Works
Our new platform will make sourcing bridal professionals seamless with an intuitive algorithm and easy-to-use interface for the bride and bridal-focused brands.
Brides are matched with vendors in their desired zip code based on their style.
Brides can manually access a directory and filter beyond their matched vendors.
Brides can save vendors to collections, add notes, heart a collection/post, or "pin"
Brides can create mood boards and add media from anywhere.
Brides can add collaborators to their profile, with the ability to upgrade to add more collaborators.
Vendors can apply to be featured on the index with their VOS profile.

Vendors can access an intuitive tool to advertise and engage with the community.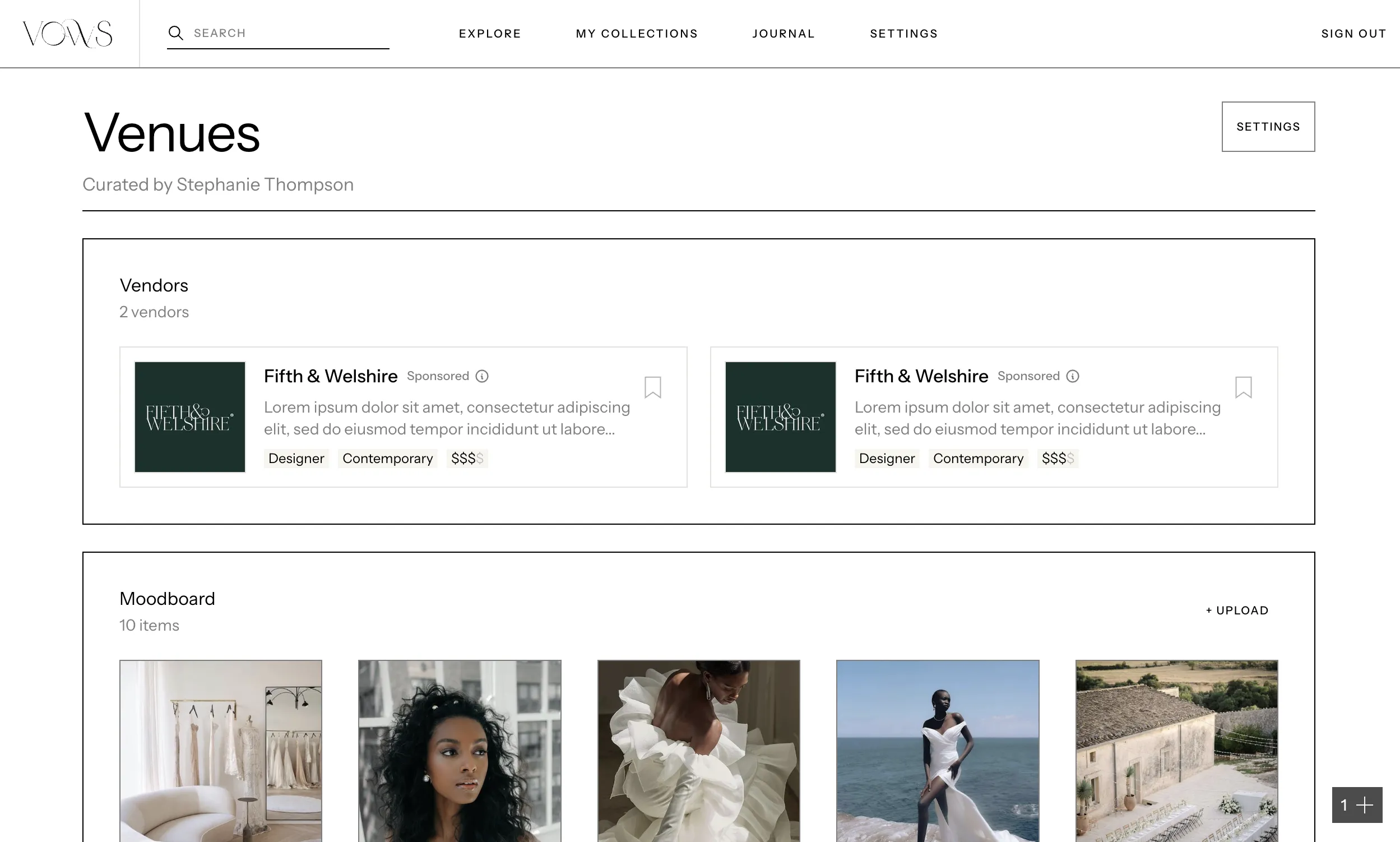 With crowdfunding, we intend to evolve our current website by creating an online platform transforming how this community locates and books their bridal professionals. We are developing an app that can fluidly incorporate data, art, and science. Along with building out the technology, we intend to invest in marketing this tool across Vows of Style's social media channels and media partners. This funding can provide us with the financial assistance needed to launch the beta version of the application. 
About The Founders
In 2015, the founders worked in the editorial and marketing departments at a national bridal publication for women of color. Their time there would eventually spark a shared passion for the bridal industry – and the brides and professionals within it. They both knew that departing from that employer didn't mean uprooting themselves from the industry they loved. We wanted to stay connected and make our mark. Still, with limited job opportunities within such a niche market, they ultimately decided to combine our editorial and marketing skillsets to create an online platform that introduces brides-to-be to lesser-known contemporary brands.
When the duo formed Vows of Style, the only goal was to create a space where bridal designers, stylists, and other creatives would be highlighted. An online space where brides-to-be could find inspiration and get a behind-the-scenes look into the fantastical industry. Over the years, they've had the privilege of cultivating relationships with industry thought leaders and innovators, sitting front row at Ines di Santo, Jenny Yoo, Amsale, and more, and most importantly, creating unforgettable moments for brides. As they forge ahead, the mission will remain true to our vision of making resources for bridal styling more accessible to everyone.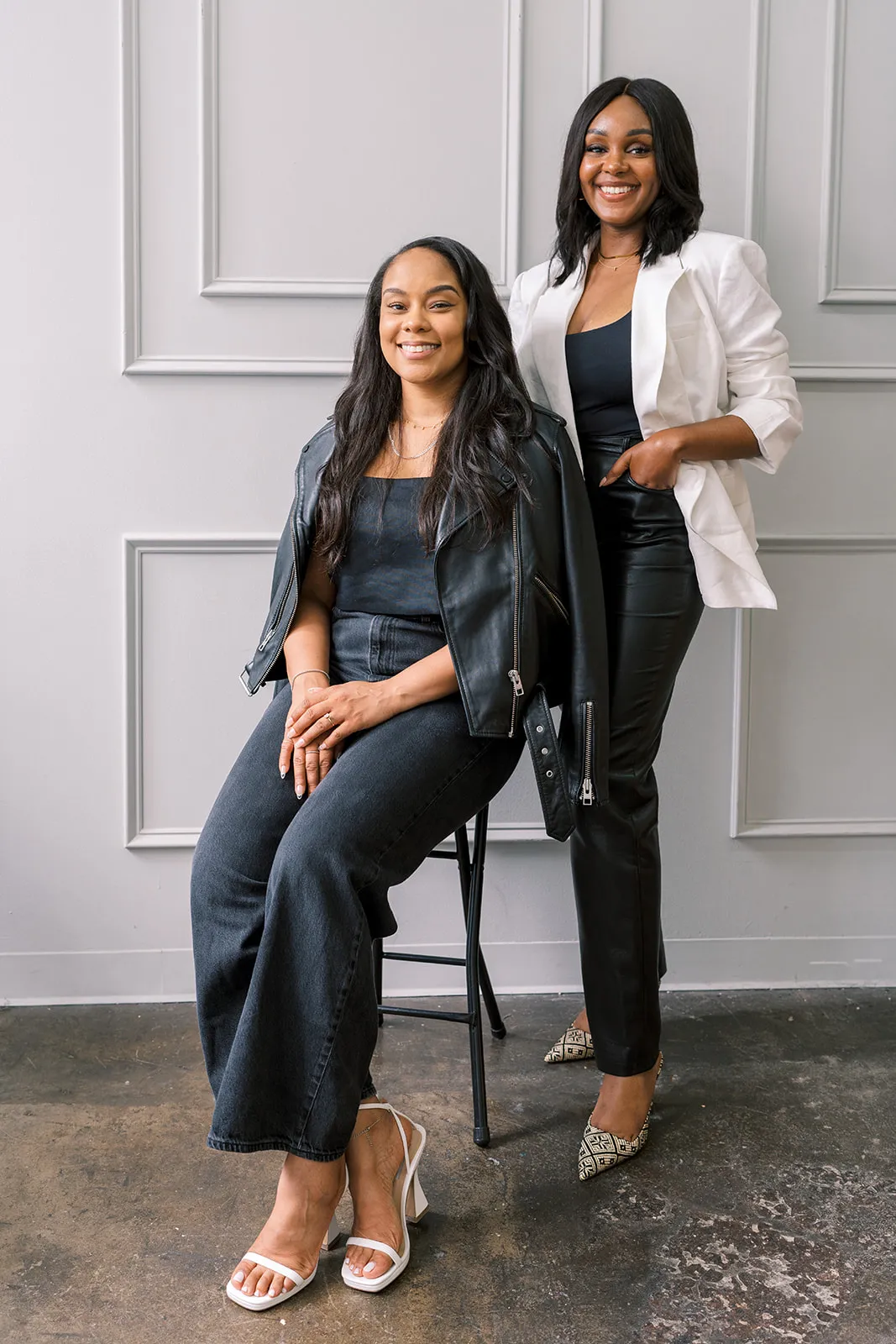 Tiffany Lewars – CEO and Co-Owner
Provides the overarching strategy for the firm as it pertains to financial stewardship, overarching direction, and public relations. Tiffany holds a Bachelor's degree from SUNY Cortland and a Master of Arts in Journalism from Syracuse University – her specialties concentrate on copywriting, brand communications, and editorial content direction.
Tiffany Howard – COO and Co-Owner
Creates synergy by connecting progressive brands with innovative tools and resources. Tiffany is a North Carolina A&T State University alumna and Maryland Institute College of Art graduate with a Master of Professional Studies in the Business of Art and Design. With over five years of creative direction experience matching her background in brand identity design and web development, she focuses on guiding the agency's special projects, daily operations, and the development of their editorial magazine.
 
Fund the Campaign
Tiffany L. and Tiffany H. became small business owners because of their entrepreneurial spirits and visionary mindsets! Thank you for joining the founder's community of supporters as Vows of Style brings this platform to life.
Updates
The Campaign FAQs
Please email [email protected] for more information. Thank you so much for your support!
Aside from contributing, please share this campaign with your network. Follow us @vowsofstyle as we bring this platform to market.

Monetary Contribution
$150

Monetary Contribution
$250

Monetary Contribution
$50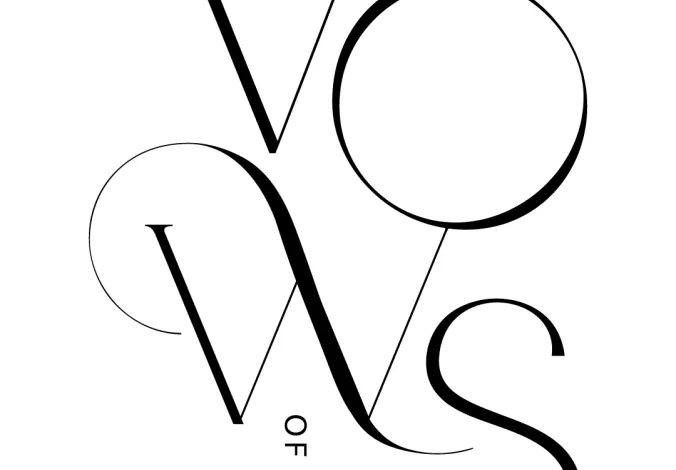 Monetary Contribution
Your support means the world to us.
3 Supporters
Select this reward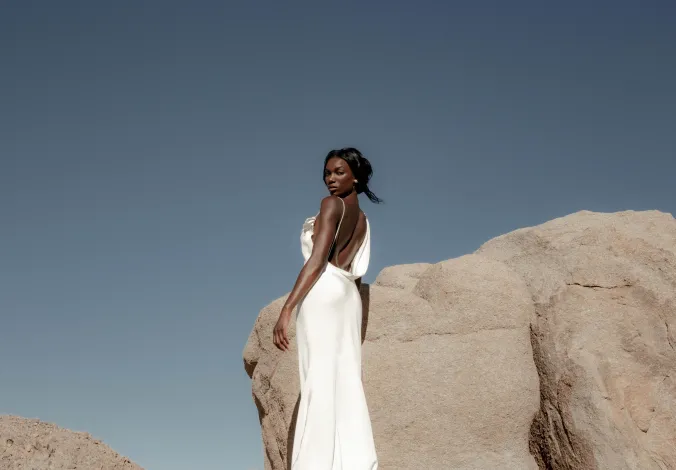 50.00 USD
Give the Gift of BRIDOL
Campaign Donors will receive early access to the platform's beta launch and custom BRIDOL merch.
50 Left
0 Supporters
Select this reward
Rewards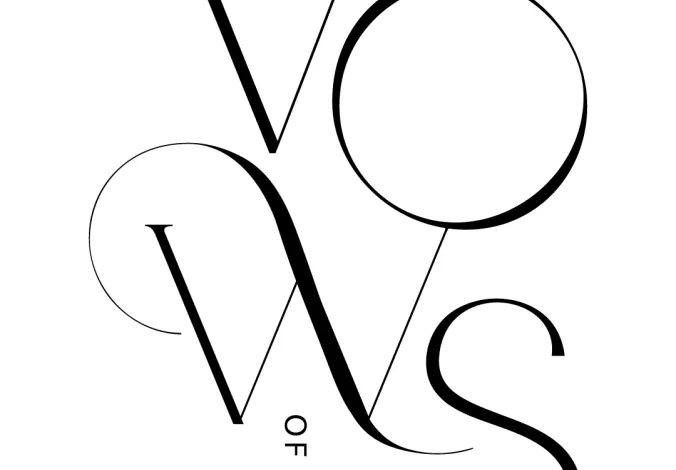 Monetary Contribution
Your support means the world to us.
3 Supporters
Select this reward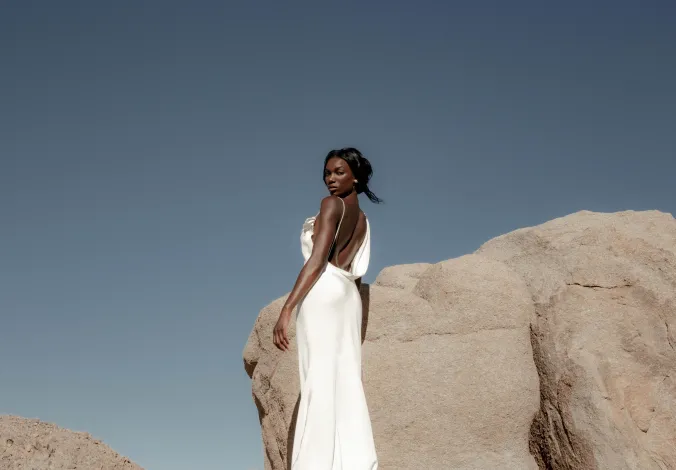 50.00 USD
Give the Gift of BRIDOL
Campaign Donors will receive early access to the platform's beta launch and custom BRIDOL merch.
50 Left
0 Supporters
Select this reward