A Tool To Solve The Livelihood Problem of Artisans
We are Building an Operating System to solve the Livelihood issues 5.4 Million Artisans of India.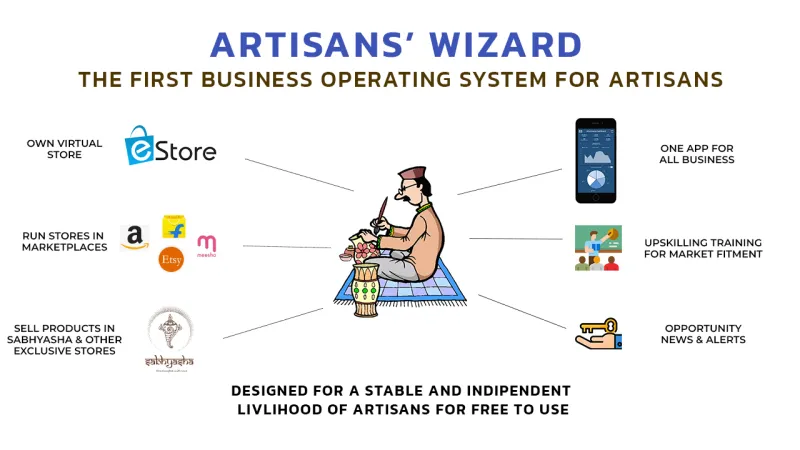 Project Description
What is the mission of your company or project?
We are Building an Operating System for Artisans Business to provide an Independent and Sustainable Livelihood for 5.4 Million Artisans of India.

This OS will be first of its kind tool to enable Artisans

 to sell in multiple marketplaces / Stores from one dashboard while managing own Virtual Store.

We are developing 360o business support for Artisans to thrive in the current market with support in both online and offline sales, across multiple marketplaces, their own online store and timely information on offline business opportunities.
Describe the problem you are solving.
In India Atisans' livelihood is Heavily dependent on
Govt.,

Trade Fairs,

Tourists

and Middleman
And the result is very Painful:
Low Sales, Low Income

No Regular Livelihood

No Access to consumer

And the 1000+ yr art is on the verge of dying
What is the market size/opportunity?
Total Available Market (TAM) (Global Handicrafts Market Size): $ 680 B

Serviceable Available Market (SAM) (Global Online Handicrafts) : $ 70 B

Serviceable Obtainable Market (SOM): $ 8 B
What is your company/product about and how does it solve the problem? 
Our Technology solution (OS) will provide the Artisans and Weavers:
Own Virtual Store: Build own store for free and start selling online with Payment Gateway and Shipping Services
Sales Platform: The Artisans and Weavers will be able to open and sell in other marketplaces like Amazon, Flipkart, Miso, Etsy and more from our system
Sabhyasha.com: Selected Premium Products from across India will be showcased with 3D/2D customization, Meta Store, Map View to the Global Buyers
Training & Development: We will provide different Training to improve the user experience, to meet the global demand and adaptation of technology to scale up and Govt. Policies, Schemes and Assistance etc.
News & Events: News updates about the industry and participation opportunity in different fairs and Exhibitions.
Why are you seeking funding and how will you spend the funding?
The development of this tool is requiring lot of high-end technology professionals, UI & UX developers, Software Testing Professionals and it requires lot of integration with different marketplaces and ecommerce technologies. 
The funds will be primarily be used for technology development and application testing with different artisans across India so it is used by artisans from all parts of India and out side.
We are 2 founders of this company, we have a team of employees and we have collaborated with 200+ artisans from three Indian states Odisha, Rajasthan and Uttarakhand.
Updates
The Campaign FAQs
Frequently Asked Questions:
Please, replace this example content
Monetary Contribution
0 Supporters
Select this reward
Rewards
Monetary Contribution
0 Supporters
Select this reward