Teaching the next generation the art of sewing!
My simple idea of passing the love of sewing to the next generation has outgrown my home and I need to open a brick-and-mortar location.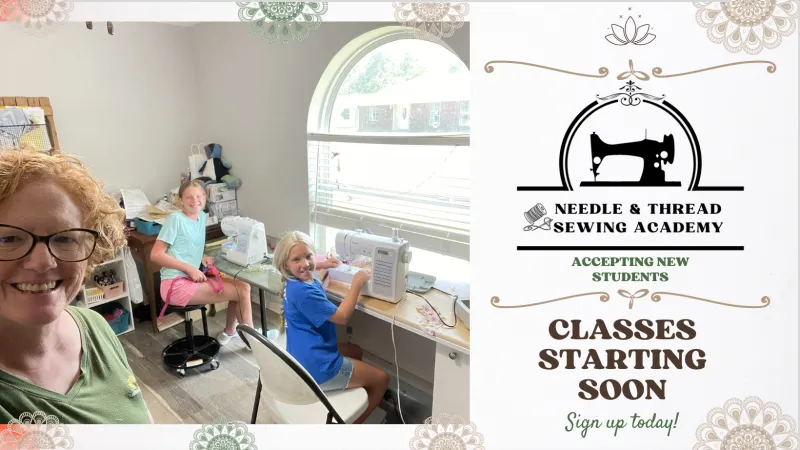 Project Description
Needle & Thread Sewing Academy wasn't my dream at first, it was a way to pay bills during the Covid Pandemic. My plan was to return to the workforce after the pandemic was over, however, a lingering cough that was diagnosed with a nerve disorder in my throat detoured my life. 
I have sewn since I was a teenager, learning from the generation of women before me. I loved making my children's clothes, until my daughter stated one day that she no longer wanted to wear everything that matched her brother. As life took over, I worked as an Administrative Assistant/Bookkeeper, gained a Business Management Degree minoring in Entrepreneurship, and taught Sunday School and Children's Church. 
After the pandemic and the detour life sent me on my husband and I had long discussions and prayed for guidance, we decided that I would do alterations full time. I then took my passion for creating and my knowledge of sewing combined with my love of teaching and decided to pass a dying art on to the next generation. Sewing not only shows students how to make things, it provides the students with math skills, 
organization, and patience. 
I opened my home to the community and began teaching sewing lessons. My goal was to teach children only, but I had a few adults interested as well. My first group of students consisted of three girls and grew into a regular group of five to seven, plus a homeschool group. We held a student fashion show in June of this year (2023) where the students showcased their creations on the runway. The fashion show was a 
huge success and we have already begun planning for 2024.
This summer we decided to do a few weeklong summer camp sessions. The summer camps were maxed out each week and following camp we registered four new students for the fall semester. I have most of 
my students returning and new students that have registered. My simple idea of passing the love of sewing to the next generation has grown from a few students to over a dozen students. I believe if I had the space, I could easily have 20-25 students. 
My new dream is to pass on my passion for sewing to the next generation. 
With my sewing skills I not only teach but provide alterations and design services to the community. This is a much-needed service for our parish, especially the West Bank side of St. Charles Parish. I believe that with a brick-and-mortar location my customer base will greatly expand. 
Updates
The Campaign FAQs
Frequently Asked Questions:
Please, replace this example content
Monetary Contribution
0 Supporters
Select this reward
Rewards
Monetary Contribution
0 Supporters
Select this reward