Sustainably Made In Hawaii With Aloha
Do Good Look Good Feel Good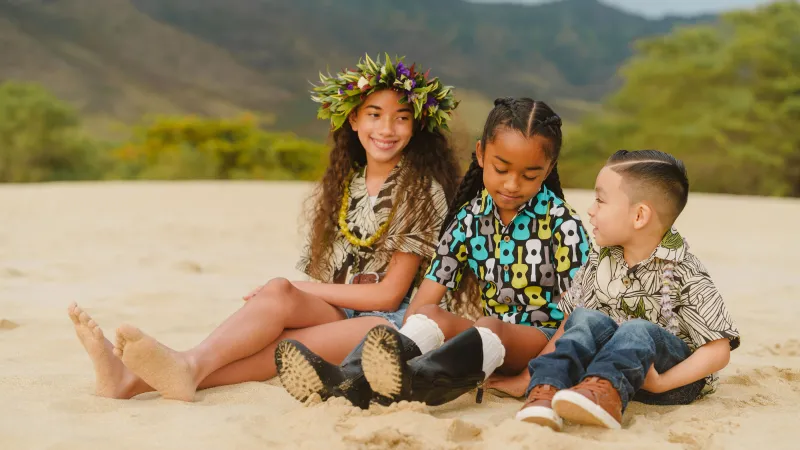 Project Description

Our Mission: We are in business to help save our planet for all children and have fun and make friends while doing so. We are here to educate and to learn and grow sustainably and justly. We do all things with purpose and dignity for all involved.
What Problem Are We Solving?
We are addressing the problems of fast fashion & overconsumption. We are addressing sustainability within the fashion industry. 
What is the market size/opportunity?
The global ethical fashion market reached a value of nearly $6,349.9 million in 2020, having increased at a compound annual growth rate (CAGR) of 6.1% since 2015. The market is expected to grow from $6,349.9 million in 2020 to $10,109.9 million in 2025 at a compound annual growth rate (CAGR) of 9.7%.
What is your company/product about and how does it solve the problem? 
Fashion and sustainability can sometimes contradict this is why it is essential for us to bring the two together...
 "It's essential because sustainability paired with transparency I'll just say it makes money and it's just good business. The two major reasons why it is essential to bring the two together for our brands is the future and globalization. 
In regards to Coradorables & Cora Spearman Hawaii, a couple of examples come to mind...

1.) Our Japanese Market  –our Japanese clients like Hankyu Department Stores love our stance on sustainability. Having lived and studied in Japan, it has always been very apparent that innovation and nature are at the forefront of many aspects of Japanese culture. Our brands have successfully penetrated the Japanese market due to our storytelling and stance on sustainability. Another example is GEN Z..

2.) Gen Z – they come to our website for our year-round sustainable resort wear to look good while doing good, and I'd venture to say that that's just good business. 

 

How do you navigate production more sustainably?
"The key is to be mission-focused in the production workflow."
Our Mission provides Clarity

Balance (juggling technical, creative, and environmental factors is a challenge). 

You need to be able to "see" your resources & talent clearly, and that means SIMPLIFYING AND ELIMINATING what's not needed. Anything that is not mission-critical must be deemphasized.

Having a well-defined mission is one that doesn't need to be sold. We do not sell sustainability because those who invest in it are already sold on the idea, those who aren't yet need to simply be educated. Working with The NRF we are hoping to tackle that issue by potentially implementing clear labeling in regards to sustainability. 

1.) We don't need the profit margin our competitors get by using factories in China that harm the environment. We manufacture here in Hawaii. 

2.) I believe social justice starts at home. We want our dollars to circulate in the local Hawaii economy. It feels great to know that our product is designed, sourced, & manufactured in partnership with over ten other family-owned businesses right here in Hawaii.

3.) We work with manufacturers who ensure good working conditions, pay a living wage, and use no child/slave labor • We are taking a sustainable approach to manufacturing, shifting to biodegradable fabrics in an effort to be mindful of how the manufacturing process impacts our planet • we have as minimal of a carbon footprint as possible by producing close to home in Hawaii • we avoid trends. Our prints and styles are designed with lasting style in mind, so that clothes can be worn season after season. We do not retire our silhouettes or prints. From the delivery vehicles being EV's,the lighting in our showrooms, to solar panels in our warehouses we are thinking about each part of the process getting as close to zero waste as possible. 

 

Do sustainability-based decisions slow down your process?

 "Not for us."

Being smaller we have the advantage of being more nimble to implement changes  & sustainable practices quickly.

Some significant changes take time, but your mission prepares you for that, and you hunker down and get it done because when you have a clear mission you have a road map and know where you are going….thanks to your clear mission statement.

We are currently working on a few circular fashion programs and partnerships that we will update on our website

soon at 

coradorables.com

.
Why are you seeking funding, and how will you spend the budget?
The funding will help our brand secure B Corp certification and advance the efforts in creating the prototype for the educational sustainable fashion gaming platform and wearable tech.
Our team consists of husband and wife duo Cora & Chris Chang and their daughters and future Co-CEO's Belle & Zoe. We also have a host of international interns and excellent local subcontractors that are also small family-owned and women-led businesses. 
WE SEND A HUGE MAHALO (thank you in Hawaiian) to all of our awesome backers. When you invest in Coradorables, you are helping to support over ten local, family-owned (majority women-led) businesses in Hawaii. Welcome to our Coradorables Ohana. Ohana in Hawaiian means family, and when you are family, no one gets left behind. 
Updates
The Campaign FAQs
Frequently Asked Questions:
Please, replace this example content

Monetary Contribution
$20

Monetary Contribution
$20

Luanne Goodness-Ono
05/11/2022
Monetary Contribution
$50

Monetary Contribution
$20

Monetary Contribution
$10

Lith Tchantchou
05/10/2022
Monetary Contribution
$50

Tracy LJ Lawson
05/10/2022
Monetary Contribution
$100

Monetary Contribution
$10
Monetary Contribution
21 Supporters
Select this reward
Rewards
Monetary Contribution
21 Supporters
Select this reward