Southeastern MedTech Startup Seeks Funding
Black Female Entrepreneur Looks To Accelerate Invention
Project Description

My Mission: "I am looking for someone who is willing to bet on me AND my vision" 

My name is Kelly Wood, CEO/Founder of Novella Rotational USA in Charleston, SC. I am passionate about injury prevention, rehabilitation, and improving the quality of life for so many. Ready to move this invention from Alpha testing to Beta testing, but I need your help. Will you be apart of this journey with me? 
 
What is my product: The K1 Kinector, an Isokinetic Rotational Rehabilitation Device.  
USPTO Patent Issued May 17th, 2022
See the full patent here: https://patents.google.com/patent/US11331536B1/en?oq=11331536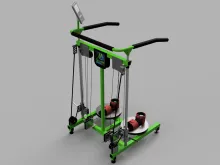 What is my Solution:  I am offering a new solution that could potentially disrupt the current rehabilitation space by offering a quicker return to play for the injured athlete or anyone who is looking to relieve pain in the hip, knee ankle, and core. #keepthemhealthy
What is the novelty of the solution: 
Our device the K1 Kinector, a rotational rehabilitation device retrains the central nervous system by incorporating resistance with weights to increase mobility and build strength in the hip knee, ankle, and core, 
What is our niche? 

ACL injury repair, ACL injury prevention,  Pre-rehabilitation
What is our Target Market?
B2B, Professional Sports Teams, College/High School sports teams, Physical Therapy Clinics, and Chiropractors.
What is our Ask?
Seeking 35,000K in crowdfunding donations to fund the development of our patented body sensor system from square one. 
Next Steps after funding?

The device has already passed its alpha testing of the rotational validation stage. Our next step is to develop and install our patented Body Sensor System on the device. From there we will move into Beta testing, validating the combination of rotational therapy and our sensor system ending with a soft launch and finally, clinical trials.


FOUNDER/CEO
KELLY WOOD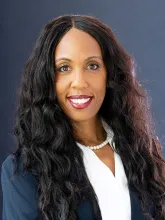 What started as a way to improve the quality of life for my 87-year-old father has evolved into a true mission. My determination and commitment to advancing the science behind rotational therapy come from the personal experience of seeing my elderly father obtain more mobility. I knew it was time to bring a new form of rehabilitation to the market that would improve the quality of life for so many. 
My father was my first customer, and through him, we discovered that the science behind rotational therapy was more than conjecture; it was real. The magic began to happen as my father started showing significant improvements in both stamina and mobility. I never forgot the look on his face when he started noticing improvements. At that moment, I knew rotational therapy would be in demand to help as many people as possible.  Recently, my father and biggest supporter passed away.  My grief has been turned into determination with a promise to ensure this business comes to fruition and reaches its full potential. 
Women in the manufacturing business understand that this male-dominated industry is changing. As a serial entrepreneur with 20+ years of experience, I am on my journey to becoming a female leader in manufacturing, I realized the road wouldn't be easy but as a serial entrepreneur, I knew I could handle whatever came my way. Before Novella Rotational USA, I was the co-founder of a similar company using rotational therapy science to improve lives. As a true believer in rotational therapy, I watched the company veer far away from the original goal of helping people; and I knew there was a better way. As a mompreneur of four beautiful children, my children and relatives motivated me to push onward. 

FUNDING NEEDED FOR THE DEVELOPMENT
OF OUR PATENTED SENSOR SYSTEM

We realize this type of early detection, also known as pre-rehabilitation, could potentially change the world of sports by offering the ability to identify the risk of injury and potentially reduce many of the unsuspecting career-ending injuries we are seeing today in the sports world. We are certain the timing could not be any more perfect to introduce our device into the market. All funds received will offer financial assistance in the development of our patent-pending body sensor system.
We are creating our own sensor system, in order to ensure accuracy being that the technology of rotational therapy is currently not on the market. Our patented sensor system will work in conjunction with our rotational device to assess muscle strength, and identify muscle compensations in the lower kinetic chain of the hip, knee, ankle, and core by offering quantitative measurements to the user. The diagrams below are provided by Chris Kocks of Robo Solutions.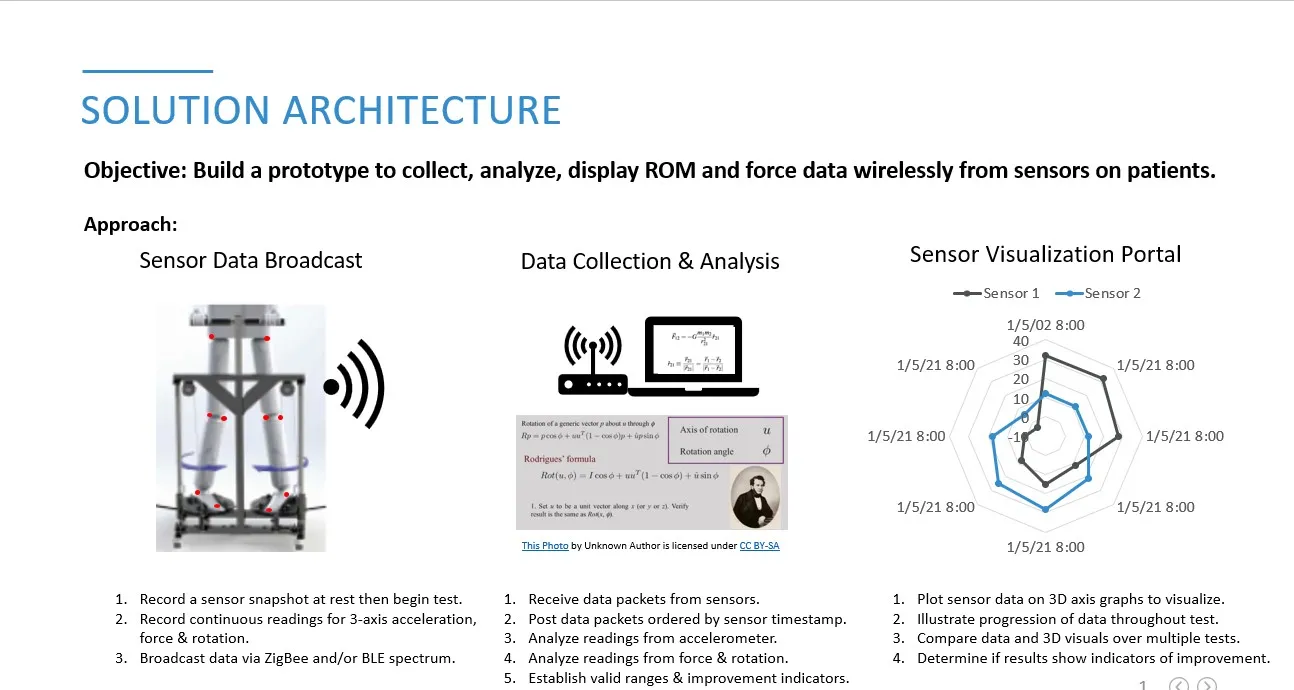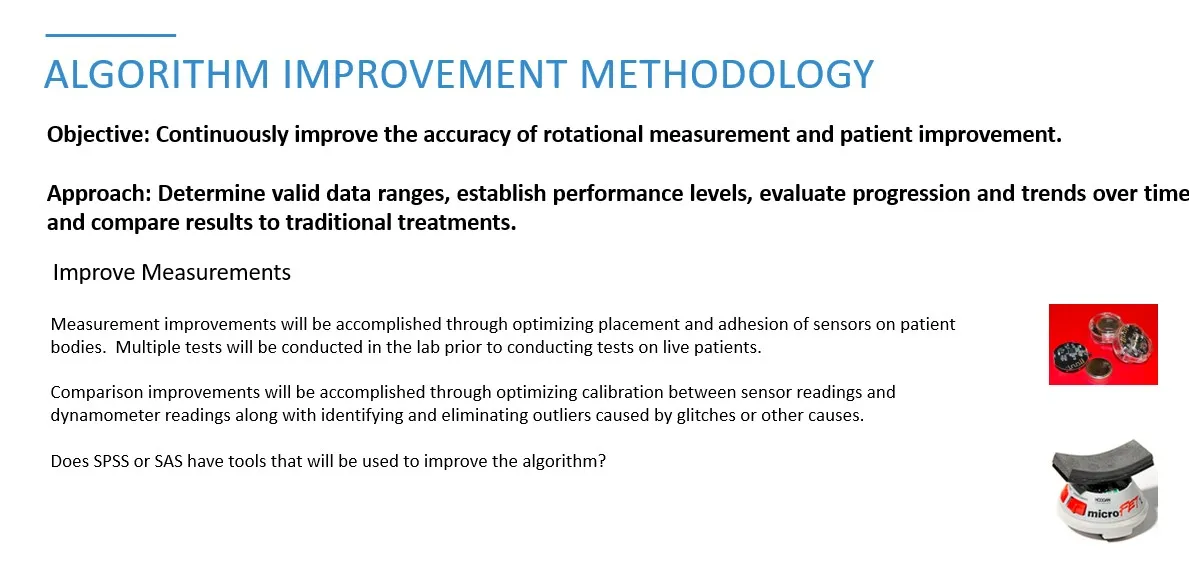 ADDITIONAL TEAM MEMBERS/PROUD COLLABORATIONS

Chris Kocks, IOT Engineer of Robo Solutions; Atlanta GA
Aaron Rhodes Mechanical Engineer of Rivet3DLLC, Corvallis MT 
https://www.rivet3d.com/portfolio
 
Dr. Chuck Morris, CEO of Fulcrum Performance Labs
https://madeinthelab.us/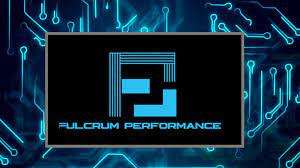 A LETTER IN SUPPORT OF ROTATIONAL TRAINING
Hello Kelly,
I hope this letter will help you and clarify my support of rotational training. More specifically why it is imperative to consider rotational training as a form of rehabilitation for an ACL Injury /ACL Prevention. Rotational forces are important and underpin much of the discussion around the ACL, its role in one, knee stability, two, common mechanism of ACL injury, and three, the rehab process once injured. Knee Stability, the Knee is the joint between the femur and the tib/fib complex. In between, being held together by a few main ligaments, one being the topic of popular debate and discussion, the ACL. The ACL provides stability in preventing anterior translation & external rotation of the tib/fib complex about the femur. Popular tests, such as the Lachmans and Pivot-shift, exemplify this, as these are the movements tested, which are unstable/loose when the ACL is ruptured. The stability provided by the ACL is at its highest when we see the external rotation of the femur respective to the internal rotation of the tib/fib complex. Think, foot/toes pointing straight/inward and knee cap points slightly outward. When the opposite occurs, toes out and internal rotations of the femur, think duck feet and knee collapsing inwards (knee valgus) the ACL is slackened and we see a high rate of rupture and injury, as the stability of the knee joint is compromised and the passive ACL is exposed to higher forces, often leading to injury or rupture. Training rotation is important in the rehab process, as this movement is often overlooked, as most consider the Quads and Hamstrings in the sagittal plane to be the most important. I would argue they all are equally important to consider. If a rotational force is the main culprit for ACL injuries and rupture, learning to control the rotational forces is important to get back to 100% and prevent future ACL injuries. An astounding number of athletes and average joes tear their ACL, and have it reconstructed, only to re-tear it again within a year or two. Considering rotation in the rehab process without a doubt is important to get successful outcomes and prevent further injury. Finding ways to overload these movements and force rotational control is important and a staple in the late stages of ACL rehab and return to sport. ACL injuries are very common and rates of reconstructions are growing rapidly. Understanding how rotational forces are involved can help to reduce this dramatic impact on athletes' lives and the healthcare system. Finding ways to train rotational control can help improve knee stability, prevent ACL injury, and if injured, rehab correctly to prevent re-injury. As a PT who has helped many athletes through this challenging process, better ways to train rotation can only positively impact these outcomes and the lives of many athletes in the future.
Dalton Urrutia
Performance Physical Therapist
Owner, Grapplers Performance


Owner of Grapplersperformance
"IT TAKES A VILLAGE"
Unable to donate? I am open to receiving help in many different forms, such as mentorship and friendships, and monetary contributions are much appreciated. 
 We all know "it takes a village." With that said...Sharing is caring. If you know of a group of women who would love to read about my story, please copy the link and share it within your social media platforms in an effort to help spread this wonderful message. Drop me a message, even if it is just to say Hello!
#alphatobetatestingjourney
Thank you. 
Peace and Blessings
-Kelly.

Updates
The Campaign FAQs
Frequently Asked Questions:
1. What will the funds be used for?
With your donation, we can financially cover the cost to develop our patented body sensor system. 
2. What other forms of funding have we applied for?
Novella Rotational USA has applied for assistance with NSF/SBIR grant program. Unfortunately we have been denied twice. 
Monetary Contribution
1 Supporter
Select this reward
Rewards
Monetary Contribution
1 Supporter
Select this reward