RaveVenn - Don't let democracy die on your watch!
RaveVenn, a bipartisan social media app that empowers young adults to make better informed voting decisions that will preserve our democracy
Project Description
RaveVenn's mission is to promote the awareness and involvement of US registered voters to our waning democracy and democratic institutions.  Due to the elimination of the FCC's Fairness Doctrine in 1987 by President Ronald Reagan, news TV media are not required to deliver content of public importance from multiple different perspectives.  Losing the FCC's Fairness Doctrine leaves citizens living and thinking in an echo chamber, while some media organizations promote bias narratives and run unchecked.  RaveVenn's goal is to bring diverse perspectives to issues of public importance while addressing the top researched concerns as to why registered voters gave for not voting in the 2020 Presidential election.  There were 77 million people who did not vote in the 2020 elections.  I am specifically targeting those aged 18-29.  However, those aged between 18-49 get a large portion of their political news information online and on social media sites.  Currently, I am in "Build" @ 1871, the largest tech incubator/think tank in Chicago.  I need financial help to get the initial version of my app built and tested so that I can launch this app by Q2 2024.  While I am a solo CEO/Founder, I am fully committed to building my app and getting it launched well before the 2024 election, where democracy as a governance is on the ballot. 
Thank you so much to all who donate!  I appreciate you and your help as well as your awareness to this issue of tremendous importance.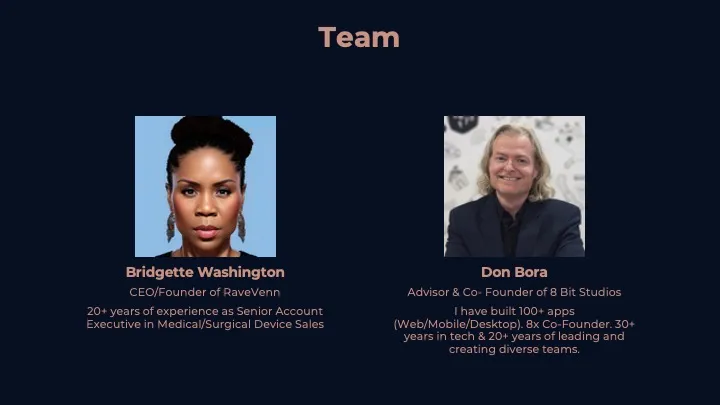 Updates
The Campaign FAQs
Frequently Asked Questions:
Do I have an investor to create the entire comprehensive app? No not yet, but as a professional Sales Executive I am in full selling mode.  I have also been accepted to an accelerator that starts in February that would also help me find funding with its investors, if I haven't found it before.  My plan is to find it before, of course.  
Do I have a Co-Founder?  Not yet.  I haven't had the time to dedicate to find the right person.  It is a serious relationship that requires time to develop.  However, I am absolutely open to having a partner in this process, however they would need to be as passionate about the problem as I am and malleable to work with.  
Do I have someone already lined up to build the first version of my app?  Yes....he's helping me already as I learn how to build it on Flutterflow.io.  However, he could do it much faster than I, since he is a Full Stack Developer.  He's a Founder at 1871 as well.  
Have I created my prototype yet? Yes! That is what I am slowly building on FlutterFlow.io.  However, since time is of the essence, I need to be able to move much faster than I am.  The only way I can do that is to pay someone to build the first version as well as to begin the proven tested version of my app.  
Why am I not showing the wireframes or prototype?  Per my advisor, Don Bora, that would not be wise.  

Latienda Williams
11/28/2023
Monetary Contribution
$100
Monetary Contribution
2 Supporters
Select this reward
Logo T shirts or coffee mugs or bbcaps
I will be quite happy to give away rewards!  My rewards will be either a coffee mug or a tshirt with my logo or a baseball cap
100 Left
0 Supporters
Select this reward
Rewards
Monetary Contribution
2 Supporters
Select this reward
Logo T shirts or coffee mugs or bbcaps
I will be quite happy to give away rewards!  My rewards will be either a coffee mug or a tshirt with my logo or a baseball cap
100 Left
0 Supporters
Select this reward