Print Everyday Birth Magazine!
There are 360,000 births in a day. And our stories matter. Join us to get them in mailboxes, waiting rooms, and communal spaces all over.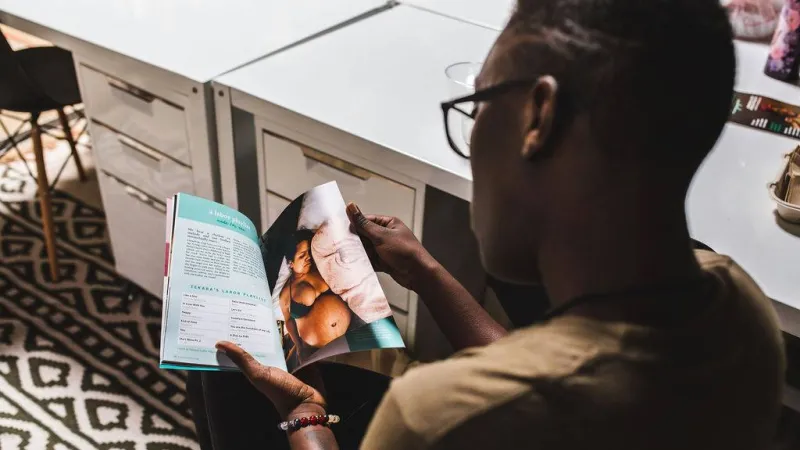 Project Description
MINI-UPDATE: All support that exceeds our $2500 goal will go toward the Fall/Winter 2020 Issue. We hope you will also consider how you can support local Black birth workers providing direct services, wherever you are. Thank you for all of your contributions + sharing! 
Everyday Birth Magazine is a biannual print and digital magazine for parents, showcasing real-life hospital, birth center, and home birth stories as well as educational content written by professionals. We are funded by subscribers and advertisers and have the same commitment to centering historically and popularly underrepresented people as our parent organization, The Educated Birth.
In April 2020, we donated our Spring/Summer 2020 print funds to kick-start a fundraiser to send 100 PPE kits to Black midwives across the U.S. with the National Black Midwives Alliance. In the last 7 days, that fundraiser reached and then exceeded it's $5000 goal! Many midwives who've applied have already received their PPE, and it continues to go out now as well.
We believe that communities thrive when the members within them redistribute in times of need. That is why (after consulting with our subscribers) we decided that redistributing our funds to support Black midwives during COVID-19 would be more in-tune with who we are than getting our magazine printed according to schedule.
Combined with our parent org, The Educated Birth, we reach over 12K followers on Instagram. In the past two years, we've distributed over 4K+ magazines to subscribers, conferences and events, including:
Nurture's Birth and Baby Fair in Richmond, VA
Doula Training International's: Born Into This Conference in Austin, TX
Evidence Based Birth's Conference in Lexington, KY
Beautiful Midwifery Conference in Nashville, TN
Ancient Song Doula Training's: Decolonize Birth Conference in Brooklyn, NY
Want to see what's inside Everyday Birth Magazine? Just visit our home page! The digital editions of our first four issues are available for free and beautifully accessible to view on computers, laptops, tablets, and mobile screens.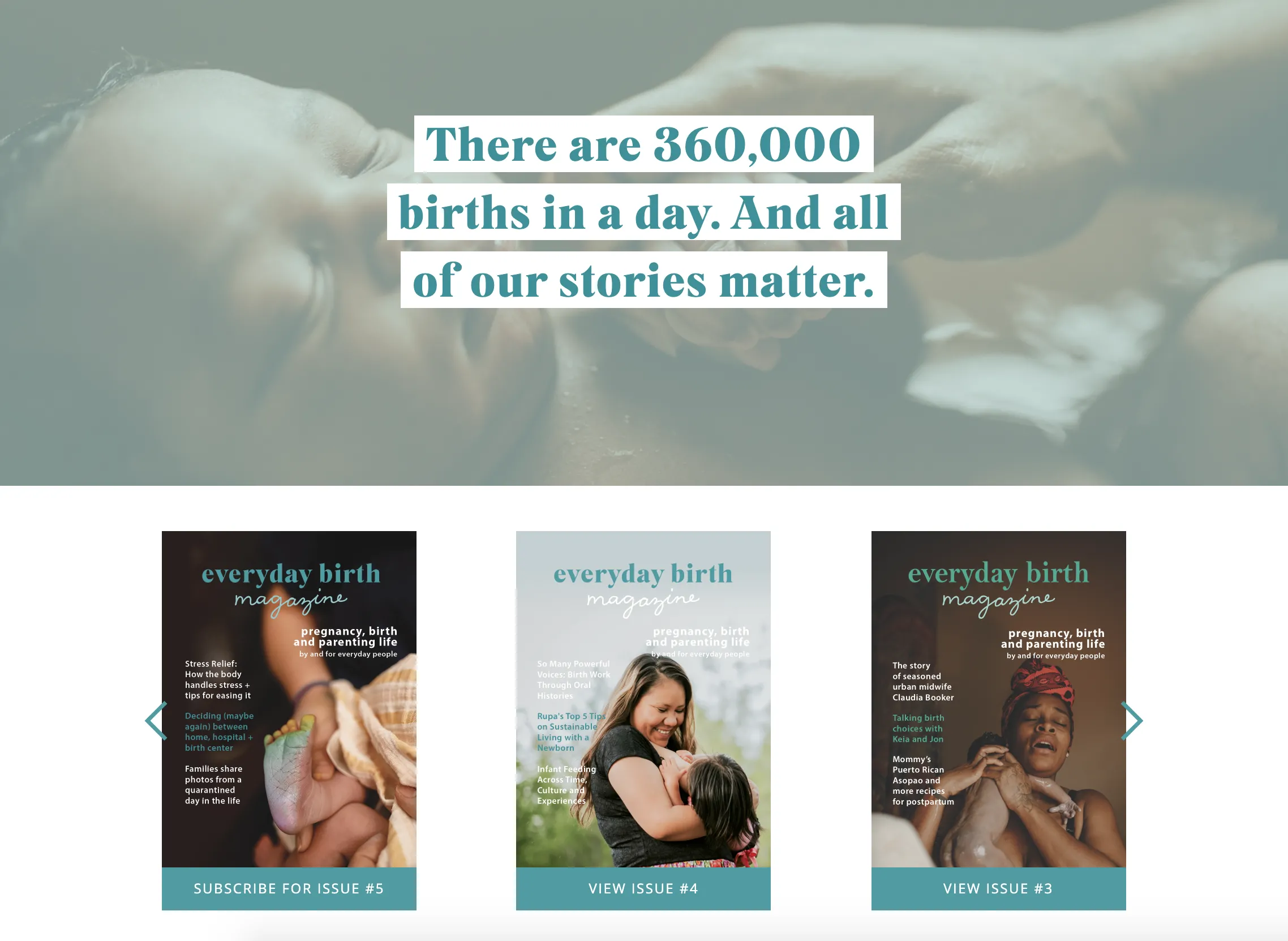 Funds from this campaign will go toward printing and shipping our Spring/Summer 2020 issue. If we pass our goal of $2500, funds may go towards our Fall/Winter 2020 issue.
In addition to the many wonderful photographers and writers who join us as contributors, and the founding team members who helped bring this publication to first light — our team currently consists of Founder and Executive Editor, Cheyenne Varner, and Associate Editor Porsha Eden. Check out our about page for more.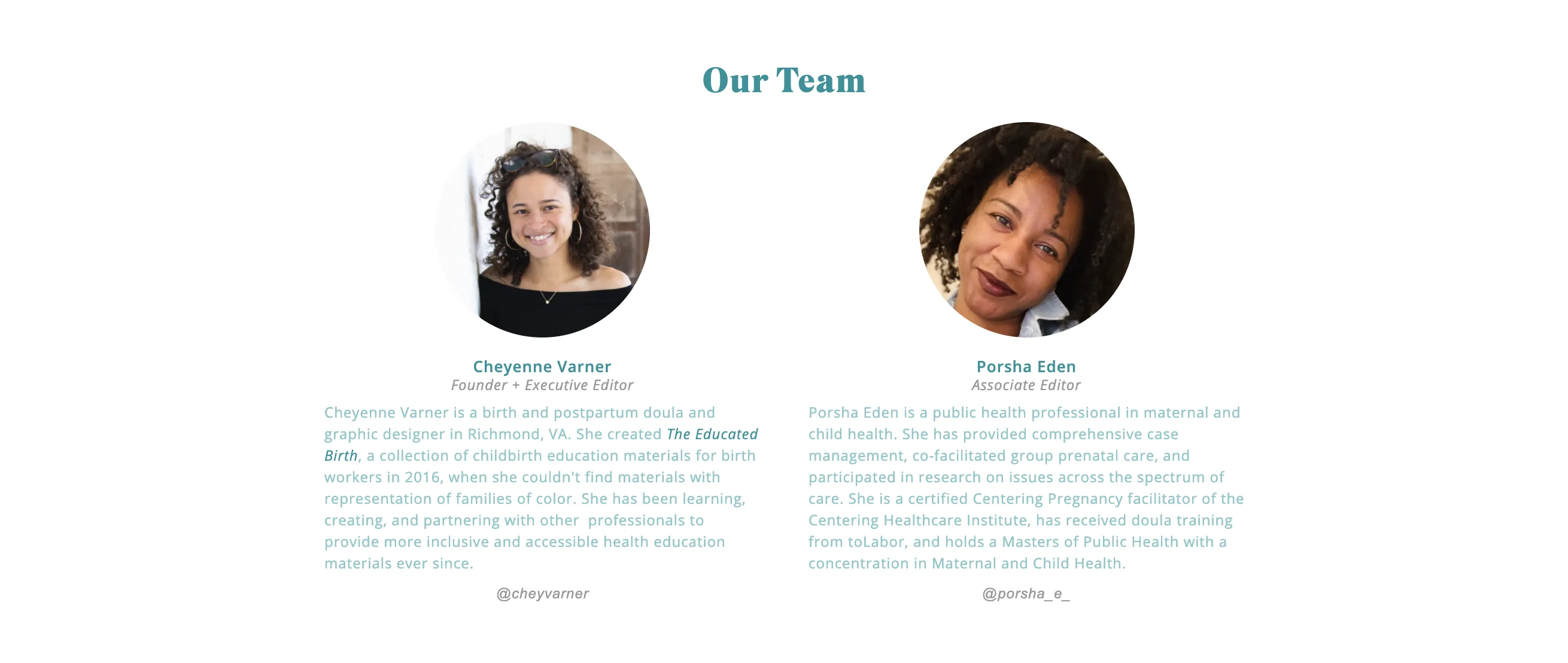 Thank you, thank you, thank you — for your time, consideration — and if you're able — contribution!!
With gratitude and love,
Cheyenne + Porsha
The Campaign FAQs
Frequently Asked Questions:
How long has Everyday Birth Magazine been around?
Since 2018!
What's Everyday Birth Magazine's birth story?
Everyday Birth Magazine began — a seed of an idea — when founder and editor Cheyenne Varner sat in her OB/GYN office waiting for an appointment, early Fall of 2017. Cheyenne had been a doula for a little over a year at that point and had already started The Educated Birth, a collection of inclusive birth education materials for birth workers. Sitting in that chair, waiting as everyone does in their doctors' offices, she thumbed through the magazines provided and had that same sense of discontent that she felt when searching for inclusive birth education materials. "I don't see myself here," she thought.
Later that season, Cheyenne met Sarah Choi. Sarah was Cheyenne's first postpartum support client. As they chatted in-between caring for Sarah's son, Max, and attending to Sarah's rest, hydration — all the good things that support healing and a healthy postpartum experience — Cheyenne's idea for a magazine was revealed. "It should come out by mother's day," Sarah said.  She was on board.
From there, a team of all POC folks assembled. DeAudrea Rich offered photography. Virginia Strobach created custom illustrations for the cover and several articles. Maria Oya X offered insight into inclusivity, guidance to ensure that all parents would really be spoken to, seen, and welcomed by our content. The first issue of Everyday Birth Magazine dropped Spring/Summer of 2018.
How can I become a subscriber?
I'm glad you asked! Visit www.everydaybirth.com/subscribe and join us as a digital subscriber at $4/month or $40/year, as a print + digital subscriber at $5/month or $50/year, or as an advertising subscriber at $45/month or $450 per issue.
Has there been any press on Everyday Birth Magazine?
We've had the pleasure and honor of having partners publish articles about and/or help spread our content through their outlets.
Where is Everyday Birth Magazine going?
The future of Everyday Birth Magazine is a deepening and widening of what it means to be inclusive toward parents and families in the birth world. It's continuing to intentionally center the images and stories of parents of color, people who identify as LGBTQIA+, people of many body sizes, and more.
The future of Everyday Birth Magazine is striving to remain attune and relevant to what's going on in the world and in reproductive health and justice.
The future of Everyday Birth Magazine is landing in every waiting room, every community space, and on every doorstep that's looking for more stories and more education on pregnancy, birth, postpartum — and honestly, even more areas of reproductive health and family life!
The future of Everyday Birth Magazine is the growth of a team. We hope to bring on more birth workers and more folks committed to inclusion and justice to support the ideation, production, packaging, and delivery of more magazines.
The future of Everyday Birth Magazine is continuing to redistribute. We want to do more fundraiser kick-offs like our campaign with the National Black Midwives Alliance. As we grow and become more sustainable ourselves, we believe that should overflow into our community.

Aviva Romm MD, midwife
06/12/2020
Monetary Contribution
$1,000

Tracy Lockwood Beckerman
06/08/2020
A Birth-y Mystery Package for You
$100


Rebecca Macarro
06/08/2020

Bradley R Smith
06/08/2020
A Birth-y Mystery Package for You
$200

Judith Gourdie
06/08/2020


A Little Here a Little Off There
$50
Monetary Contribution
28 Supporters
Select this reward
20.00 USD
Everyday Thank You
Thank you for supporting #EverydayBirth! 
53 Supporters
Select this reward
30.00 USD
Everyday Instagram Highlight
We will feature you on our Instagram stories and add you to our new gratitude highlight for both @EverydayBirth and @TheEducatedBirth reaching over 12K incredible parents and birth workers
35 Supporters
Select this reward
50.00 USD
A Little Here a Little Off There
In addition, to the "Everyday Highlight" reward, you will be sent a limited time 50% off discount on any digital products in The Educated Birth website
14 Supporters
Select this reward
100.00 USD
A Birth-y Mystery Package for You
You will receive a mystery package mixed with past issues of Everyday Birth magazine and goodies from The Educated Birth (and maybe one of our friends, too)
15 Supporters
Select this reward
Rewards
Monetary Contribution
28 Supporters
Select this reward
20.00 USD
Everyday Thank You
Thank you for supporting #EverydayBirth! 
53 Supporters
Select this reward
30.00 USD
Everyday Instagram Highlight
We will feature you on our Instagram stories and add you to our new gratitude highlight for both @EverydayBirth and @TheEducatedBirth reaching over 12K incredible parents and birth workers
35 Supporters
Select this reward
50.00 USD
A Little Here a Little Off There
In addition, to the "Everyday Highlight" reward, you will be sent a limited time 50% off discount on any digital products in The Educated Birth website
14 Supporters
Select this reward
100.00 USD
A Birth-y Mystery Package for You
You will receive a mystery package mixed with past issues of Everyday Birth magazine and goodies from The Educated Birth (and maybe one of our friends, too)
15 Supporters
Select this reward