PAKTLI "grow and scale"
We are looking to raise funds to help scale and grow PAKTLI FOODS, producer of a puffed ancient grain snack.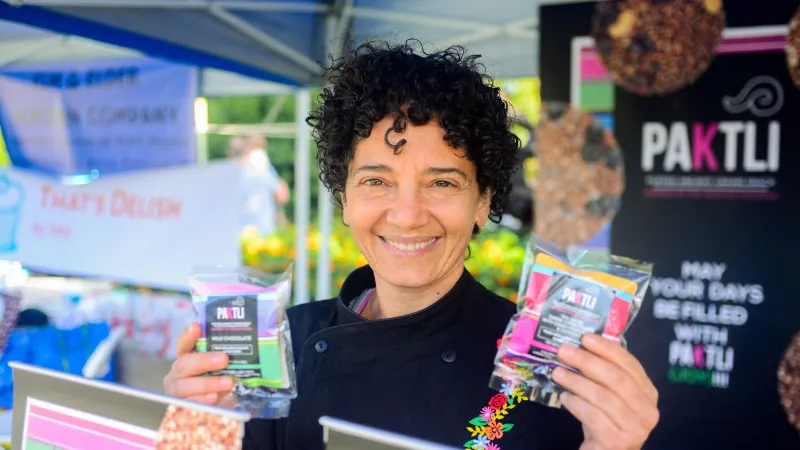 Project Description
My name is Seena and I'm the proud owner and founder of Paktli – a delightful and delicious snack made from amaranth. Paktli means JOY in Nahuatl – the language of the Aztecs.
I'm from Cincinnati, Ohio, but I was born and raised in Mexico where I grew up eating ALEGRIAS (which also means JOY! In Spanish), a snack dating back to the 16th century made from puffed amaranth and honey or chocolate.
PAKTLI IS my own version of the ancient Mexican alegrias using the same handcrafted methods. I use puffed amaranth plus puffed quinoa and millet, highly nutritious ancient grains that are also considered superfoods. I mix the grains with high quality all natural organic ingredients that include chocolates, and whole dried fruits and nuts. The packaging is inspired in the colorful fabrics and textiles from Oaxaca Mexico.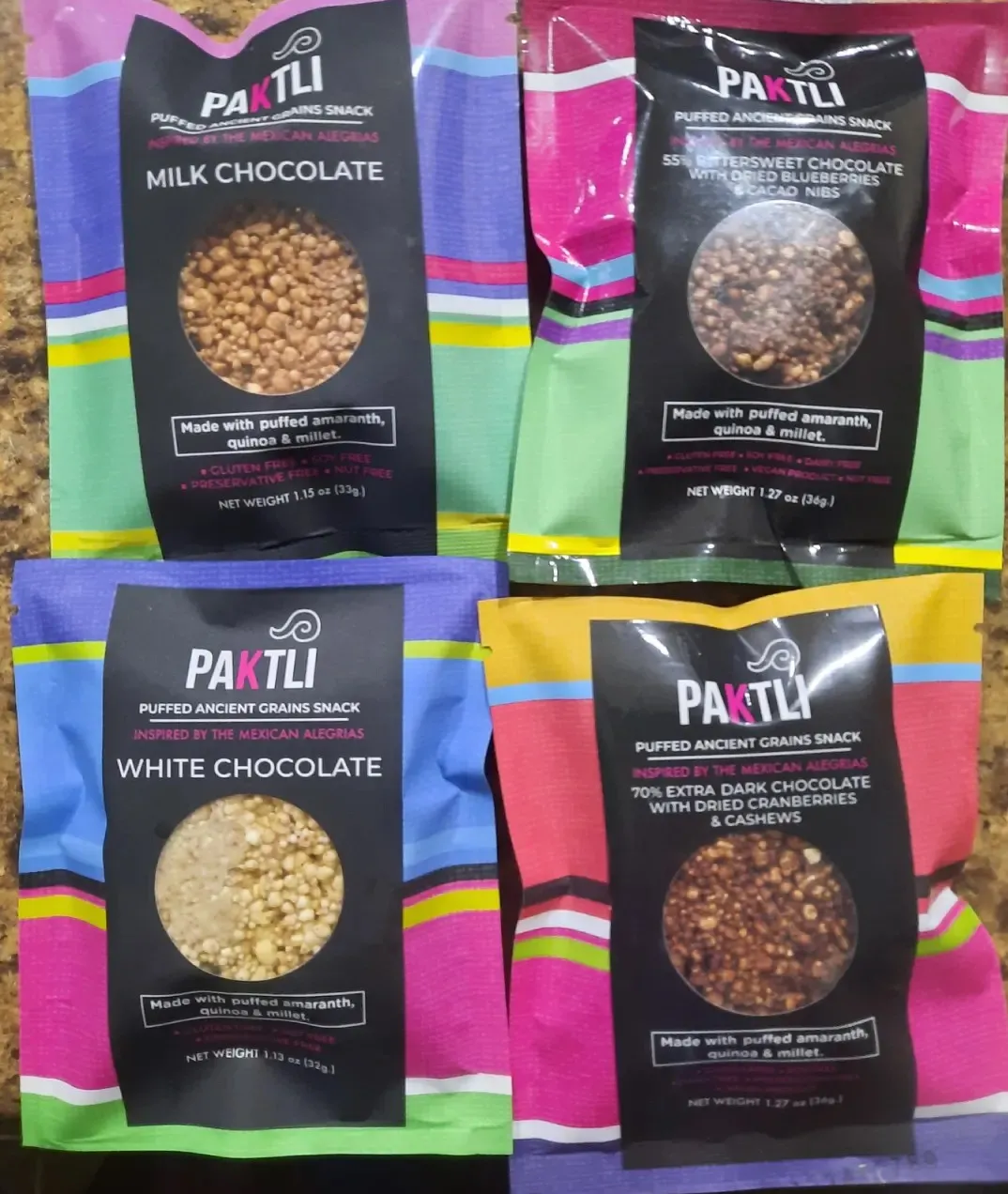 We launched in November 2020 and are already sold in 40 plus independent coffee shops and gourmet stores. We have gained immense traction and repeat business at farmers markets. We want to continue our steady growth by expanding our retail locations and our online presence. We have proven our concept in the market with incredible success and a repeat business rate of at least 40 % in B to C in farmers markets.
We are in talks with big retailers such as Kroger, and we know what they need from us. We are trying to scale our production and develop our product in a bite size format, without compromising the quality of our ingredients.
We are looking for outside investment to accomplish our next growth phase and shift from farmers markets mainly to a more aggressive online and wholesale presence in bigger accounts. WE ARE LOOKING TO RAISE 30,000 to be able to start securing some of the equipment that will allow us to scale as well as the new packaging and other costs and certifications involved (gluten-free and organic).
We need to create new packaging and to purchase the equipment necessary to scale our production and with your investment, we can achieve those goals.
All our paktli are gluten free. We have some vegan and soy free options as well and never use any additives or preservatives. Paktli is the perfect snack on the go, or as a better for your wholesome dessert. It satisfies the chocolate and sweet tooth without the big empty calories with a unique texture provided by the puffed ancient grains and the silky chocolate.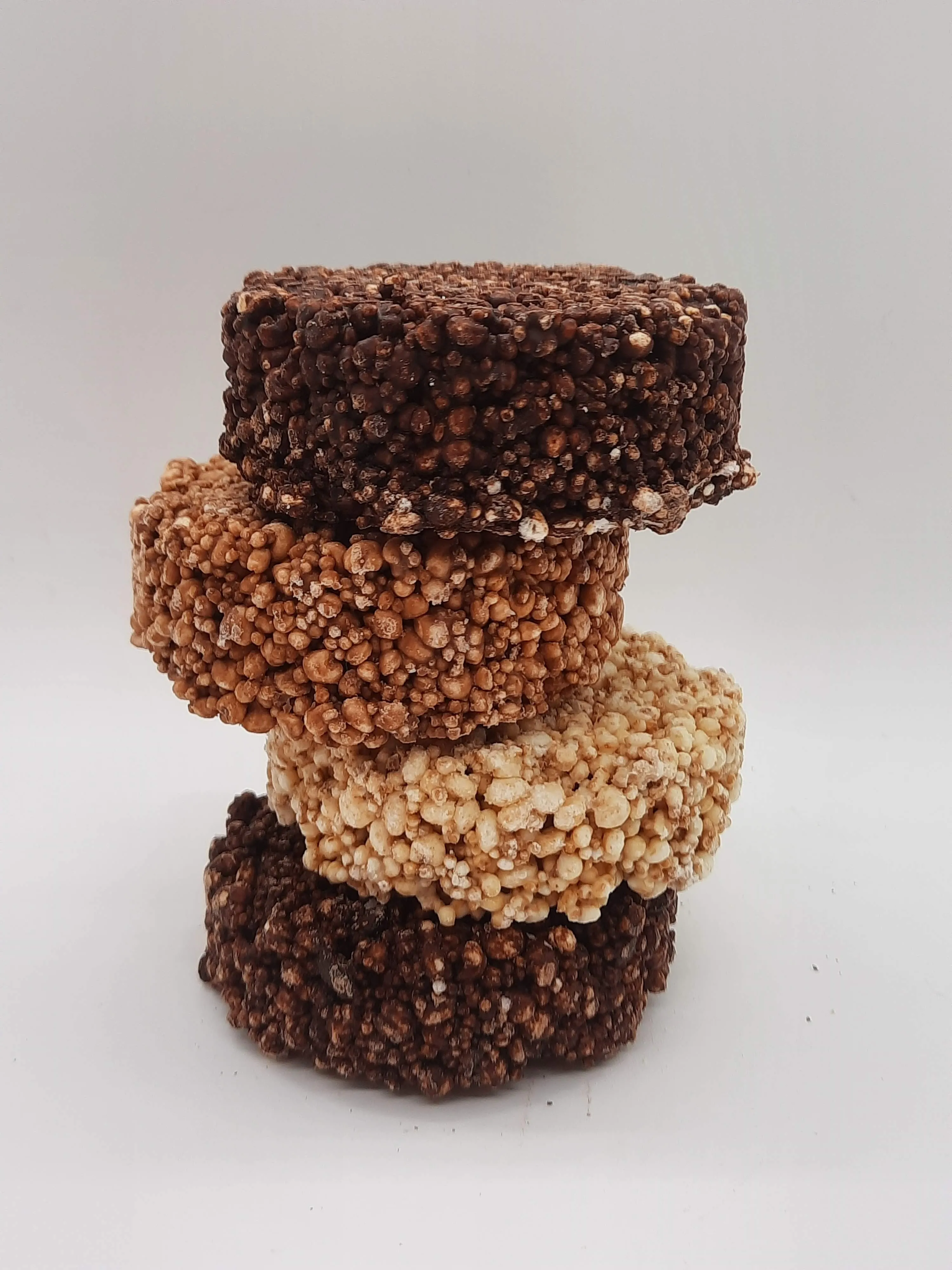 Our customers tell us all the time that they are addicted to them. I have been wanting to develop a food business for years and had this snack in the back of my mind since I left Mexico 20 years ago. After experimenting with different ideas that where never specific enough, it all finally fell into place during the pandemic with my kids at home in one of the hardest times of everybody's life. In one of those critical moments, I was able to find the specificity I needed, and to gather my recourses.
I started this business with an unstoppable energy, once my purpose was clear the whole concept, the recipes, the branding, the name, the story…they all came together to form the most delicious yet simple and clean treat that brings only JOY to people just like its name implies, and they keep coming for more. Conceived during the pandemic in May of 2020 and 6 months later after doing lots of research and development and sourcing we were able to launch to the market out of the Findlay commercial incubator kitchen. We took the market by storm and 5 months later we were already in 20 retail locations. By the summer of 2021 we reached 40 retail locations, and we were selling in 4 to 7 markets a week.
I started the business with just 7000 dollars, and I have reinvested almost everything I have sold to date. It's been totally bootstrapped but I received a 30,000 dollar grant for Main Street ventures that allowed me to change all my packaging and increase my equipment and doubled my production capabilities. Considering that our business has been totally bootstrapped, the only way for us to grow it and gain product recognition and proof of concept was to go on the streets and sell directly to the customer in farmers markets and in local stores.
Now we need to pivot… and inject money into the business so it can really grow. The farmers market model has been my incubator.  It is incredibly satisfying, data driven, and feedback-enriching. My business represents my lifetime business achievement, I am incredibly proud of having a product that looks so retail ready that can grow and evolve and transform as needed.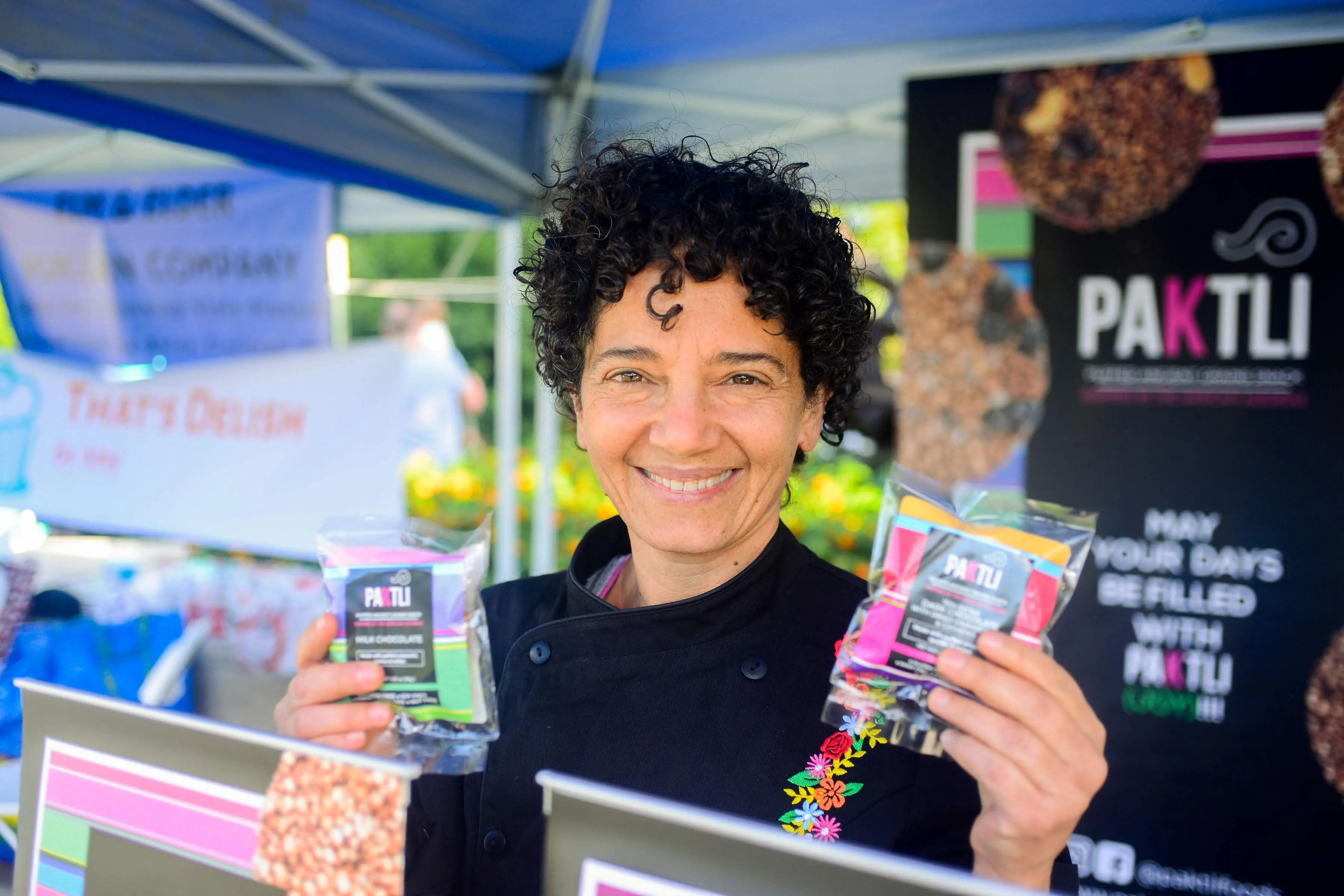 This entrepreneurial road has been one of the most rewarding experiences of my life. I am proud that we have been featured in several magazines, podcast and numerous TV interviews One of my biggest passions throughout my life has been the meaning of food… and the relationship of food to culture. I have been involved in food and media projects with TV, magazines and newspapers all my life. Paktli is the culmination of all those years of hard work and dedication. IT'S MY EXPRESSION OF THE MARRIAGE OF FOOD AND CULTURE. And it's my chance to share healthy and delicious food—and my favorite childhood snack—with everyone else.
The most significant feedback I received was given by a culinary arts instructor from Cincinnati State University, she said: Seena, one of the coffee shop owners told me your story and showed me your product and packaging and it made total sense to me, but when I tried the product, I could feel the love you put into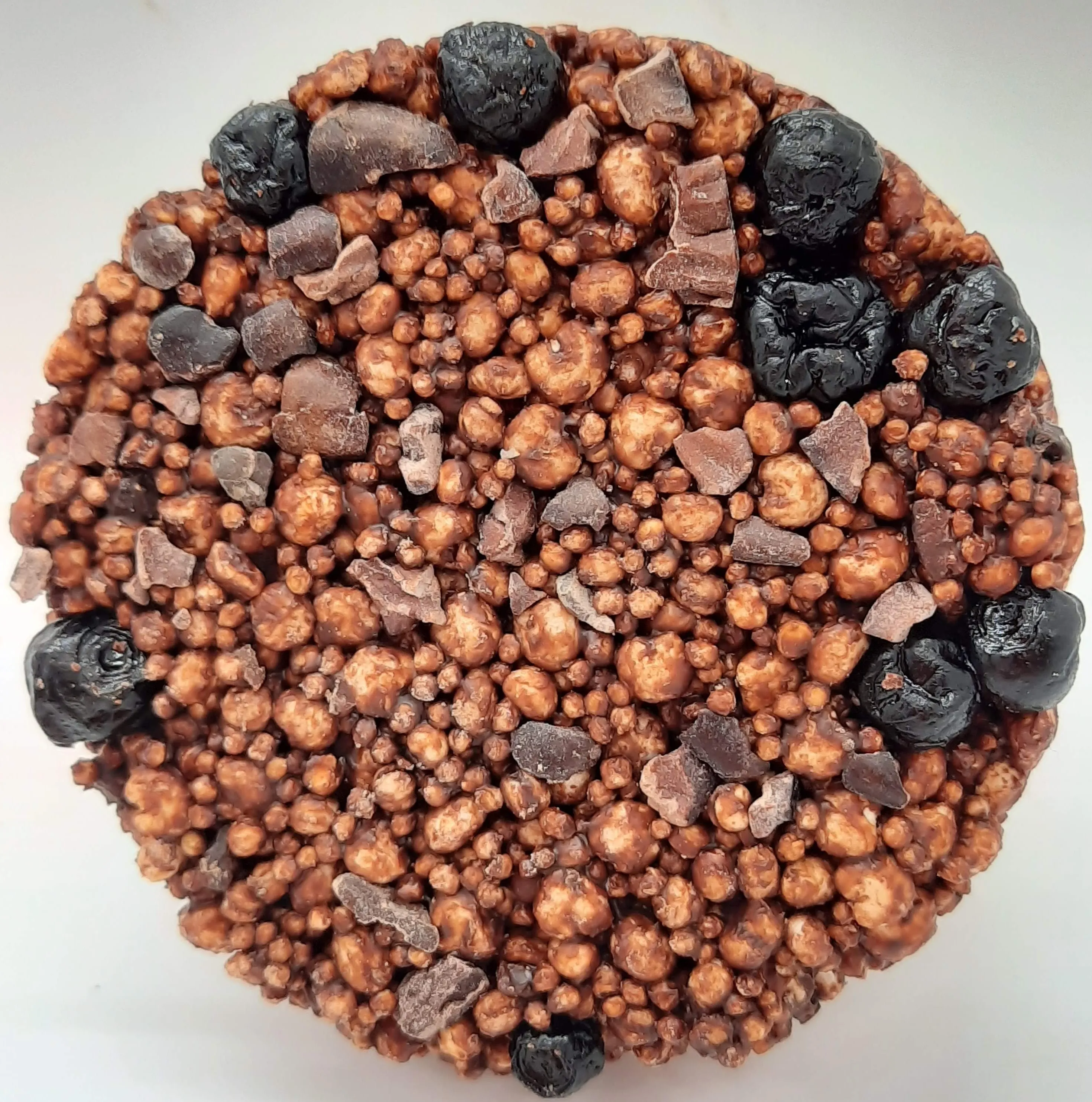 it.
My biggest challenge so far has been understanding the ropes of knowing how to grow my business, I have surrounded myself with mentors and advisors to help me find the right answers. I really want to thank you all for your support and for your trust. Without all the kind support of all my clients and cheerleaders we would not have accomplished all of this. I hope that you enjoy and that your days are filled with PAKTLI
Updates
The Campaign FAQs
Frequently Asked Questions:

James Billiter
03/03/2023
Monetary Contribution
$50



Robyn Chotiner
02/17/2023

Monetary Contribution
1 Supporter
Select this reward
50.00 USD
A tiny taste of JOY
You will receive a 15% discount for the next 6 months on our website. (code will be sent to you)
2 Supporters
Select this reward
100.00 USD
A bountiful JOY
You will receive a 20% discount on all purchases on our website for the next 6 months. (discount code will be sent to you)
1 Supporter
Select this reward
200.00 USD
A big JOY
You will receive 25% discount on our website for the next 6 months. (discount code will be sent to you)
1 Supporter
Select this reward
500.00 USD
A huge JOY
You will receive 30% on our website for the next 6 months.  (discount code will be sent to you)
0 Supporters
Select this reward
1,000.00 USD
The biggest JOY
You will receive 35% discount on our website for the next 6 months (discount code will be sent to you)
0 Supporters
Select this reward
Rewards
Monetary Contribution
1 Supporter
Select this reward
50.00 USD
A tiny taste of JOY
You will receive a 15% discount for the next 6 months on our website. (code will be sent to you)
2 Supporters
Select this reward
100.00 USD
A bountiful JOY
You will receive a 20% discount on all purchases on our website for the next 6 months. (discount code will be sent to you)
1 Supporter
Select this reward
200.00 USD
A big JOY
You will receive 25% discount on our website for the next 6 months. (discount code will be sent to you)
1 Supporter
Select this reward
500.00 USD
A huge JOY
You will receive 30% on our website for the next 6 months.  (discount code will be sent to you)
0 Supporters
Select this reward
1,000.00 USD
The biggest JOY
You will receive 35% discount on our website for the next 6 months (discount code will be sent to you)
0 Supporters
Select this reward