Nature's Nook Children's Toys & Books
An independent specialty toy store promoting play as both fun and fundamental to living a healthy, rewarding and relationship-rich life.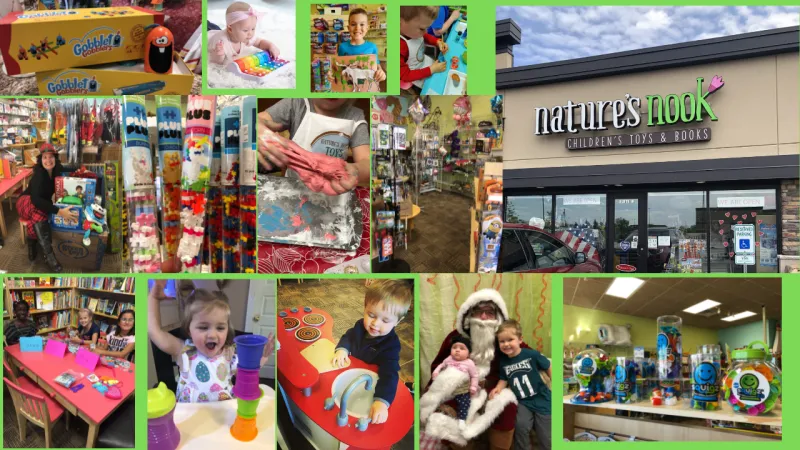 Project Description

Our Mission is to help provide families with resources to unplug and play with child-directed toys and games.Play is both fun and fundamental to living a healthy, rewarding, and relationship-rich life.
Why?
We believe that play is the easiest way for a child to grow, develop, and thrive in what can be a complex and challenging world. We need to make way for play!
An independent, locally owned, and operated toy store wasn't necessarily where Deb saw herself during her "when I grow up years" - but she is grateful that life brought her to this opportunity and being able to serve my community.The Toy community for Deb's "Brick and Mortar" store in Minot, North Dakota, is 48,261. It includes the Air Force Base, just 15 miles north of town, which houses an additional 13,000 people.  It is the largest Air Force Base in the service. This area is rural, with miles between the surrounding small towns. When people come to town to run errands such as shopping at the major grocery retailers or visiting our area hospital with specialist doctors, it is not uncommon for them to "make a day of it." That means they tend to stop by our store for a unique gift they won't find at other big box stores.

In addition to our physical location, we have an online presence and ship throughout the continental USA. During COVID, we provided online art classes to help enrich the time that looked different than another time in our lives. We are a specialty independent toy store, the only one of its kind in the entire state! The only toy option, before opening our store, for this and the surrounding area were the big box retailers. This meant that most toys available were geared toward neurotypical and developmentally typical children. The toy selection was limited at best; restocks happened once a week or when products eventually arrived due to our cities location.

We have provided a solution for families to unplug and play by giving child-directed play options. Also, we've provided toy and play options for educators, therapists, and doctors in our area.
Pre-COVID, we ordered on a Just In Time System (JIST) and brought product in every month for a supply window of 2-3 months. Now with a broken and inconsistent supply chain, it is unpredictable when or if product will arrive. This unpredictable supply pattern creates peaks and valleys for the shoppers and disappointment and loss of customers in-store, as well as online. We source our product on a global platform and need to order six months or more at one time. This grant will enable us to ensure a consistent product line is available for our toy community and keep our doors open for our customer base.
During this uncertain time, the importance of play is an even more valuable resource. Play can help children reduce anxiety, express themselves, as well as provide a safe space for them to be present and engage in their world during stressful times. We pride ourselves on seeking the best USA and International products. These items are hand-picked, hand-curated,  and ordered from other small business manufacturers, specifically women-owned companies, companies that give back, and eco-friendly companies.

We carry several major brands, but you aren't likely to find the items we carry in the big box retailers. We are known as the place to get that special, one-of-a-kind gift that you won't find elsewhere in our area. We have a team of creative "play-fessionals" who help Deb educate the community on how to play.
Thank you for helping our small community thrive and continue to offer play where selection would be extremely limited over wise. We appreciate your support more than we could ever express. Thank you for helping the families in our community continue to make memories that will last their lifetime.
Updates
The Campaign FAQs
Frequently Asked Questions:

Monetary Contribution
$10,300
Monetary Contribution
1 Supporter
Select this reward
Rewards
Monetary Contribution
1 Supporter
Select this reward