Mo.Na. Gems: the sustainable solution for fashion
Mo.Na. is a brand that is actually sustainable. We make biodegradable accessories to make sustainability fun and approachable.
Project Description
Reach us here
Short Version:
Hello, we are Mia and Mecca, and we are the founders of Mo.Na. -- a biodegradable, bioplastic accessories brand with the aim of decreasing plastic waste in the fashion industry. Our bioplastic earrings look and feel like plastic earrings, but are 100% biodegradable!
Mo.Na. has been growing rapidly on social media, which has increased demand in our products. Manufacturing is our biggest pit-fall. We are not able to keep up with demand currently, as Mia is making all of our products by hand. Since we have such a limited production capacity we're not able to move on to better designs or offer more products. Our business is growing very quickly and we want to keep up with this momentum. We need to rent a space, hire interns, and get better equipment. Please help us expand, every dollar counts! We appreciate your help.
Long Version:
We want to encourage the fashion world to be more eco-friendly while being modern, cute, and fun.Mo.Na. is a passion project that started during the 2020 Pandemic before our senior year at Johns Hopkins University, after Mecca noticed the resin trend taking off on Tik Tok. She knew the environmental implications of such a trend would be very negative and wondered if there was a more eco-conscious alternative. That's when the idea for Mo.Na. was born and she reached out to Mia to see if she wanted to work on this with her. We began researching biodegradable, bioplastic formulas that could serve as an alternative to resin.
A bioplastic is a plastic that will degrade when exposed to microorganisms. Our product is 100% stable and has great mechanical properties similar to that of traditional plastic, but will decompose when discarded the way mother nature intended.
We began prototyping in the summer of 2020 and there were lots of failures in the beginning.
But after 7 months of countless trials, we finally had a breakthrough and created something we were excited to share with the world!
We decided to work on Mo.Na. full time after graduating because we believe that our product can change the world in a positive way but we can't do it without your help. We have experienced a lot of growth in the past few months since working on Mo.Na. almost every day. We now have a combined following of over 120,000 and a reach of over four million across Tik Tok and Instagram. With this growth, we have seen an increase in demand for our products. Currently, our products are being handmade in Mia's kitchen. In order to keep up with demand and expand, we need to build an in-house production facility and grow our team.
We have big dreams for where we imagine Mo.Na. to be in the next five years and this is just a small step to getting us there. We want Mo.Na. to be the Nike of sustainability. This is a pivotal time for us and we need your help to scale production if we want to continue on this journey of revolutionizing the fashion industry.
Here's our budget breakdown:
$20,000 will be used for manufacturing so we can keep up with demand as we grow our business.
$10,000 will be used for research and development. This includes improving our product and further documenting its biodegradability.
$12,500 will be used for custom molds so we can offer better designs and attract a wider audience.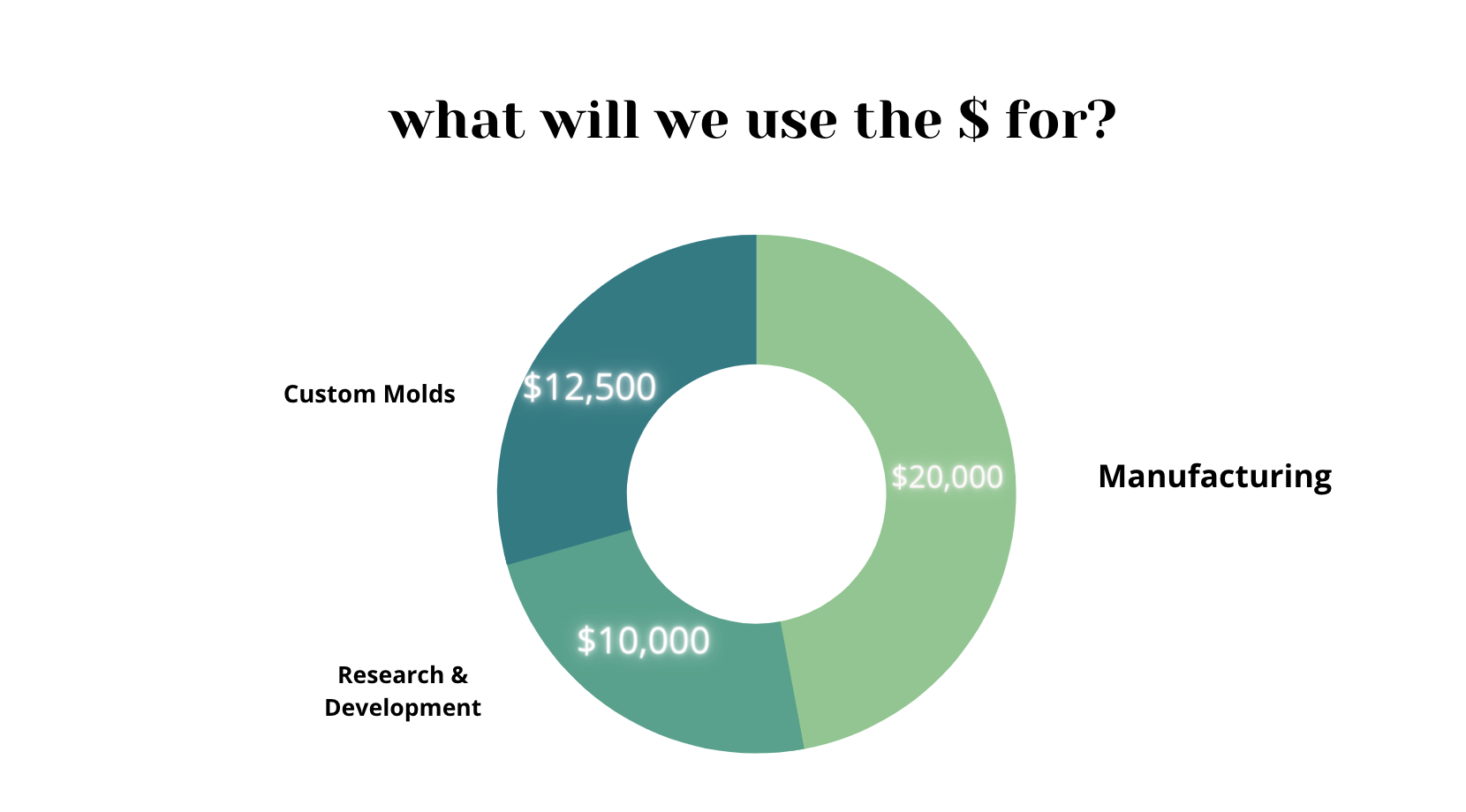 Here's our research. You can read more here as well.
Thank you for your support! Even if you can't donate, just sharing it means a lot.
With love, Mecca & Mia
Updates
The Campaign FAQs
What is your product made from?
A Starched based bioplastic. You can learn more here.
What is a bioplastic?
A bioplastic is a plastic that will degrade when exposed to microorganisms. Our product is 100% stable and has great mechanical properties similar to that of traditional plastic, but will decompose when discarded the way mother nature intended. 
You can learn more here.
If it is edible, does that mean I can eat it?
We don't recommend eating the product and we are not liable for any harm or choking that occurs if your ingest our product! Read our terms and conditions here.
 Is your product durable? Does your product last long? Will it fall apart easily?
Watch us test the durability of Mo.Na. products here.
Our Gems are not single use. The product is 100% stable, durable, feels, and acts like regular plastic as long as you take care of it! The product is water resistant but we don't recommend exposing it to water for long periods of time. 
Do your products grow mold easily? 
No, they only grow mold if you expose them to microorganism like the ones found in trash.
How long does it take to decompose?
Our products takes two weeks outside in the dirt and/or composted to biodegrade.
Watch our plastic biodegrade here.
 How does the presence of mold prove biodegradability?
Biodegradation is defined as the biologically (involving living and organic matter) catalyzed reduction in complexity of chemical compounds into simple inorganic chemicals.  
Biodegradation is the process by which organic substances are broken down into smaller compounds by living microbial organisms. 
The microbial organisms (in this case mold) transform the substance through metabolic or enzymatic processes. 
Biodegradable matter is generally organic material such as plant and animal matter and other substances originating from living organisms, or artificial materials that are similar enough to plant and animal matter to be put to use by living microorganisms.
This means that only ORGANIC matter can be biodegraded by a living organism like mold. Degradable is not the same as biodegradable.
In plain english, just as how your fruits get moldy when decomposing, so does our Gem!
Will the formulation be available to the public?
In all transparency we are a small two person team. We worked really hard to develop this formula. We want to make a meaningful and lasting impact in the fashion world, so we will share our formula when we have the resources to do so.
Is the metal used for the hook hypoallergenic?
Yes, we use 925 Sterling Silver hooks and 14K Gold Plated Sterling Silver hooks.
Can I get them wet?
Yes our products are now water resistant but since they are made from organic material excessive moisture will begin the decomposition process. We recommend keeping them dry. Learn more here.
When will you restock?
We restock the first week of every month. Subscribe to mailing list for updates!
How long do preorders take to ship?
Pre orders at least 4 weeks to ship.
Do you ship internationally? 
Yes we ship internationally. Shipping rates are calculated at check out.

Jessi Holdbrook
05/26/2022
Monetary Contribution
$20

Promote your page or post on our story
$20


Monetary Contribution
$200

Kristina Capra
02/18/2022
Promote your page or post on our story
$20

Monetary Contribution
$15

Monetary Contribution
$15

Monetary Contribution
$13

Monetary Contribution
$50