ME Body & Soul Organic Self Tanner
Raising Funds for a Healthy, Organic, Skin Nourishing & Waterfree Self Tanner
Project Description
We are raising funds to place our first wholesale order for an Organic, Skin Nourishing, Naturally Golden and Uplifting SELF TANNER. It's been tested for over 6 months, and we only received very positive comments and not one return.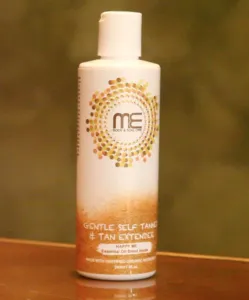 My name is Monika Emad and as a Holistic Health Practitioner, I always believed that what we put on our skin is as important as what we put in our bodies. Our skin is our largest organ so it absorbs toxins from the skin care that we use. Eight years ago I opened Olive Organic Tan Spa and with the help of an organic lab, I created a 100% Organic Airbrush Tan Formula that leaves your skin beautifully golden and healthy looking.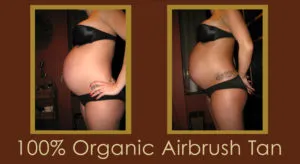 But clients were constantly asking for something to use in between their tans or to suggest a product they can use at home that will give them color that's natural and it's good for their body. I couldn't find one, so we worked for the past three years to create a truly clean and water free product that would fulfill all those needs and it's finally here - ME Body & Soul - Self Tanner & Tan Extender made with our organic formula and other skin nourishing organic products such as aloe, coconut, rooibos tea and mood enhancing and uplifting essential oils. This is the healthiest alternative to sun or bed tans and it's an instant and healthy pick-me-up It's beauty from the inside out.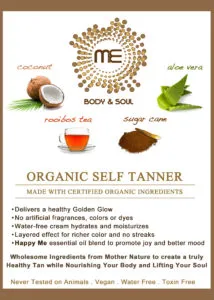 We are now ready for mass production, but we need a minimum of $10,000 for our first wholesale order to reach other retailers, and hopefully health stores. You would be able to preorder the product through iFundWomen for a discounted price, and get special savings for Olive Tan Spa services, as well as a thank you for supporting our mission for Healthy Beauty.
Updates
The Campaign FAQs
The product is ready and tested. The ingredients are safe, natural and organic. No allergic reactions of any kind were reported to us by the 300 clients who purchased the product in the past 6 months. Once ordered, the product will take 4 to 5 weeks to be produced and another week to be delivered to the customers.
Monetary Contribution With No Reward
5 Supporters
Select this reward
38.00 USD
One - ME Body & Soul Self Tanner
Single Bottle of the Organic, Healthy, Naturally Golden, Waterfree Self Tanner and Tan Extender (Full Price $48)
26 Supporters
Select this reward
70.00 USD
Two Pack - One for You and another one for someone you love (or You again - why not ;)
Two Bottles of the Organic, Healthy, Naturally Golden, Water-free Self Tanner and Tan Extender (Full Price $96)
18 Supporters
Select this reward
45.00 USD
Full Body Organic Airbrush Tan at Olive Organic Tan Spa
Full Body Organic Airbrush Tan at Olive Organic Tan Spa Single Organic Full Body Tan at one of Olive's Locations: Montclair, NJ or Midtown, NYC (Full Price - NJ - $55 or NYC - $68)
6 Supporters
Select this reward
120.00 USD
3 Pack of Full Body Organic Airbrush Tan at Olive Organic Tan Spa Locations
3 Pack of Organic Full Body Tans at one of Olive's Locations: Montclair, NJ or Midtown, NYC (Full Price - NJ - $150 or NYC - $188)
10 Supporters
Select this reward
Rewards
Monetary Contribution With No Reward
5 Supporters
Select this reward
38.00 USD
One - ME Body & Soul Self Tanner
Single Bottle of the Organic, Healthy, Naturally Golden, Waterfree Self Tanner and Tan Extender (Full Price $48)
26 Supporters
Select this reward
70.00 USD
Two Pack - One for You and another one for someone you love (or You again - why not ;)
Two Bottles of the Organic, Healthy, Naturally Golden, Water-free Self Tanner and Tan Extender (Full Price $96)
18 Supporters
Select this reward
45.00 USD
Full Body Organic Airbrush Tan at Olive Organic Tan Spa
Full Body Organic Airbrush Tan at Olive Organic Tan Spa Single Organic Full Body Tan at one of Olive's Locations: Montclair, NJ or Midtown, NYC (Full Price - NJ - $55 or NYC - $68)
6 Supporters
Select this reward
120.00 USD
3 Pack of Full Body Organic Airbrush Tan at Olive Organic Tan Spa Locations
3 Pack of Organic Full Body Tans at one of Olive's Locations: Montclair, NJ or Midtown, NYC (Full Price - NJ - $150 or NYC - $188)
10 Supporters
Select this reward