Mampro Berry Bissap
The leading West African spiced hibiscus beverage company.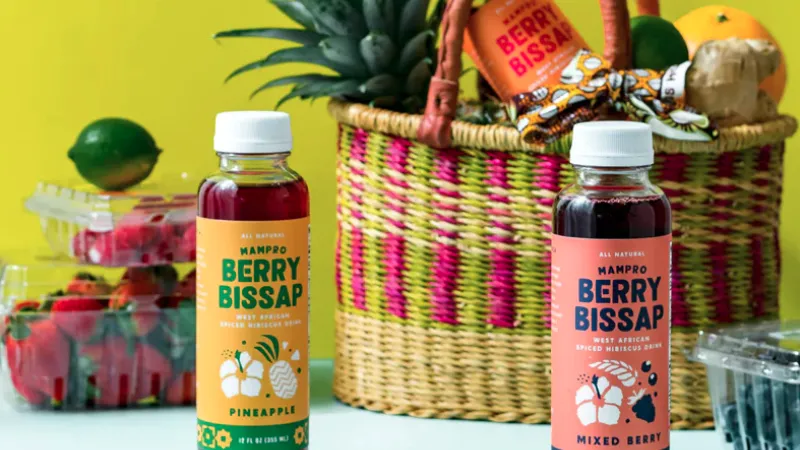 Project Description
Berry Bissap is a West African spiced hibiscus beverage company on a mission to introduce a centuries-old beverage to the masses and set the standard as the hibiscus beverage that comes to mind with rich flavor, history and pride.
Consumers these days are seeking brands with a story and calling that's clean, refreshing and authentic, and Berry Bissap delivers just that. We are paying homage to a traditional beverage that is a staple in West Africa that sources Our hibiscus and indigenous spices directly from family farmers in Ghana and only incorporates clean, whole ingredients. We aim to be unapologetically West African with our voice and identity by celebrating our culture that all ages can enjoy.
Since launching Berry Bissap in 2019, we went from selling in 9 local supermarkets and farmer's markets to getting into key retailers like Whole Foods, Erewhon, MOMs Organic Market and most recently Target in the West Coast, East Coast and the mid-Atlantic. Our beverages come in 4 flavors: Original, Mixed Berry, Pineapple and Citrus. We slow steep and brew our organically grown hibiscus flowers with our special proprietary blend of indigenous spices that are only grown in West Africa, and infuse with fresh, organic fruit.
Once we close our pre-seed round, we will increase our retail footprint by expanding into more regions in our current retailers, get on shelves in more retailers that we are currently in talks with, Invest in trade spend with our retail partners, increase our D2C channels through our website and future branding partners Gopuff and Amazon, and create our brand awareness more with more engaging social media content and building our tribe and community though email marketing and campaigns.
Updates
The Campaign FAQs
Frequently Asked Questions:
Please, replace this example content
Monetary Contribution
1 Supporter
Select this reward
Rewards
Monetary Contribution
1 Supporter
Select this reward