In This Body, a short film on womxn's body image
"In This Body" is a short film dedicated to womxn's body + self worth. Told by, made for and created by womxn.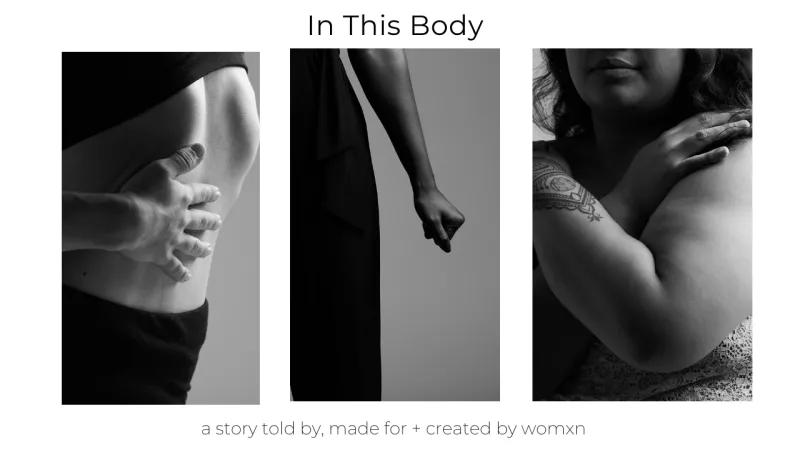 Project Description
iFundWomen Pay It Forward Grant Winner! 
Hi! I'm Caroline Aylward, the creator of Get A Helmet + the GAH Podcast. With the incredible help of womxn in my community here in Boston, I am shooting a film on December 7th called In This Body. I am passionate about storytelling, empowering womxn, the medicine that moving our bodies provides and creating space for humans everywhere to be exactly who they are. Over the past 6 months, I have used my podcast as a platform to do research on the topics of Body Positivity, Body Image Issues, Body Dysmorphia, Eating Disorders and Self-Worth as a whole -- specifically as it pertains to womxn. 
This short film is dedicated to womxn's bodies, empowerment, self-worth and confidence. It is an offering to soften the harsh, judgmental voices in our heads that tell us that our bodies aren't good enough. It is an invitation to reconnect to our power and home within.
We live in a time where weight equates to worth and a gap between our thighs is worth more than the soul behind our eyes. We are taught to believe that our bodies are broken when in fact they are powerful temples that hold our consciousness. This is an acknowledgment of all of the progress that has been made and a resistance towards diet culture at the same time. This is an unapologetic step towards living free from shame.
Rather than trying to "fix", change and alter the body, this film's intention is to create space for all womxn to be present in their body, exactly how as it is right here in this moment. 
We will use these funds to feed our cast + crew, provide them with safe transportation, prepare the location for our shoot day, insure the safety of our cast, crew + equipment, additional rentals and to submit this magical piece to festivals all over. Our goal is to spread this message as far and wide as possible. 
Crew**
Director: Caroline Aylward
Producer: Ingrid Adamow
DP: Courtney Ryan
Head of Lighting Design + Camera Operator: Heather McGrath
1st ACs: Karen Garcia + Emma Whisler 
2nd ACs: Anni Abbruzzese + Lexi Hadley
Gaffer: Cathy Ye 
Grip: Riley McClenaghan 
Grip: Maddie Derveloy 
Grip: Tara Kavanaugh 
DIT: Homa Ershad
PAs: Amanda Forssell, Cleo Brigham, Sarah Storrer
Stylist: Erin Riley 
Test Photographer: Steph Larsen
Embodiment Doula + BTS Photos: Sarah Borst
Composer: Kate Siefker
Choreographer: Wisty Andres
Editor: Britt Bellamy 
Cast
Dancers: Amit Levit, Amy Caine, Wisty Andres, Lily Clingan-Darack, Hoang-Anh Eng and Edie Hettinger
Audio Interviewees/Film Voiceover: Britnie Morris, Kelsey Kassiss and Maliyah Tan
On Camera Talent: Maliyah Tan, Hannah Aylward, Britnie Morris, Jonelle Murphy, Jacqual Johnson and her daughter Willow and Jess Moy. 
Shoot date + Location: Saturday December 7, 2019, Windy FIlms in East Boston
Almost all equipment graciously donated by Red Sky Studios, Gradient Films with help from Boston Rule Camera. 
Thank you SO much to everyone who has dedicated time and energy to this project. And thank you to all of YOU for donating and helping make this film a reality. Without you all, none of this would be possible ✨✨✨
***Fundraising Video footage was shot by Caroline Aylward at Parachute Studios. Models were Rachael Junard, Jaylee Momplaisir, Wisty Andres and Maliyah Tan. Also featured were our gorgeous Producer Ingrid Adamow, Photographer Steph Larsen and Dancer Amit Levitt. Audio clips were by: Njambi Morgan, Sarah Borst, Jessica Moy, Dr. Jill Murphy and Maliyah Tan. 
Updates
The Campaign FAQs
When will the film be done?
Our plan is to premiere the film on International Women's Day of 2020 in Boston. 

Monetary Contribution
$25

BlackGirlCurrency
02/19/2020

Allison Stansfield
02/19/2020
Monetary Contribution
$20

Monetary Contribution
$40

IFundWomen Pay-It-Forward
01/07/2020
Monetary Contribution
$375

Monetary Contribution
$50

Monetary Contribution
$75

Monetary Contribution
$50

Alyssa DiPasquale
12/08/2019
Monetary Contribution
$25
Monetary Contribution
Thank you SO much for your support on this project! xx
55 Supporters
Select this reward
Rewards
Monetary Contribution
Thank you SO much for your support on this project! xx
55 Supporters
Select this reward