Her Data Method
An Online Course that Teaches Women How to Build a Data Collection Framework
Project Description

Since we started the Virtual Collective three years ago, we've heard many of our clients struggle with the same problem: they know that customer data matters, but they don't know how to collect it, so they skip this all-important task. They seek our help in brand development and marketing efforts, but they haven't done the foundational work of data collection that is needed to create successful marketing campaigns and branding efforts … it's wasted time and money for everyone. Without a data collection framework, business owners are effectively trying to grow their business with a blindfold on instead of moving confidently forward with a clear vision.

Her Data Method is an online course that teaches women business owners how to build a data collection framework, which allows them to make smart, data-driven decisions tailored to their business.


Why a course just for women? Because the world needs more women running businesses and solving problems, and we want to help equip them to succeed in doing just that by teaching them how to gather real world data to help guide smart decisions.

Her Data Method helps women build a basic framework to start collecting data in a way that is meaningful and relevant to their business. Before putting the money into high-cost marketing campaigns and brand-building efforts (and tossing around phrases like "local SEO," "PPC campaign," and "content strategy"), they MUST have some basic fundamental data in hand to help drive those costly efforts. A solid understanding of things like customer profile(s), relevant keyword research and value proposition is imperative before anything else, especially in the digital age.
Creating this data collection infrastructure provides women business owners with a basic starting point to collect data and help them get to know their customers in ways they never imagined. They had the courage to start their business, and Her Data Method can help them thrive. The saying is knowledge is power, and that's the essence of what drives our course.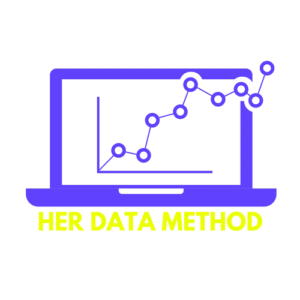 To build this course we need to raise $5,000. All funds will be used to pay for:
Development and design of the online course platform

Content creation

Course distribution

The Nashville portion of our kickass Virtual Collective team of data-loving, women-business-supporting contractors: Justin Mulvaney (audio/video), Rachel Collins (makeup), Shannon Ware, Melody Jennings Bowers, Tessa Richardson (photography), Andy Derrick (concept collaboration, copywriting, video assistant). Not pictured: Kevin Murray (web development/design)

Updates
Monetary Contribution With No Reward
27 Supporters
Select this reward
25.00 USD
Social Shoutout
Social Media Shout Out from Virtual Collective and Her Data Method + a "Data Made Me Do It" vinyl sticker
13 Left
5 Supporters
Select this reward
50.00 USD
Data Swag
A "Data Made Me Do It" black cotton t-shirt and vinyl sticker. Because women can flaunt their data skills too! (Sizes XS, S, M, L, XL)
22 Left
3 Supporters
Select this reward
75.00 USD
Data Convert
Be a featured story in our monthly "Data Made Me Do It" newsletter and on the blog. Our team will schedule an interview to find out how you make data work your business. (*Note: Business and story content must be relevant to Her Data Method mission.)
8 Left
0 Supporters
Select this reward
100.00 USD
Beta Believer
Get beta access to the Her Data Method course valued at $199. Come out on the other end of the course with a data collection framework and 3 months of free access to our customized data dashboard tool. You'll be saying "Data made me do it" in no time! (Beta version will be available June 2017.)
12 Left
3 Supporters
Select this reward
500.00 USD
Connect My Dots
We'll set up a customized analytics dashboard to put all of your most important data in one place for easy analysis. This is for the person who is already collecting some data, but wants help getting it organized and easy to interpret. Offer includes 3 months free access to customized analytics dashboard tool. (*Note: Initial consultation is necessary to ensure your business is a good fit. Please email us at at [email protected] if interested in this reward.)
1 Left
4 Supporters
Select this reward
1,000.00 USD
Data Geek in Training
We'll personally coach you through all the steps of the Her Data Method course and setup a customized analytics dashboard for you. Once this process begins, allow one month to complete the course. We will offer personalized coaching support for one month only. Offer includes 3 months free access to our customized data dashboard tool after the course steps have been successfully completed. A case study will be compiled at the end of the 4 months that will be published on HerDataMethod.com and available to you. (*Note: Initial consultation is necessary to ensure your business is a good fit. Please email us at at [email protected] if interested in this reward.)
1 Left
0 Supporters
Select this reward
Rewards
Monetary Contribution With No Reward
27 Supporters
Select this reward
25.00 USD
Social Shoutout
Social Media Shout Out from Virtual Collective and Her Data Method + a "Data Made Me Do It" vinyl sticker
13 Left
5 Supporters
Select this reward
50.00 USD
Data Swag
A "Data Made Me Do It" black cotton t-shirt and vinyl sticker. Because women can flaunt their data skills too! (Sizes XS, S, M, L, XL)
22 Left
3 Supporters
Select this reward
75.00 USD
Data Convert
Be a featured story in our monthly "Data Made Me Do It" newsletter and on the blog. Our team will schedule an interview to find out how you make data work your business. (*Note: Business and story content must be relevant to Her Data Method mission.)
8 Left
0 Supporters
Select this reward
100.00 USD
Beta Believer
Get beta access to the Her Data Method course valued at $199. Come out on the other end of the course with a data collection framework and 3 months of free access to our customized data dashboard tool. You'll be saying "Data made me do it" in no time! (Beta version will be available June 2017.)
12 Left
3 Supporters
Select this reward
500.00 USD
Connect My Dots
We'll set up a customized analytics dashboard to put all of your most important data in one place for easy analysis. This is for the person who is already collecting some data, but wants help getting it organized and easy to interpret. Offer includes 3 months free access to customized analytics dashboard tool. (*Note: Initial consultation is necessary to ensure your business is a good fit. Please email us at at [email protected] if interested in this reward.)
1 Left
4 Supporters
Select this reward
1,000.00 USD
Data Geek in Training
We'll personally coach you through all the steps of the Her Data Method course and setup a customized analytics dashboard for you. Once this process begins, allow one month to complete the course. We will offer personalized coaching support for one month only. Offer includes 3 months free access to our customized data dashboard tool after the course steps have been successfully completed. A case study will be compiled at the end of the 4 months that will be published on HerDataMethod.com and available to you. (*Note: Initial consultation is necessary to ensure your business is a good fit. Please email us at at [email protected] if interested in this reward.)
1 Left
0 Supporters
Select this reward