Grateful Cratefulls
Our mission is to help you "be there" for all of life's moments through unique, thoughtful, expertly curated gift sets.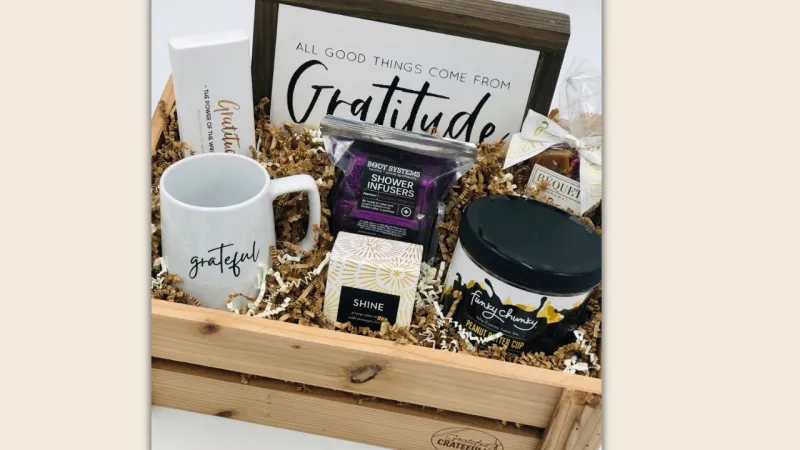 Project Description
Grateful Cratefulls was founded in 2018 with a clear mission: to help you "be there" for all of life's moments.
We know life is busy, and gifting takes time!  We've created a convenient gifting platform to help you create unique, thoughtful, expertly curated gift sets with ease.
With a product base centered around Small Batch, Hand Crafted and Locally Loved, we've created a collection of Gifts that you'll be proud to give and your recipient will love to receive.  
We are a Certified North Dakota Woman-Owned and Family Owned Business Founded by Dani Gilseth (daughter/niece), Dori Walter (mom/sister) and Aimee Hanson (aunt/sister).
We can't say it enough - we are following our Path and Purpose and could not do it without our Grateful Crew.  Our Family, our Friends, our Community and the most thoughtful, wonderful Customers on this beautiful Earth.  We are so Grateful for the opportunity to make people's day a little bit brighter - and it's all thanks to YOU! 
Updates
The Campaign FAQs
How do you choose products for Grateful Cratefulls?
We choose products that we absolutely love, that are a fit for our gifts/customer base and products that give back. Many products sourced are local/regional and women owned businesses.
Do you donate Grateful Cratefulls?
As much as we would absolutely love to donate to every cause, in order to make the most impact, our donations are for individuals, families and caregivers who are battling cancer and/or enduring major life threatening health challenges. 

Our giving plan is based on the natural connection to our mission and values of sharing kindness & generosity with giving back to individuals in times of need and brightening someone's day!
Do you offer Delivery, Shipping, Or In Store Pickup?
We deliver in the West Fargo, Fargo and Moorhead area for $12.
Store pickup is available M-F from 9am - 5pm.
We ship anywhere in the United States!
 

Monetary Contribution
$10,300
Monetary Contribution
1 Supporter
Select this reward
Rewards
Monetary Contribution
1 Supporter
Select this reward