The Future of Work Starts with You
Contribute to Boss Me In's mission to bridge the intergenerational gap for women through our Mentorship Program and Speaker Series.
Project Description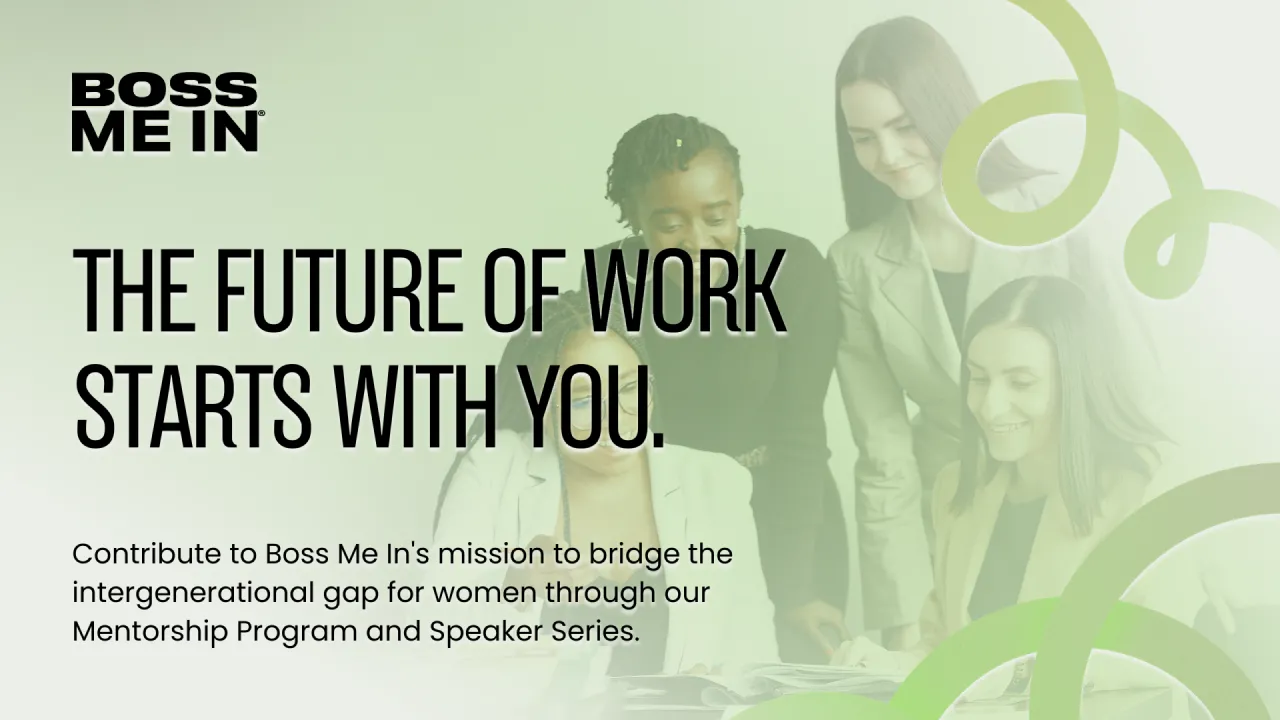 Mission
Boss Me In™ bridges intergenerational women together to solve for the Future of Work creating connection, wellness and inclusivity.
Tagline:
Everyone can win, together.
Values:

"Shape a future in work where women know no bounds."
Boldness:

Our work exemplifies the courage to step into action.

Transparency: We're open about our goals, both internally and externally.
Authenticity:

All our efforts aim to genuinely empower young women, fostering authentic conversations with Gen Z youth.

Allyship:

BMI bridges intergenerational gaps across nationality, race, ability, and identity.

Growth Leadership:

We inspire growth in our Gen Z leaders, guiding them to create inclusive workplaces for the future.

Leading by Example: From leadership to volunteers, we show through words and actions, serving as change agents in all our interactions.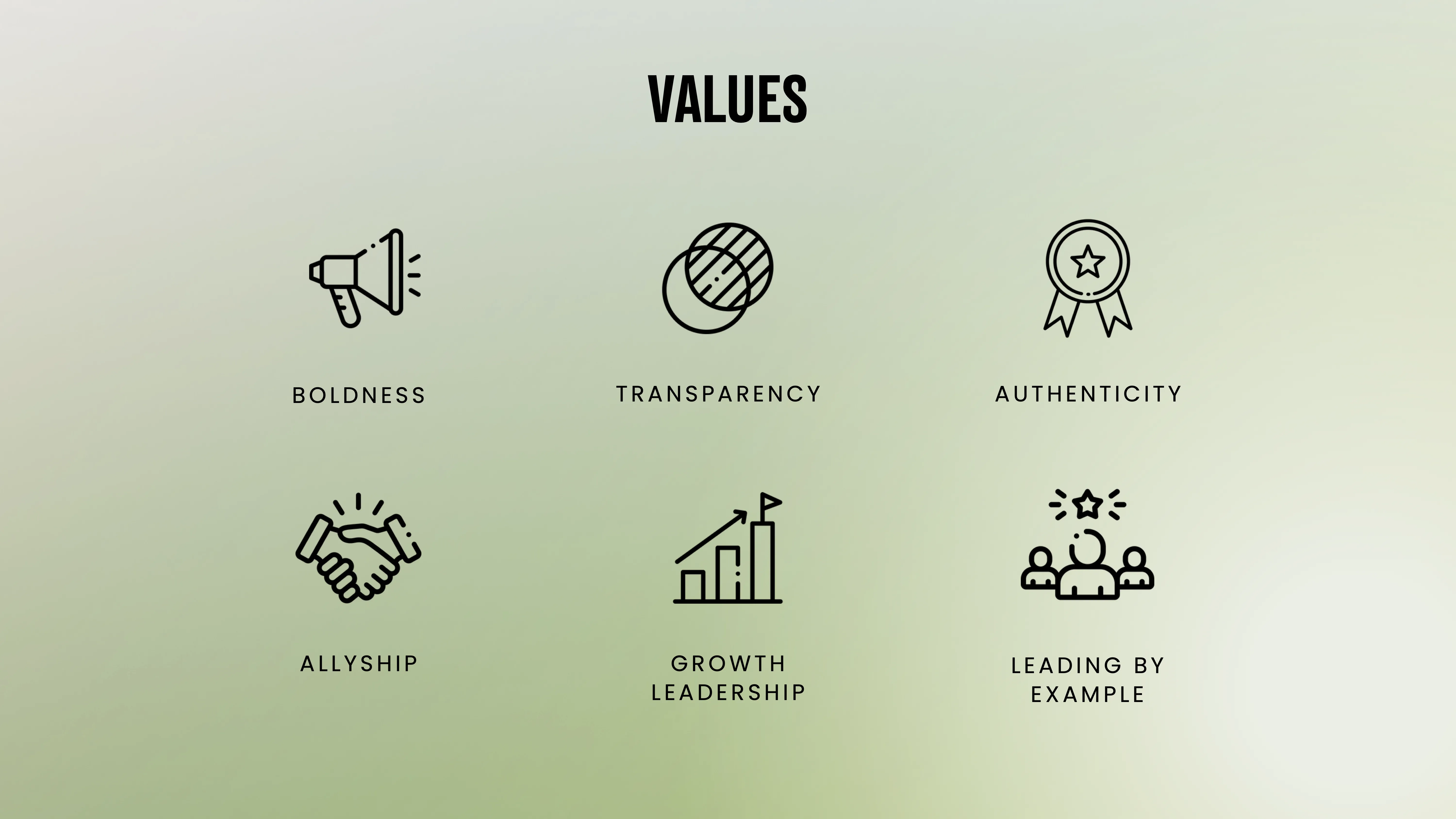 Background/History:
Mai Moore's journey is one of profound impact. With a decade of service, she dedicated herself to teaching 2,000 young individuals how to become Changemakers, leading award-winning social action initiatives. Her extensive experience spans over 20 years in the tech world, where she played a pivotal role in guiding two companies, Travelzoo Inc. and United Online, towards successful IPOs.
In 2022, Mai joined CHIEF as a member and embarked on a transformative path. She listened attentively to over 200 diverse Chief members, engaging in crucial conversations surrounding the #greatresignation, #paygap issues, DEI challenges, burnout, and much more. What emerged from these discussions was a powerful desire among these remarkable women to empower and support young women in their journeys.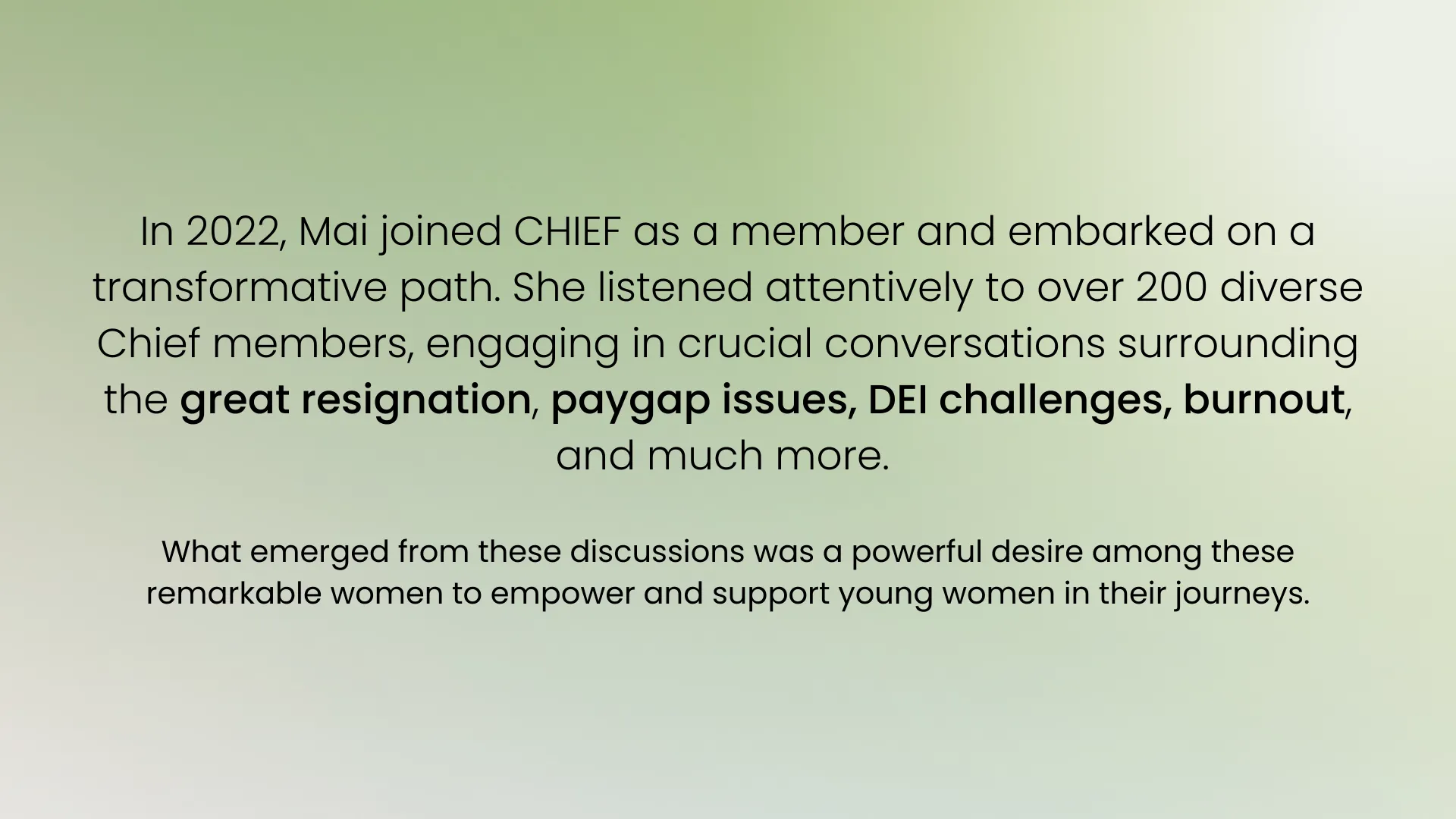 As a result, Mai, alongside 34 other dedicated Chief members, initiated the Speaker Series for Young Women. This groundbreaking series brought authentic stories from diverse Chief women who shared their personal journeys to the C-suite, impacting the lives of over 300 young women.
This extraordinary synergy led to the creation of Boss Me In, a company that launched on May 1, 2023. Boss Me In directly impacts young women's lives and meets them where they are, primarily in universities. The growth of this visionary company is a testament to the incredible team members driving the BMI Mentorship program. This program connects executive women with Gen Z, fostering positive intergenerational collaboration. The focus extends to internships, job placement, career advice, networking opportunities, and a commitment to innovation, all coming soon.
Mai Moore is not just a visionary leader but a compassionate advocate for diverse women, Gen Z, and underrepresented individuals, striving to create a more equitable and inclusive world. Her family's history is a testament to her roots in excellence – her grandmother, a Japanese Green Tea ceremony teacher; her mother, who left home at 13 to become the Assistant Concertmaster for the Cleveland Orchestra for an incredible 34 years; and her daughter, currently a student at New York University with aspirations of becoming a diplomat.
Problem
In the corporate world, a crisis looms as women leaders exit in unprecedented numbers, and the first rung of the management ladder remains broken for an eighth year. Just 26% of top leadership positions are held by women, with women of color making up just 5%. For senior vice president roles, the numbers are slightly better but still disheartening at 28% for women and 6% for women of color. This challenge disproportionately affects young women, especially those from Generation Z, where 72% express a desire to leave their current jobs, often comprising women of color and LGBTQ+ individuals. Companies must recognize that diversity isn't just an ethical obligation but a strategic advantage, with gender-diverse companies being 21% more likely to achieve higher profits than average.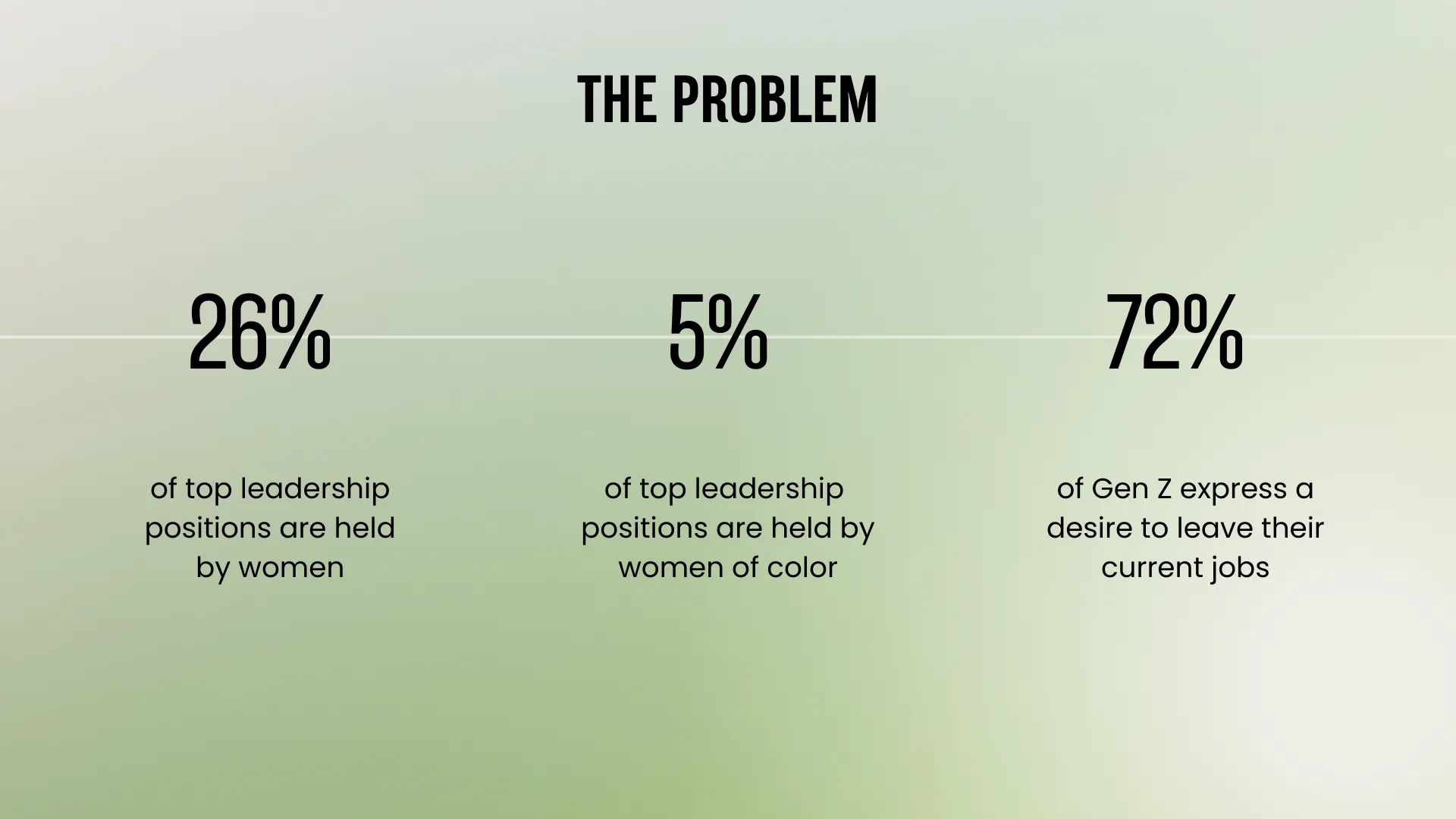 Market Size/Opportunity
Here are the key issues our Speaker Series and BMI Mentorship program tackle:
Lack of Diverse Leadership Insights:

We aim to share relatable stories of successful women in leadership, offering aspiring young women real insights into the path to success by sharing their professional journeys, challenges, and triumphs.

Limited Access to Chief Insights: 

Our programs provide direct access to a vast network of over 20,000 CHIEF members, offering valuable insights and mentorship opportunities.

Authentic Leadership Emphasis: 

We focus on authentic leadership, encouraging speakers to be genuine, honest, and candid about their journey, inspiring and connecting with the audience.

Diversity, Equity & Inclusion: 

We actively incorporate DE&I principles into every aspect of our program, embracing diverse perspectives and authentic, servant leadership.

University Partnerships: 

Our Speaker Series makes it easy for colleges and universities to offer engaging and cost-effective leadership programs, supporting women-founded businesses and underrepresented entrepreneurs.

Addressing Workforce Challenges: 

We equip attendees with the knowledge and tools to navigate the evolving workforce successfully, addressing the needs of Gen Zers and executive women.

Supporting Inclusive Businesses: 

We actively promote and partner with women and BIPOC-founded businesses to foster a thriving, inclusive entrepreneurial ecosystem.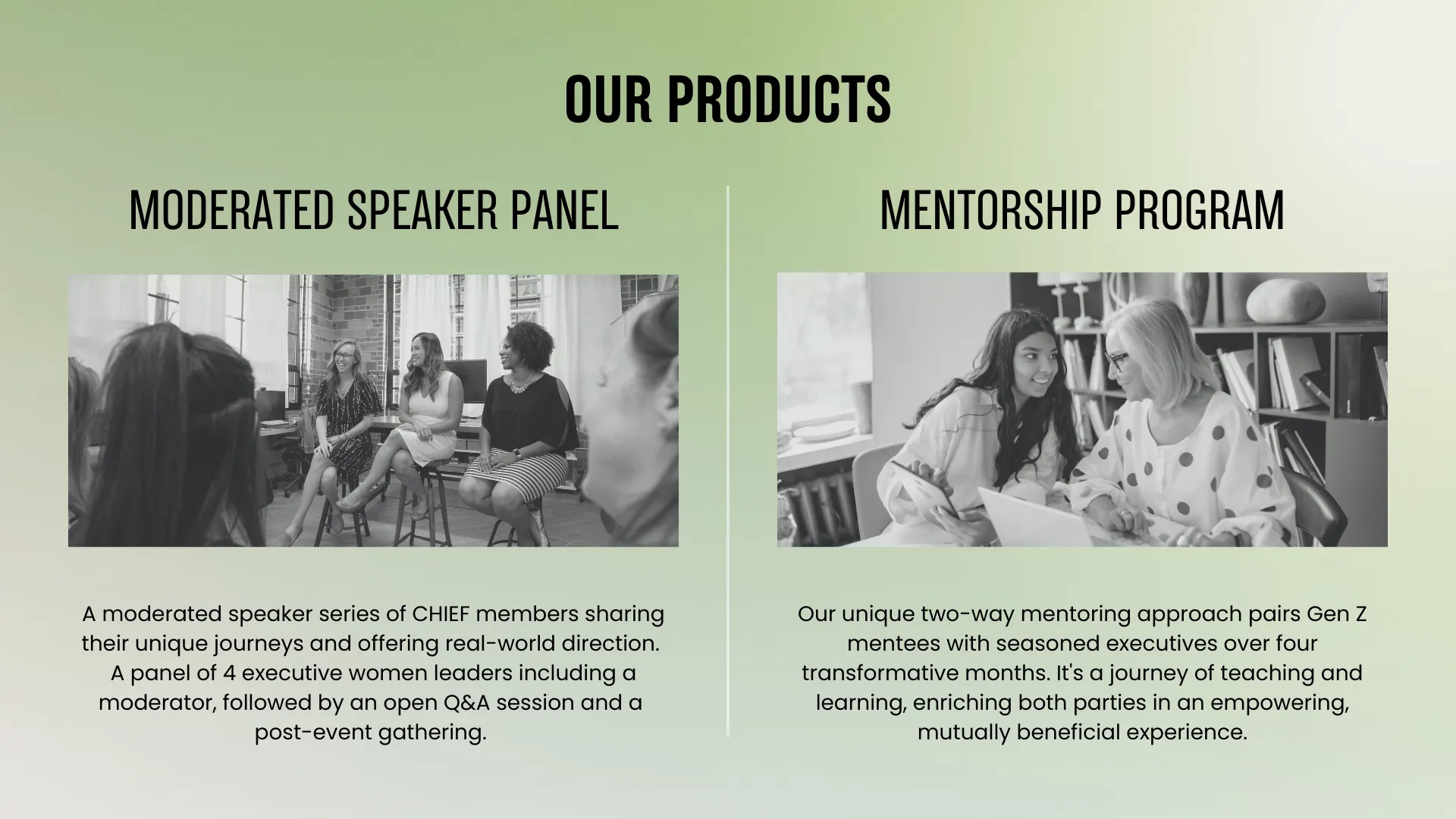 Company/Product
At Boss Me In, our goal is simple: we want to use the power of diversity and two-way learning to teach Gen Z authentic, servant-hearted leadership and help them become change-makers.
Currently, we offer two products:
Moderated Speaker Panel: 

This features four executive women leaders and a moderator. They share their unique journeys and provide real-world guidance. The event includes an open Q&A session and a post-event gathering. We customize the content to match the client's message. This is available for universities, corporations (with brand sponsorships), non-profits, and conferences. Additionally, we offer add-ons like sponsorships from organizations looking to enhance their diverse talent pool of women and customized workshops.

Mentorship Program

: Our unique two-way mentoring approach pairs Gen Z mentees with seasoned executives over four transformative months. It's a journey of teaching and learning, enriching both parties in an empowering, mutually beneficial experience.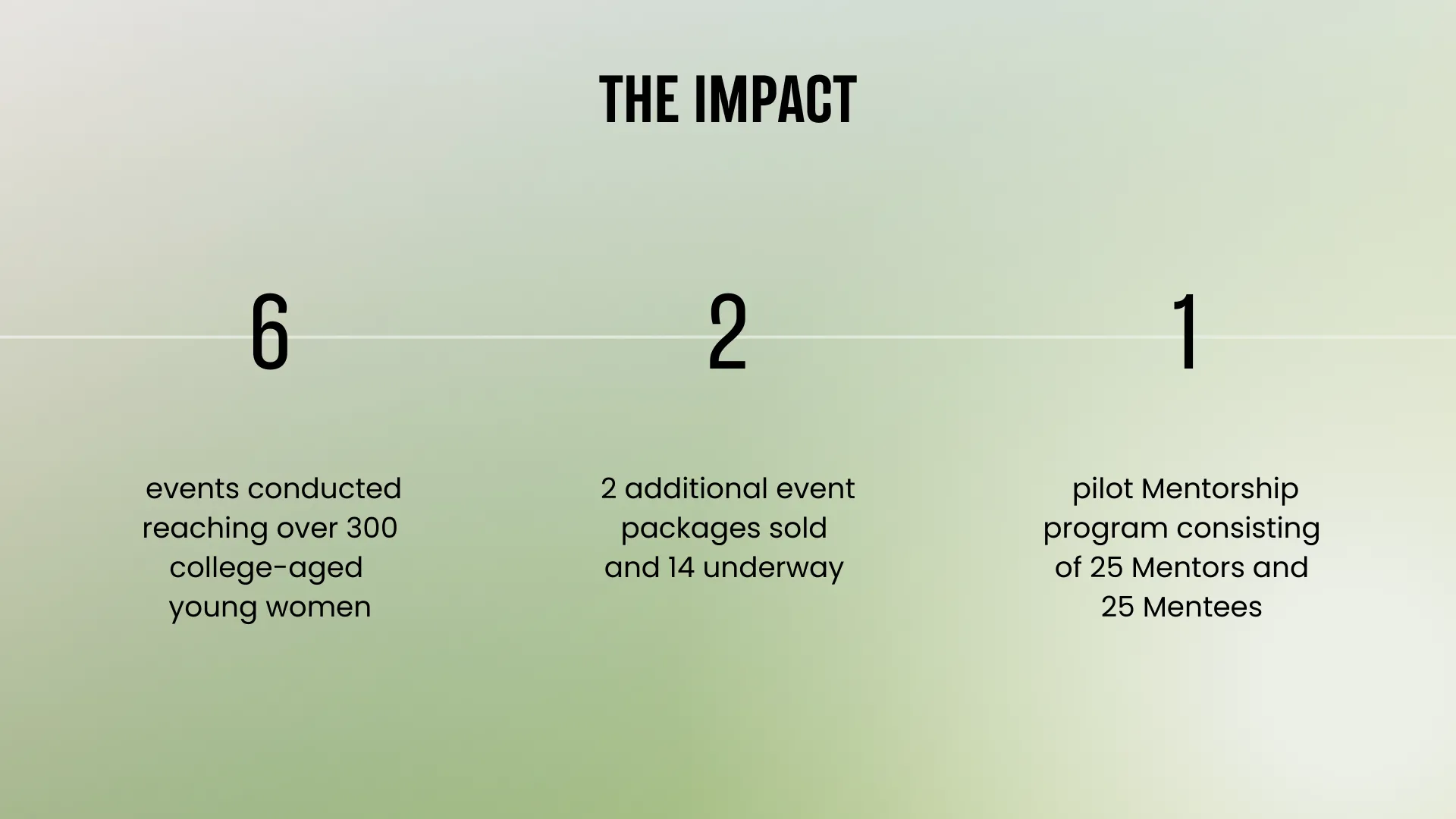 Why are you seeking funding and how will you spend it?
With your generous contributions, Boss Me In will catalyze its growth and innovation endeavors. We'll channel the funding towards strengthening our internal functions, equipping us to drive our current product offerings to their full potential and explore cutting-edge innovations for the future. Your support is the fuel that propels us forward, enabling us to create lasting, positive impacts in the world of work, particularly for women and Gen Z.
Team
At Boss Me In, our team embodies our mission of fostering intergenerational learning and collaboration. We've brought together a remarkable group of individuals to make a difference in work and leadership.
Our Seasoned Executives: With decades of combined experience, our executive women have navigated diverse industries, including social impact, technology, finance, and more. Their wealth of expertise is the driving force behind our initiatives.
Our Dynamic Gen Z Members: Despite being recent college graduates, our Gen Z team members have already left a significant mark. Their versatile skills and career paths span industries like venture capital, marketing, engineering, and corporate strategy. They've played pivotal roles in propelling startups and companies to success.
Diversity that Inspires: We're proud of our diversity, which extends across racial backgrounds, age groups, and a broad spectrum of perspectives. Whether well-versed in the corporate world or just beginning their journey, our team understands the critical importance of addressing workforce gaps and shaping the future of work. Our diversity makes us a powerful, dynamic force that drives positive change.
Rewards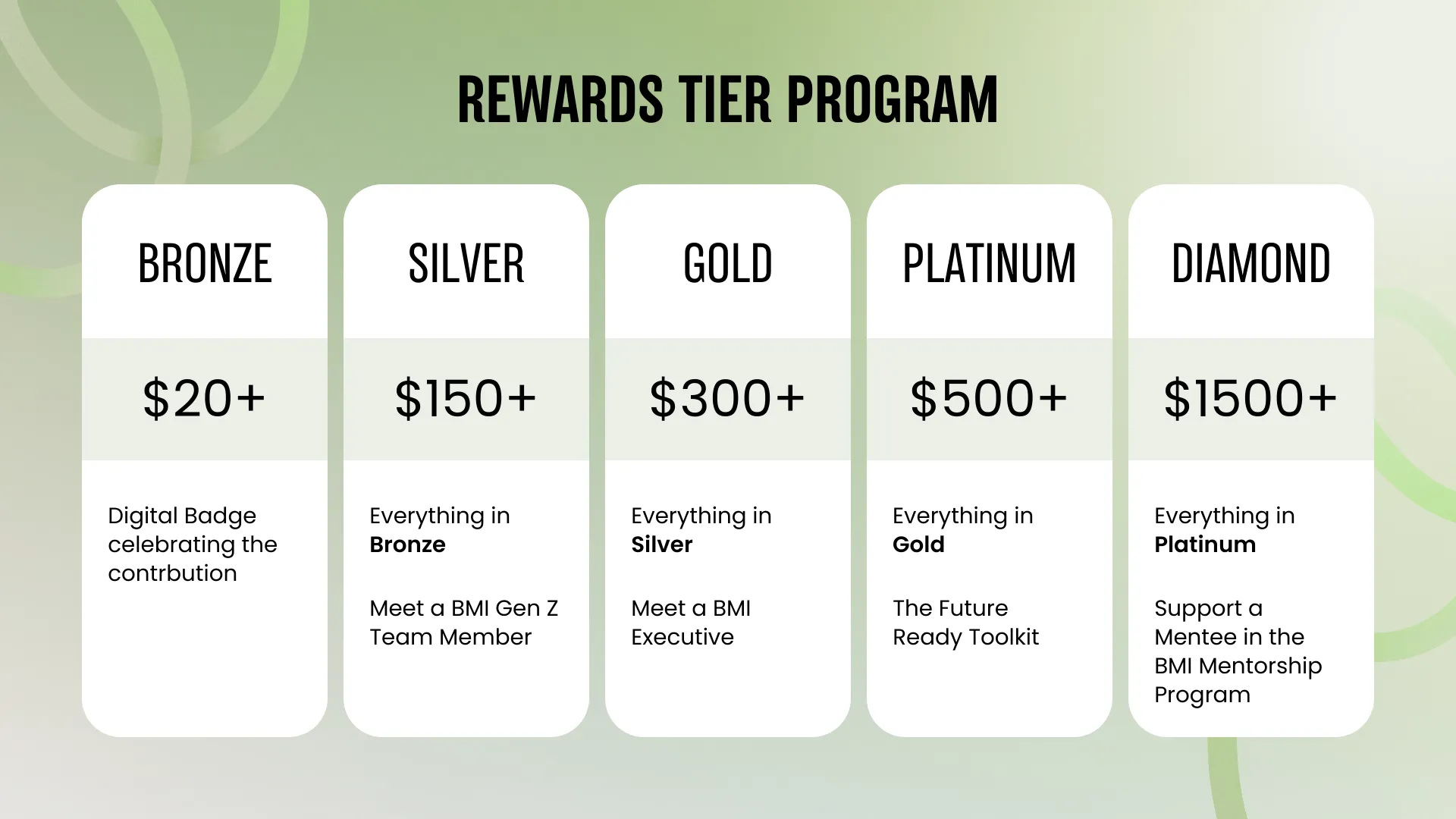 Thank you!
Together, we are becoming the changemakers we set out to be, empowering women not only to have a seat at the table but lead with confidence and purpose. We are creating a better future together. Thank you so much for your support!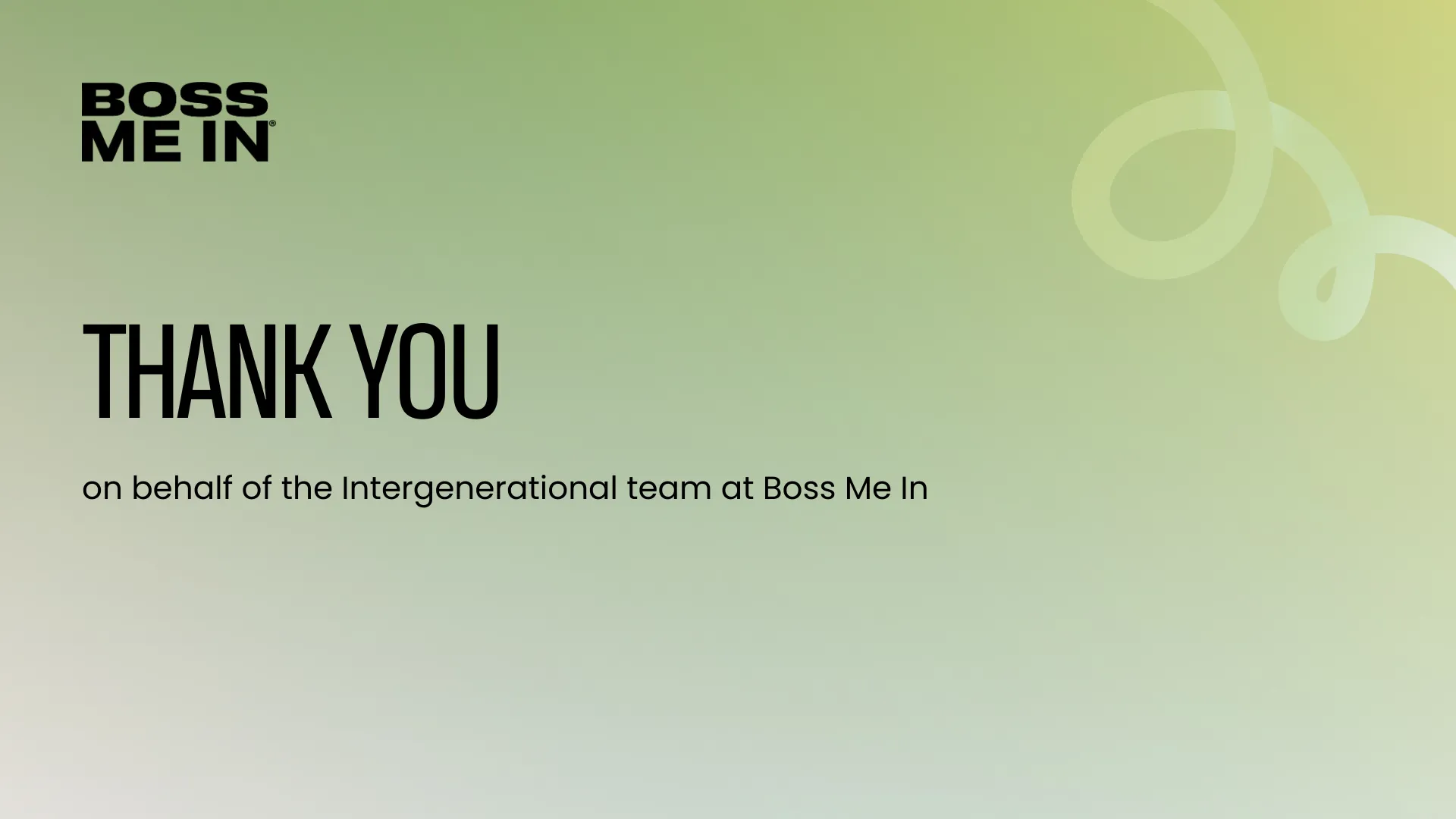 Updates
The Campaign FAQs
Why should I contribute to Boss Me In?

Investing in Boss Me In is not just an opportunity; it's a bold step towards shaping the future of work and making a tangible impact on the world. Our organization is on a mission to address the critical challenges of the evolving workforce, and your support plays a pivotal role in this journey.  Here's why you should consider investing in Boss Me In:

Purpose-Driven Impact

: We are a purpose-driven organization committed to creating a daily positive impact. Your investment aligns with our mission to empower women, particularly Gen Z, and contribute to a more inclusive and equitable future of work.

Empowering Women

: By investing in Boss Me In, you directly support a team of dedicated, hardworking individuals who are building and growing the company. Your dollars fuel our efforts to make a real difference in the lives of young women and the broader workforce.

Exciting Partnerships and Initiatives

: We have some game-changing partnerships and initiatives in the pipeline, ready to be unveiled. Your investment is crucial to empower our team and business, making these initiatives a reality. Be a part of these exciting developments shaping how we work and lead.

Global Relevance

: The work we do at Boss Me In is not just important; it's globally relevant. As the workforce landscape undergoes significant transformation, your investment contributes to a brighter, more inclusive future of work, which benefits us all.

In summary, Boss Me In is a forward-thinking, impact-driven organization that deserves your support. Your contribution is an investment in the future of women, Gen Z, and a better world.

What could be the biggest risks in contributing to Boss Me In?

With all start-up companies, there are always risks in starting a new endeavor. However, our intergenerational team of seasoned executives and dynamic GenZ members brings decades of experience across multiple industries.

Is there any benefit to contributing early?

Yes, you will be named an early contributor.  Furthermore, the opportunities to contribute will be less as we go through our 3 year plan, as the focus will shift to VC and large angel investments.

What benefits do I receive as a contributor?

See our rewards page for benefits.

What is the valuation of Boss Me In?

$5MM

What is the minimum investment requirement? 

There is no minimum contribution amount. 

What is the timeline for raising money?

We'd like to complete this raise by November 17, 2023.

What sets Boss Me In apart from its competitors?

At Boss Me In, we stand out with our revolutionary, impact-oriented approach, guided by measurable Key Performance Indicators (KPIs) that extend across our entire organization. But what truly distinguishes us is our people. Every team member is unwaveringly committed to our mission, working in harmony to drive BMI forward while maintaining a steadfast focus on our mission.

Listening to the voices of Gen Z from every corner of the country, we use their insights in combination with evidence-based reports and input from C-suite executives. This unique blend of perspectives shapes our offerings, creating opportunities to build bridges between Gen Z and C-suites. Our solutions aren't limited to the present; we're dedicated to addressing the future needs of women striving to impact the workforce and as entrepreneurs of their own enterprises.

While competitors may focus solely on solutions for today, we're continuously working to ensure that our offerings enhance workforces, positioning everyone for success in the evolving world of work. Boss Me In is where innovation meets the future, and we're driving change together.

What are the terms?

This contribution is not tax-deductible as it is contributing towards a for-profit startup with a social impact.

Monetary Contribution
$50



Candie Davidson-Goldbronn
11/13/2023


Dina Torrisi Martin
10/26/2023
Monetary Contribution
Show your support for Boss Me In.
1 Supporter
Select this reward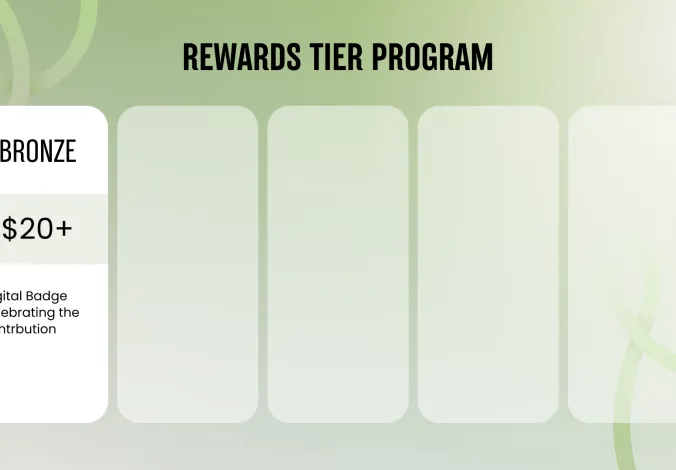 20.00 USD
Bronze Tier
Digital badge celebrating the contribution
6 Supporters
Select this reward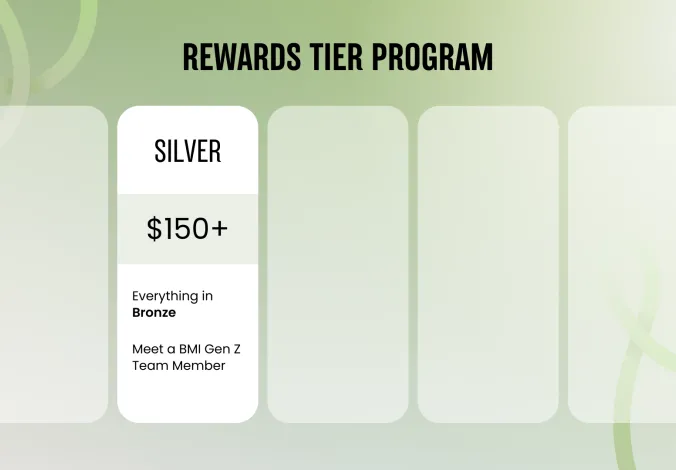 150.00 USD
Silver Tier
Everything in Bronze
30 Min. with a BMI Gen Z Team Member - Ask them about what it's like to be a Gen Z in this current world, and about the Future of Work
2 Supporters
Select this reward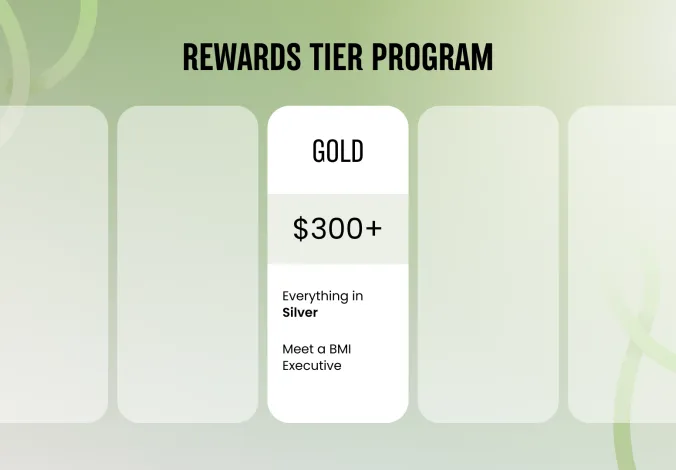 300.00 USD
Gold Tier
Everything in Silver
30 Min with a BMI Executive - Opportunity to connect, network, discuss strategy about the Future of Work
0 Supporters
Select this reward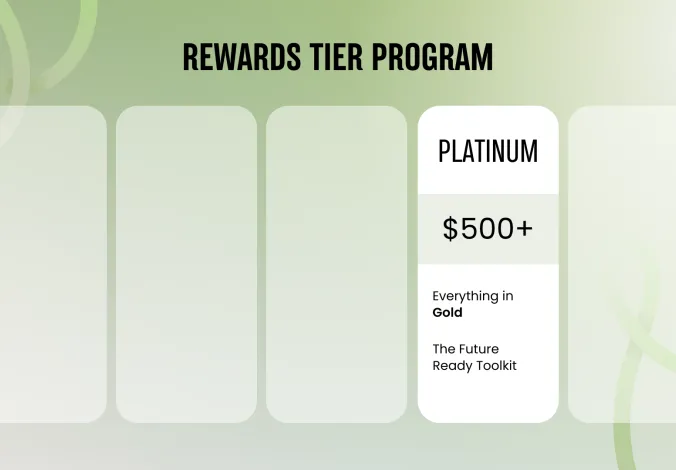 500.00 USD
Platinum Tier
Everything in Gold
Future-Ready Toolkit (resources, tips, connections list, actionable steps)
0 Supporters
Select this reward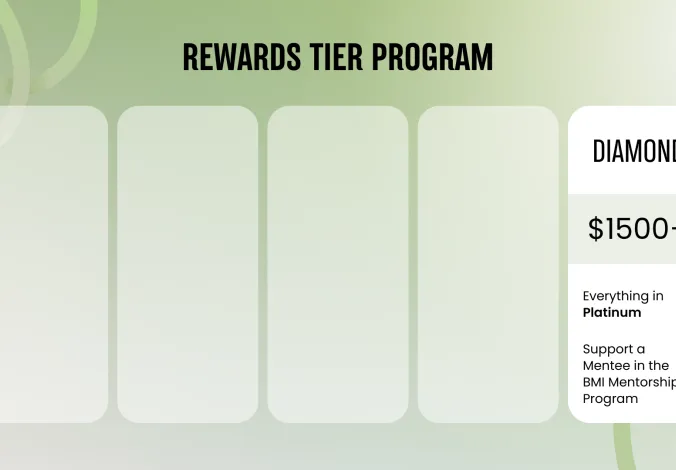 1,500.00 USD
Diamond Tier
Everything in Platinum
Support a Mentee in the BMI Mentorship Program
0 Supporters
Select this reward
Rewards
Monetary Contribution
Show your support for Boss Me In.
1 Supporter
Select this reward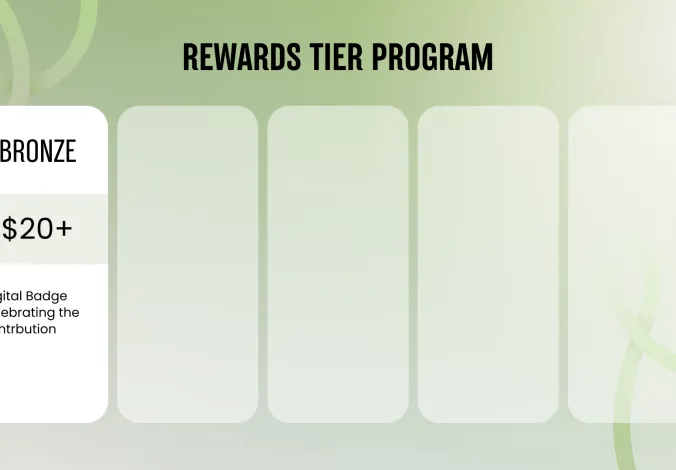 20.00 USD
Bronze Tier
Digital badge celebrating the contribution
6 Supporters
Select this reward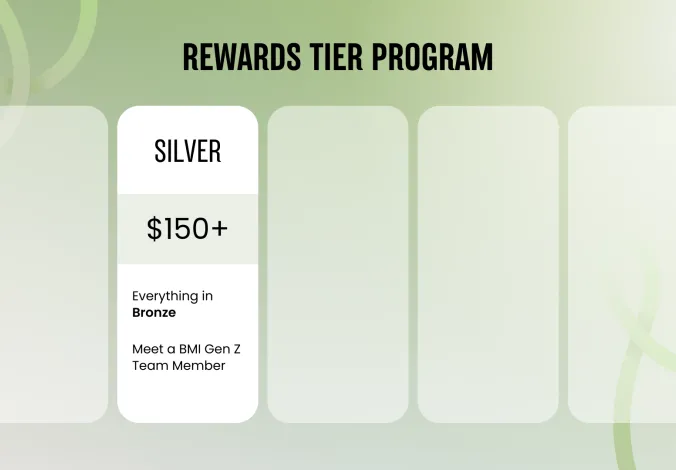 150.00 USD
Silver Tier
Everything in Bronze
30 Min. with a BMI Gen Z Team Member - Ask them about what it's like to be a Gen Z in this current world, and about the Future of Work
2 Supporters
Select this reward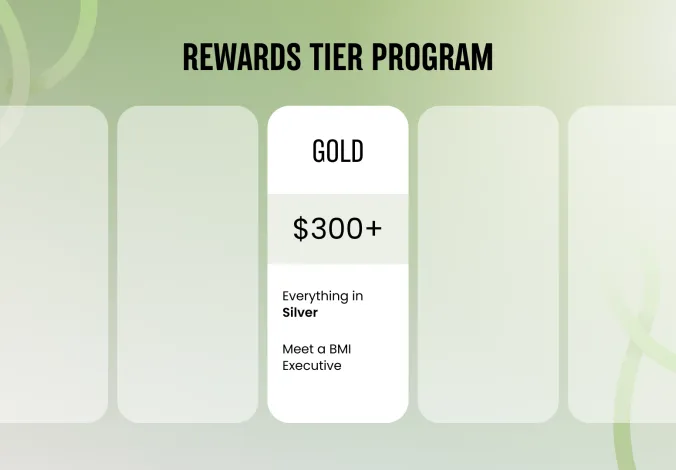 300.00 USD
Gold Tier
Everything in Silver
30 Min with a BMI Executive - Opportunity to connect, network, discuss strategy about the Future of Work
0 Supporters
Select this reward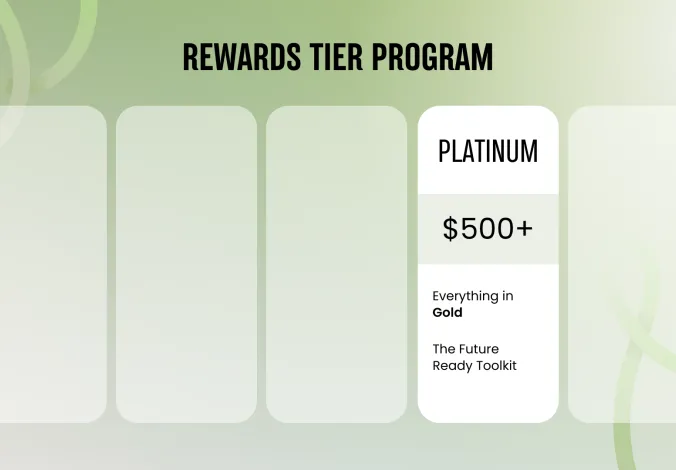 500.00 USD
Platinum Tier
Everything in Gold
Future-Ready Toolkit (resources, tips, connections list, actionable steps)
0 Supporters
Select this reward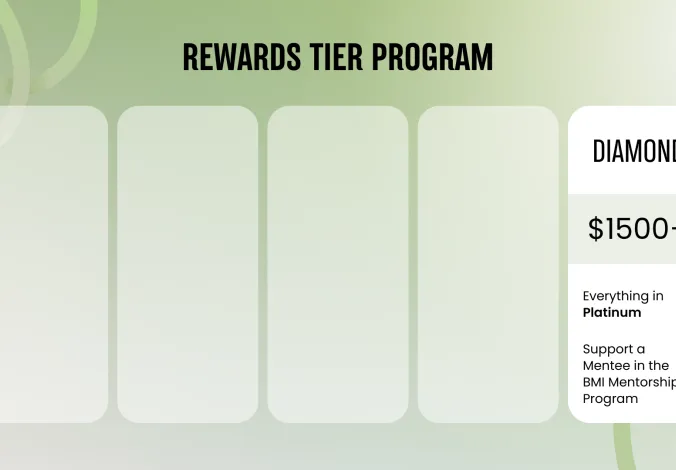 1,500.00 USD
Diamond Tier
Everything in Platinum
Support a Mentee in the BMI Mentorship Program
0 Supporters
Select this reward