Forward Times Celebrating 60 Years
"Recording our history (black history) daily for over 60 years!"
Project Description

The historic Houston Forward Times newspaper is the largest, independent and consecutively published newspaper in the Southern region, and I am the proud, second-generation Publisher and CEO of this outstanding newspaper.
We have a solid team of individuals at the Forward Times, who help us to distribute our weekly publication to our circulation of over 67,000 loyal readers and subscribers, as well as to our large digital database of people who view our content.  The community has trusted us for over 60 years, and they continue to rely on us to provide them with hard-hitting news and content that is specific to the Black community.
My dad, Julius P. Carter, founded the Forward Times in January 1960, as a means of uniting Black people in Houston and with the goal of overcoming any obstacles holding Black people back and that placed the shackles of second-class citizenry. My dad realized that the only way Black people could overcome is if we were unified, so he decided to create this mechanism to communicate our concerns, our issues and our needs, one to another.
My dad trained his wife, and my mom, Lenora "Doll" Carter, to eventually take the baton of leadership in order to carry out that mission and to keep things moving forward.
After her untimely passing back in 2010, that legacy has now been passed on to me, someone who worked side-by-side with my mom and who shadowed her for over three decades.
That mission remains the same today.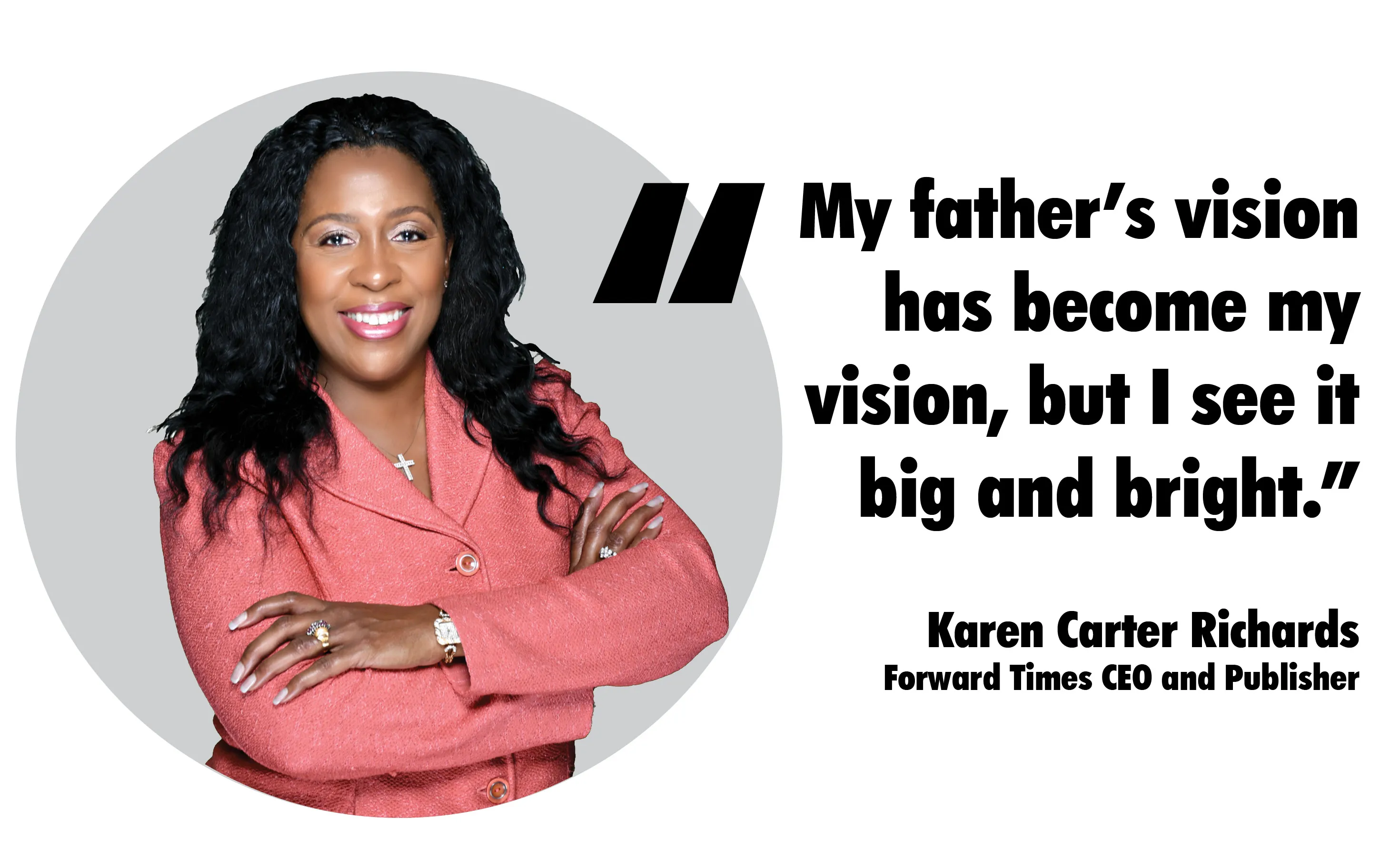 Today, the Forward Times is an award-winning national publication, and we have expanded our business to become a nationwide multimedia company.
We are extremely proud that since our inception we have NEVER missed a week of print. We are focused on remaining consistent, but like so many businesses across the country, we have been impacted by the recent COVID-19 pandemic.
In spite of all the obstacles, we are continuing to press forward, and are committed to keeping our community informed.  We are focused on ensuring that the Forward Times continues to educate, equip and empower our community with timely and relevant content that they can receive every week in our print publication and through our multiple digital platforms.
Receiving this grant from IFundWomen will help us do just that.
This grant will help us keep our community informed and help us continue to move forward, in the midst of these challenging times.
Thank you in advance for believing in the Forward Times.
Let's move forward together!  
Updates

Mary M Manning
08/28/2020

Monetary Contribution
$20

Carolina Hernandez
08/20/2020
Monetary Contribution
$50

Vaniecia Williams
08/06/2020
Monetary Contribution
$25

Monetary Contribution
$100

GingerBread Capital
06/18/2020
Monetary Contribution
$10,000

Kelly P. Hodges
06/17/2020
Monetary Contribution
$25
Monetary Contribution
8 Supporters
Select this reward
Rewards
Monetary Contribution
8 Supporters
Select this reward