A Divine H20
We are currently seeking funding for production of 100,000 pallets per month to be able to distribute to the communities where needed.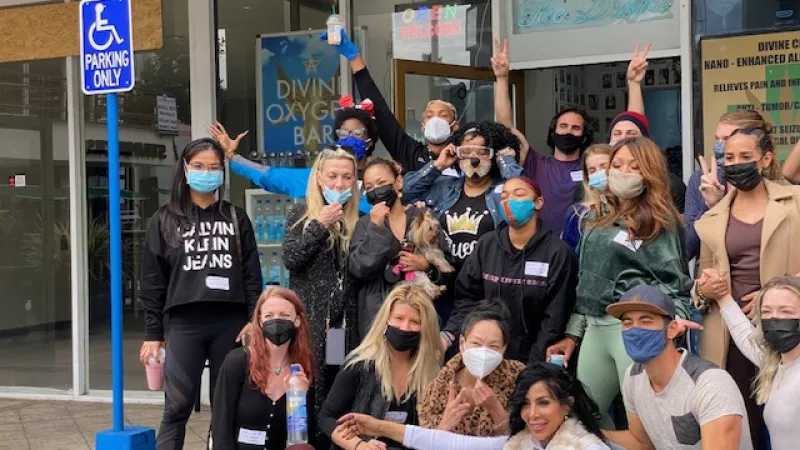 Project Description

Through extensive research and development, we have created Natural Ionic Calcium Alkaline Water utilizing Nano Technology to Produce a stable pH of 9.5 -10 with Bio Available Minerals. The patented filtration system delivers Pure Ionic Calcium natural alkaline water that is great tasting and hydrates you faster than any other bottled water. We produce the cleanest and highest proper pH to sustain maximum hydration to help assist in balancing your body's pH. The 10% of your Proceeds Help us Feed the Homeless.
Alkaline ionized water is used for drinking and cooking and provides users with several significant health benefits:

ALKALIZING:  restores pH balance by reducing acidity levels in the body

ANTIOXIDANT:  helps to neutralize free radicals that can cause cellular and DNA damage
SUPER-HYDRATING:  smaller water cluster size allows water to penetrate cells more easily
MINERAL RICH: contains higher concentrations of alkaline minerals such as calcium, magnesium, and potassium, which are vital to human health
OXYGEN RICH: increases the amount of dissolved oxygen in the blood
DETOXIFYING: eliminates mucus build-up on colon walls, thus improving the body's ability to absorb essential nutrients
CLEANSING: contributes to flushing out acidic waste and toxins that have accumulated in the body over time
ENERGIZING: negatively charged hydroxyl ions contribute to increased energy, mental clarity, and overall alertness
WEIGHT CONTROL: reduces the body's need for fatty tissues, which protect vital organs from acidity by storing acidic waste in less critical parts of the body
CLEAN WATER: pre-filtration cartridge inside the ionizer removes chlorine and other common pollutants present in tap water
REMOVES PESTICIDES: solid alkaline water with a pH over 10.5 helps to remove pesticides from fresh fruits and vegetables

Alkaline ionized water is used for drinking and cooking and provides users with several significant health benefits:

Competitive Analysis: Detailed analysis of 140 Pages Report | The Global Alkaline Water Ionizer market was valued at USD 2387 in 2020 and will reach USD 3849.3 million by the end of 2027, growing at a CAGR of 8.3% during 2022-2027. The latest Alkaline Water Ionizer Market report provides in-depth analysis by shedding light on all major factors like Alkaline Water Ionizer market size, share, product price, supply, demand, market growth rate, and Key Companies includes - Enagic, AlkaViva(IonWays), Life Ionizers, VWA Water, Alkalux. 
Why are you seeking funding, and how will you spend the budget?
We are currently seeking funding to produce 100,000 pallets per month to distribute to the communities where needed—especially where drought issues are a concern and research to advance our water technology.
Who is on your team?
Thank you to our Staff and Co packers who have helped create A Divine H2O Natural Alkaline Water sourced from Ionic Minerals. You all have helped create a product that helps keep our immune system more vital.
Updates
The Campaign FAQs
What is A Divine H20?
A Divine H2O promises to give you Alkaline Water that has a Clean Refreshing Taste, Absolute Purity, Ultimate Hydration, Stable pH level 9.5 -10, and Ionic/Active Calcium infused for maximum absorption. Offering you great results in helping you to achieve and maintain a healthier lifestyle by drinking our water that helps eliminate impurities in the body bringing an acidic body to a more Harmonized Body.
What are it's Benefits?
❖Reduced Acid Reflux
❖ Increased Nutrient Absorption
❖ Improves Cardiovascular Health
❖ Balances Out Effects of Coffee
❖ Increases Energy Levels
❖ Slows Aging Process
❖ Helps Prevent Stomach Bugs
❖ Provides Extra Hydration
❖ Reduces Toxins in Your Body
❖ Improves Skin Appearance
WHAT MAKES A DIVINE H20 STAND OUT?
A Divine H2O purifies and enhances its water through a patented system that goes through a seven-step process that removes impurities including trace chemicals, pharmaceutical, heavy metals, bacteria, viruses and all their substances greater than .0001 microns. It then infuses this ultra pure water with all natural ionic calcium, magnesium, and potassium (BIO AVAILABLE MINERALS) which gives it unique benefits with a clean refreshing taste and the most stable pH alkalinity available.
Who's the Founder of A Divine H20?
'Sofi' Amsale Mamo, founder, and CEO of "A Divine H2O, Inc."  ", which promotes physical, mental, emotional, and spiritual wellbeing by providing superior wellness products and education. A visionary entrepreneur, Sofi concentrates on cultivating creative partnerships and alliances for gaining forward momentum to achieve optimum results through significant collaboration.

Jane Walker First Women Grant Program
11/18/2021
Monetary Contribution
$10,000
Monetary Contribution
1 Supporter
Select this reward
Rewards
Monetary Contribution
1 Supporter
Select this reward