DIGITAL INCLUSION
Empowering refugees with relevant technical and soft skills to run their own digital freelance business, gaining autonomy and self-reliance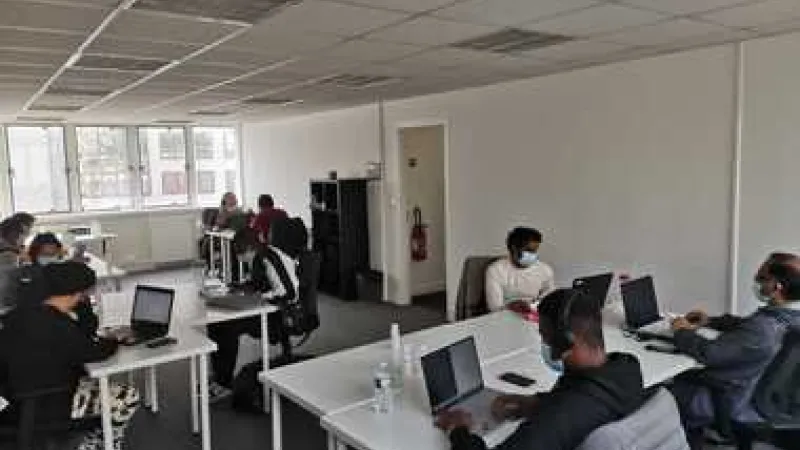 Project Description
 Equip everyone, regardless of age, gender, education, location, or ability, with culturally relevant digital literacy skills to enable participation in the digital economy.
The world's 80M refugees face systematic exclusion from economic opportunities, preventing them from building sustainable lives. For the 84% living in developing regions, this exclusion creates structural aid dependency that causes the majority to live below $1.90/ day. Refugees are left in flux and lack the tools to break this vicious cycle. Simultaneously, an unmet demand for digital freelancers has caused the online freelance market to grow 50% in the past three years, with an estimated 56M online freelancers globally. Waer waters create pathways for refugee self-reliance through a scalable training  program, connecting refugees to digital freelance jobs through its non-exclusive partner network of employers and freelance platforms. Locally contextualized training can be adapted for communities globally, and training trainers builds a lasting community resource. Waer waters have no prerequisites, taking those lacking any digital skills to a level at which they can independently earn an income within 6 months. 
Thanks to everyone who supported this program, we appreciate your kind gesture.
Updates
The Campaign FAQs
How are you measuring your progress toward your impact goals?
We continuously track and organize large amounts of data on the progress of our beneficiaries. Our core set of indicators are income and job market success. We measure monthly income 3-6 months and 12 months after the program as compared to pre-program, as well as the percentage of students engaging in work. In the Belgium pilot (60 students), participants increased incomes to $485.41 on average as compared to baseline of $0, and 100% of students found work.
What makes your solution innovative?
BeEagle's program is unique in that it (1)starts with no prerequisites and is accessible to the most vulnerable refugees, those with no digital skills, who cannot access other opportunities. BeEagle creates multiple pathways for these individuals: whether their goal is to land a job quickly or invest more time into a high-tech career, BeEagle gives them the tools to start and facilitates their first professional experiences. The proprietary curriculum is adapted to address the specific vulnerabilities of displaced people, with modules emphasizing soft skills, professional language, entrepreneurship.
Monetary Contribution
0 Supporters
Select this reward
Rewards
Monetary Contribution
0 Supporters
Select this reward