Cabrini Green Forever
From Cabrini Green to River North. This is a story about gentrification in Chicago.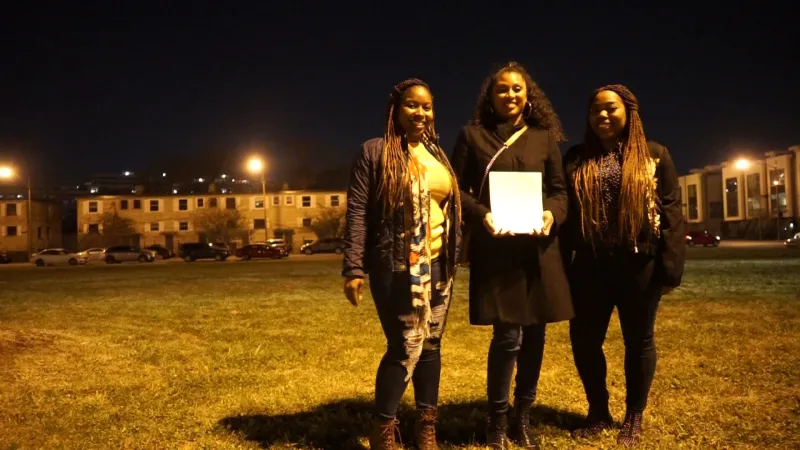 Project Description
25 years ago the city of Chicago decided to demolish Cabrini Green Housing project, which was once home to over 15,000 residents. The now newly gentrified area is referred to as "River North" and there is slim to none evidence of what was once Cabrini Green. We are three Black women from Chicago who will finally tell the story of Cabrini through the form of a miniseries. We are raising $45k to film the pilot (first episode).
During our research we discovered that mostly White men has lead the narrative when it comes to telling the story of Cabrini Green. Our script was written by Black women (from Chicago) and features Black women as lead characters. Sadly, most communities that become gentrified mutes the voices of the residents who are affected the most. Our series "Cabrini" will tell the story through the lens of real women and men who lived in the community through its many phases leading up to gentrification. 
Our goal is to enter the pilot into Sundance (2021). We also plan to pitch the pilot to a variety of networks.
The funds will be spent on videographers, editor, actors, set design (Chicago 1980's & 90's), lighting, food (talent), city permit, etc.
We have an ALL star team! 
Resheida Brady, a Chicago native, received her Bachelor of Arts degree from Howard University and Master of Fine Arts Degree from the University of Southern California.  Upon graduating, Resheida entered the industry as a writers' assistant and has matriculated to writing for such shows as, "Being Mary Jane (BET)," "Godfather of Harlem (EPIX)," and "Good Trouble (Freeform)."  She is currently co-producer of a season one Netflix show entitled "Sex/Life." Resheida hopes to tell poignant, impacting stories and create interesting and entertaining characters that will inspire the world through relatability and empathy.
Born on the South side of Chicago, Tanikia is a writer and actress. She is the founder of Sunday School Productions which tells stories of Black culture that have been overlooked and forgotten. She is also the creator of Black Owned Chicago which is a resource for the city to support Black businesses. Her work has been featured on the TLC Network, ESSENCE, and Huffington Post, just to name a few. She is the author of 'When God Said Yes' and 'The 30 Day Man Fast'. Tanikia received her B.F.A. in Media Studies from North Park University with a minor in Africana Studies. During her time at North Park she lead a group of students on a mission trip to Zambia, was editor of the campus newspaper, and become the first African American homecoming queen. Immediately after graduating she interned in Jackson, Mississippi under Dr. John Perkins and transcribed his memoir "Love is the Final Fight". She also curated events featuring Civil Rights Activists such as Charles Evers, brother of Medgar Evers, and more. When she isn't writing or on stage, she's busy raising her brilliant daughter India and loving on her amazing husband, Stephen.
Allyson Scrutchens is a trailblazer for economic development and empowering others by providing access to information, resources and opportunities. Growing up on the south side of Chicago, the need and dedication to making a difference in society became extremely pertinent. She received a Masters of Public Administration (MPA) from the University of Illinois at Chicago and holds a Bachelor's degree in SocialWork (BSW) from Southern Illinois University in Carbondale. She is currently the Founder and CEO of Forward Planning and The Forward Planner, Creator of the Everyday Entrepreneur Brand, Executive Producer of #WhereIsBeauty Film, and Author of How to Be an Entrepreneur 101.
Thank you so much for every donation and share. We literally can't do this without your support! #CabriniGreenForever
Updates
The Campaign FAQs
Frequently Asked Questions:
Will the pilot be filmed in Chicago? Absolutely! Our goal is to use Chicago actors, videographers, etc.! This is a Chicago story, which will be created by Chicagoans.
When will I be able to view the pilot? After it's edited and submitted to Sundance we will make it available to the public.
How can I keep up with the story? Be sure to follow the #CabriniGreenForever hashtag

Monetary Contribution
$25

Monetary Contribution
$100

Monetary Contribution
$10

Monetary Contribution
$25

Monetary Contribution
$50

Monetary Contribution
$100

Monetary Contribution
$18

Markeyla Henton
01/31/2020
Monetary Contribution
$15

Monetary Contribution
$20
Monetary Contribution
48 Supporters
Select this reward
10,000.00 USD
Executive Producer Credit
Executive Producer credit on mini-series
National production credit on mini-series
All-access to exclusive production meetings
All-access to film festival screenings All-access to national investors
0 Supporters
Select this reward
5,000.00 USD
Producer
Executive Producer credit on pilot episode
National production credit on pilot episode
Access to local screenings and film festivals
Local exposure and access to exclusive events
0 Supporters
Select this reward
1,000.00 USD
Investor
Campaign recognition
Investor credit on pilot episode
Access to local screenings and film festivals
Local exposure and access to exclusive film opportunities
0 Supporters
Select this reward
Rewards
Monetary Contribution
48 Supporters
Select this reward
10,000.00 USD
Executive Producer Credit
Executive Producer credit on mini-series
National production credit on mini-series
All-access to exclusive production meetings
All-access to film festival screenings All-access to national investors
0 Supporters
Select this reward
5,000.00 USD
Producer
Executive Producer credit on pilot episode
National production credit on pilot episode
Access to local screenings and film festivals
Local exposure and access to exclusive events
0 Supporters
Select this reward
1,000.00 USD
Investor
Campaign recognition
Investor credit on pilot episode
Access to local screenings and film festivals
Local exposure and access to exclusive film opportunities
0 Supporters
Select this reward