Be a Part of the Marketing Agency of the Future
Are you ready to be part of something truly groundbreaking?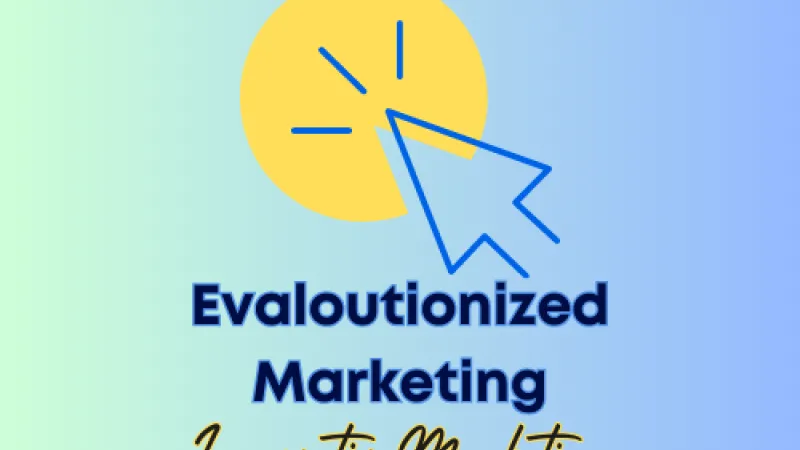 Project Description
Be a Part of the Marketing Agency of the Future: Contribute to Our Crowdfunding Campaign
Are you ready to be part of something truly groundbreaking? Our marketing agency, Evaloutionized Marketing is leading the charge with innovative marketing approaches that challenge the status quo. By supporting us, you'll be investing in the future of marketing and how we now interpret it. You would be supporting a team of creatives determined & dedicated to revolutionizing this industry. We appreciate your funding in advanced; As it does help us on in this incredible journey, to be an answer, to the Evolution of Marketing as we know it.
Social Media as we know it paves the way for instant gratifiers. Our Marketing formula can create peace in this competitive viewpoint. According to different stimuli to empowerment, our firm is determined to help even the underdog be on top. We cannot promise this but, with the help of the community people who have been prolonging certain startups can be supported by our determination to remove the invisible layers that hide their talents & skillsets among the ponderance of the bad case of the "monkey brain".
Our Marketing Firm seeks to Help Startups Overcome the "Monkey Brain" Effect of Social Media. Social media often promotes instant gratification and distractions if you do not use it correctly. ADHD is one of the most common neurodevelopment disorders of childhood (according to cdc.gov). So what that tell us is that, we need to practice inclusion within the neuro-Divergent population, as approximately: 6.7% of adults have an ADHD diagnosis (ncbi.nlm.gov) . Our marketing firm aims to shift this competitive mindset through Inclusion of those disadvantaged in this area. By empowering individuals and startups through various stimuli, we aspire to level the playing field for everyone, including the "Neuro-Divergent" underdog. Though we cannot guarantee success, we are committed to supporting the community and removing the invisible barriers that obscure talent and skill sets. Our goal is to help those who have been struggling to gain traction in the competitive world of social media overcome the "monkey brain" effect and succeed.
The call to action is Equity within the "Neuro-divergent" community.
About Marketing:
There is significance in online content consumption, as the average person spends over seven hours a day on it. Businesses recognize this and invest more than $350 billion annually in digital marketing to reach potential customers and boost sales (according to: VidPros.com). 
According to Searchlogistics.com, These are the key social media statistics that you need to know:
About 58.4% of the world's population uses social media today

That equates to 4.26 billion people around the world now using social media

The average daily social media usage is 2 hours and 27 minutes

The average social media user has an account on 6.6 social media platforms

Social media has had an average compounded growth rate of 12% since 2012

Social media usage grew at an average rate of 13.5 new users every second throughout 2021

Almost 75% of the world's population over the age of 13+ uses social media in some form

93% of people who use the internet regularly also use social media

72% of all Americans actively use social media
Here is a summary of the pros and cons of marketing inclusion:
Pros:
A large portion of the population uses social media for an average of 2 hours and 27 minutes per day, creating a massive potential audience for marketing efforts.
With 58.4% of the world's population using social media, businesses can reach a diverse audience across multiple platforms.
Social media usage has grown at an average rate of 13.5 new users every second throughout 2021, indicatingsignificant growth potential for businesses.
Cons:
The majority (56%) of digital marketing strategists in the US are male, creating a gender imbalance in the industry.

If Only 44% of the Digital Marketing Strategists are female, then it's a "possibility" that they are speaking to a apathetic Feminine crowd; Who knows, most the Latest Trends & Global News, are skewed to speak to the other 56% of the demographic. 

Adults are the most engaged audience on Instagram; Coming in at 59% Daily. Of All those Adults, 92% of users say that they have made a purchase on Instagram after seeing a product advertised. Consider that, 30% are male & 23% are female.

The average age of a digital marketing strategist is relatively high at 39 years old, indicating potential generational gaps in understanding younger audiences.

Almost 75% of the world's population over the age of 13+ uses social media in some form

Approx. 58.4% of the world's population are on the internet (actively); Out of this population of 58.4% comes the demographic of: [16 to 24] that utilize approx.: 3 hrs (daily)

The daily average worldwide social media usage is only 2 hours and 27 minutes.
While social media usage is high, it also means that businesses need to compete with millions of other accounts to stand out and capture attention.
Evaloutionized Marketing has a Vision Planned around this: 
Based on these pros and cons, here are some strategies to introduce for effectively promoting your product or service:
Utilize diverse representation: Given the gender imbalance in digital marketing strategists, consider hiring neurodivergent female marketers or consultants. This way when campaigns fail, these women can bring unique perspectives/more nurturing insights to those campaigns. Hence, they can ensure that your content features diverse representation across race, ethnicity, sexuality, ability, etc., to appeal to a broader audience.
Use targeted advertising: With billions of people on social media daily across multiple platforms, it's essential to use targeted advertising to reach specific audiences effectively. We hear on Platforms like Facebook and Instagram daily, it's essential to cater to your target market. So, These platforms allow us to create specific target groups based on demographics (such as age range or interests). Your Funding can contribute to us being accountable to these pros & cons within our industry. Thus, creating an evolution in our industry that benefits all. This is the beauty of 

Economy.
Create interactive content: Standing out on social media means producing engaging and interactive content that encourages likes, comments and shares - all metrics that help boost visibility organically without relying solely on paid advertising. Diversity is essential to the metrics, and we have a plan to diversify the very metrics that will create encouraged interactions.
Provide value: Rather than always trying to sell your product/service, we crave to provide value to your audience across different touchpoints with our brand. This could include providing educational information about mental health in the form of infographics, blog articles or guides, offering discounts or exclusive access to promotions that contribute to mental health, or even simply responding quickly and helpfully to customer queries or complaints (pertaining to someone who is more neurodivergent).
Use Influencer marketing: Partnering with influencers whose followers align with your target audience can be a powerful way to drive visibility and sales. When selecting influencers, ensure they align with your values and goals as a company, but also that their reach is significant enough to make an impact on your marketing efforts. As, we are in strong times of "cancel culture"/ fasted-paced trends that introduce effective competitive brands/markets.
Be a Part of Our Success Story: Crowdfund Our Marketing Agency Startup!
Are you looking for an investment opportunity with real potential for growth? Then look no further than our marketing agency, Evaloutionized Marketing's startup campaign. We've got everything needed for success - except the funding. 
That's where you come in!
If you are tired of investing in startups that never seem to go anywhere? Look no further! 
Our marketing agency, Evaloutionized Marketing's startup campaign is the real deal. 
We just need your help to take it to the next level! 
As an investor, you want to make smart decisions with your money.
 By choosing to crowdfunding us, you'll be investing in a talented team with with proven skills and experience in the industry. Plus, we're passionate about what we do and committed to making this business a resounding success. 
So why wait? Join us now and be a part of our success story!
 By Investing in us today, We guarantee you'll be partaking in something big.
Fun Facts:
Did you know that over 50% of startups fail due to lack of funding?

Crowdfunding has become increasingly popular as a way to invest in new businesses without putting up large sums of money.

Our marketing agency startup has already seen significant growth and success, but we need your help to keep the momentum going.
So, Thank you for your Time Today to hear us out we appreciate each & every viewer/contribution.
In the End, We hope you're as excited about our startup as we are.  
If you're ready to invest or have any questions about our campaign, please visit our website or contact us directly. 
Let's make history together!
***Important: The content of this merchandise is confidential and intended for the recipient specified in transaction only. It is strictly forbidden to share/copy any part of this idea with any third party, without a written consent of the current agency "EvaloutionizedMarketing". If you received this message by "EvaloutionizedMarketing" in various online platforms, you are legally binding to be obligated to trademark infringement. Please know & understand "EvaloutionizedMarketing" owns all Rights to this logo/idea and refuses the consumer to be allowed to duplicating this logo/idea for a profit. As well as, the re-selling this logo on your own websites etc. Please be advised this message can and will hold up in the court of law; As This message protects in the case of future occurrences.***
Updates