2020 Perfect Vision Campaign
A pop-up mobile tour experience bringing vision to communities that need it most: Our Vision, Perfectly Clear.
Project Description

UPDATE - 11/30: On November 19th, it was announced that we were selected to participate in the AMEX 100 for 100 program where we received a $25K grant! We were shocked, excited, and blessed with the news! We are now in the beginning stages of building out the 2021 tour + goals which includes: 
- Turning the campaign into a non-profit to better serve the community long term
- Purchase our own vehicle (since we didn't raise enough this year to do it) 
- Hire additional staff to make more tour stops Summer 2021. 
Your support means the world! And we could have never fathomed that we would be here today! It was just an idea, an idea that once seemed frightening and TOO BIG to achieve. But here we are, and this is only the beginning! Please continue to give, to support, and to inspire our communities, one idea at a time! 
-Dinai (Founder) 
U P D A T E S -9/8: WE DID IT! On August 22nd we launched the tour and made our first stop in the Auburn-Gresham community of Chicago! The following week we headed out west and joined Mobile Care Chicago and the Cook County Sheriff's office at a block club event in the Austin Community! Thank you to both Dr. Stephanie Johnson of the Plano Child Development Center and Dr. Bhakhir and the Illinois College of Optometry third year optometry students for volunteering your time with us on 8/22 and 8/29. 
Thank you to all our backers and partners who made this all possible. To continue the last 3 stops on our tour, we still need to raise a bit more funds to cover our leasing costs, add'l insurance per stop, supplies for volunteers and staff. Please support what you can! :) 
Next up:
Bronzville Community (9/10); Englewood (9/23); Ford Heights (9/24); Chatham (9/28)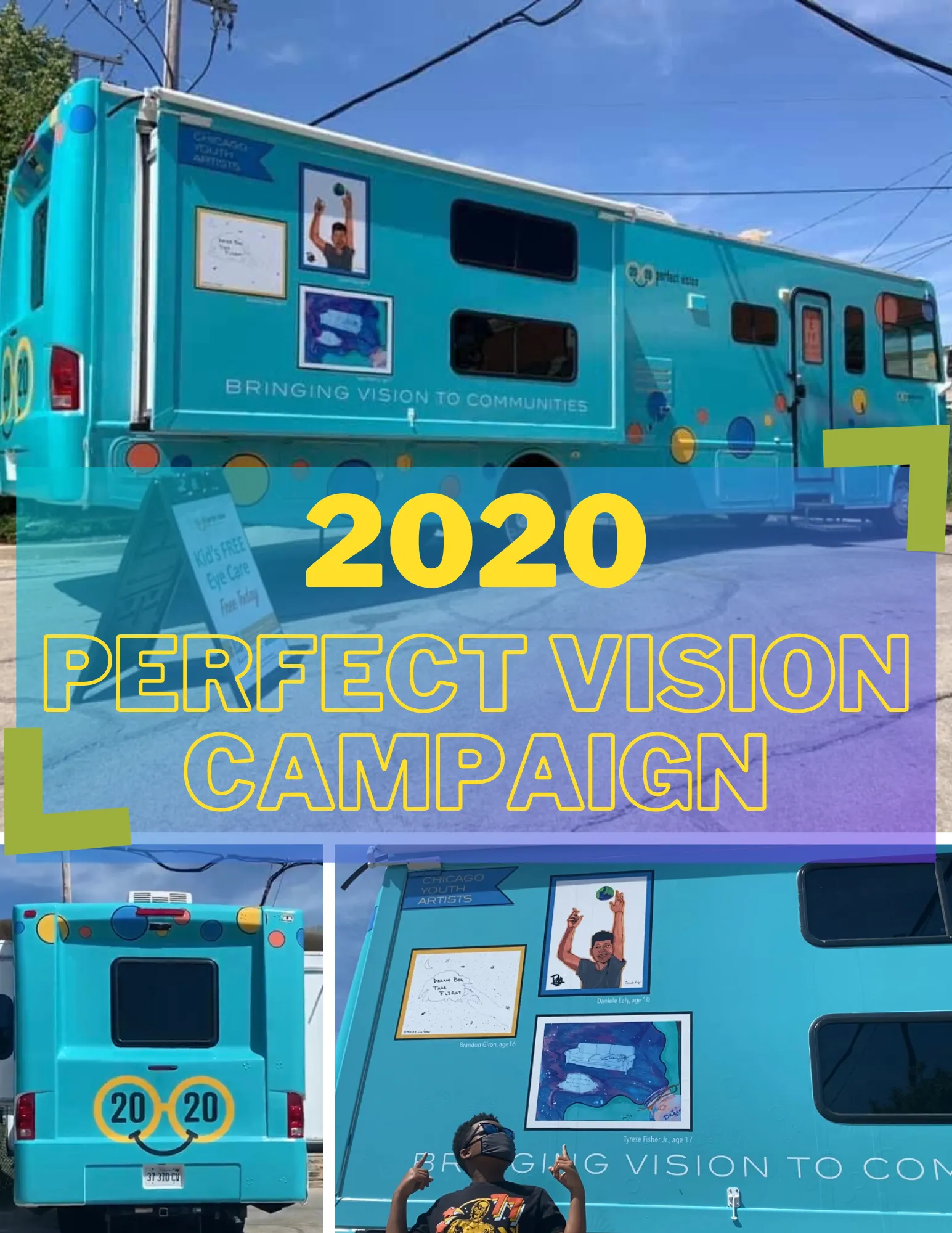 T H E  V I S I O N...
We are creating a mobile tour experience for Chicago's youth to provide vision, both figuratively and literally, to communities that need it most!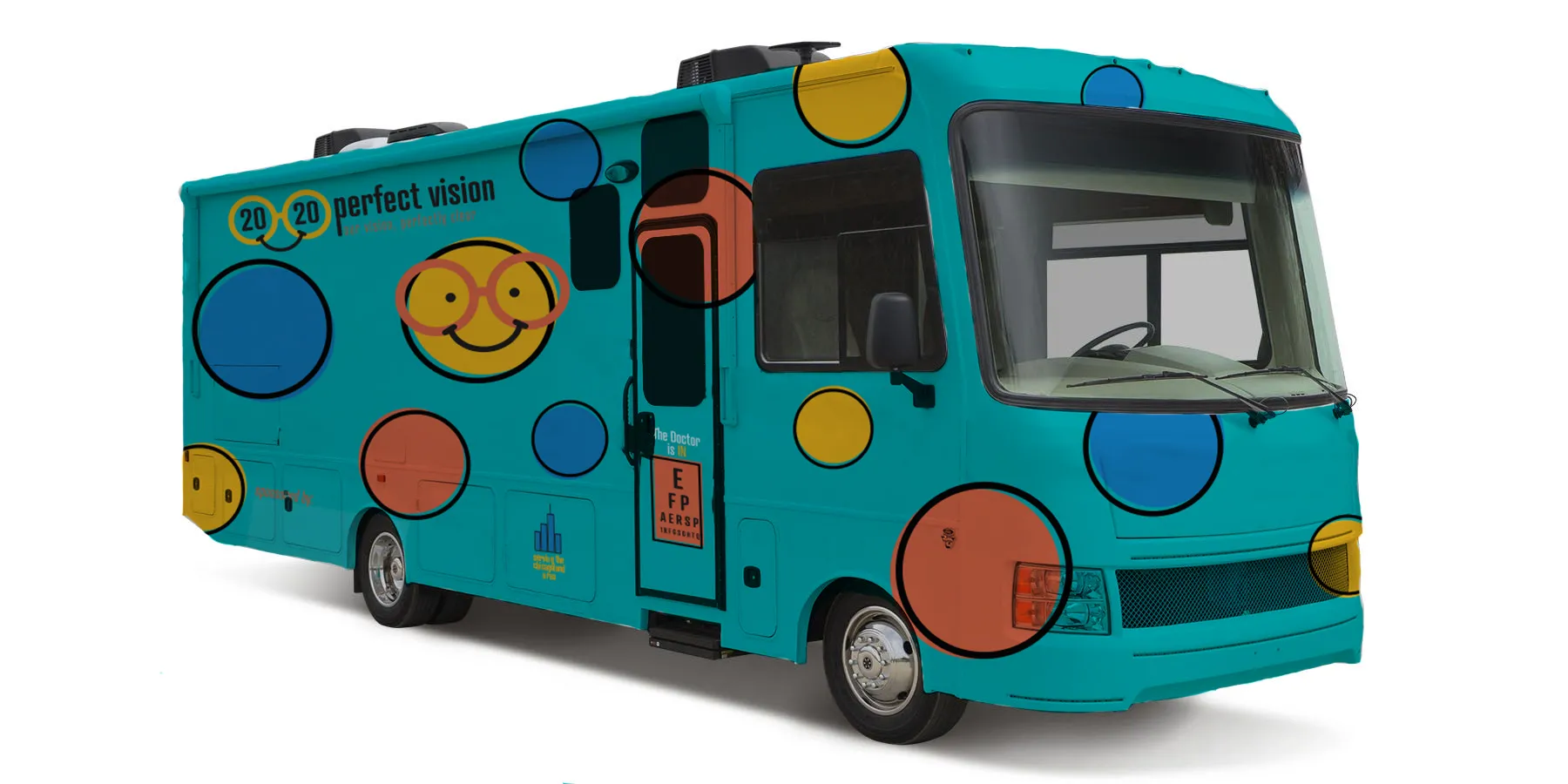 Too many children with vision disorders have unmet needs for care, leaving them vulnerable to negative effects on learning and development. Racial and socioeconomic inequities in access to care are evident across a variety of measures and studies. According to studies, nearly one in four (24%) adolescents with correctable refractive error has inadequate correction.The odds of having inadequately corrected refractive error are significantly higher for Mexican American and non-Hispanic black youth, regardless of family income level; more than a third of Mexican American and non-Hispanic Black adolescents have inadequately corrected refractive error. 
T H E  O P P O R T U N I T Y...

Currently, 21% of children living in Chicago or the Chicagoland area live in poverty, with African Americans and Hispanics making up the largest population. So if we were to break it down into figures, we're looking at roughly 150K kids in the Chicagoland area who are currently living in poverty, and may or may not, have access to proper vision healthcare. If we can reach just even a PORTION of these kids, we will impact thousands of lives! 
T H E  C R E A T I V E  S O L U T I O N...
We don't claim to have all the answers, but what we do have is a vision and a creative solution...bring access to communities for FREE in the most engaging, memorable and creative way! We are looking to create an experience in neighborhoods that are sometimes forgotten. We plan to encourage everyone who comes in contact with the "vision bus" to be confident enough to develop their own visions for their lives. After all, we're on a journey to bring our vision to life too!
T H E  F U N D S... 
We are raising money to completely fund the project. We are looking to raise $30K of the $250K needed, though the campaign. Funds will be used to: 
Purchase/lease + renovate the vehicle

Acquire equipment needed to provide FREE vision screenings AND eye exams 

Allow us to secure city permits to make stops in multiple neighborhoods 

Hire vendors

Cover fees to attend local festivals 
T H E V I S I O N A R Y ...
Dinai Yelverton- Event Producer (bka "The Dreamer")
Pictured here pitching the 2020 Perfect Vision Campaign at Google Chicago-August 2019
Dinai Yelverton is a social entrepreneur and the Founder+ Event Director of unDINAlable Events, a boutique event planning agency based in Chicago bringing communities together through curated experiences. The 20/20 Perfect Vision campaign, is her "vision" of a creative solution to a problem affecting the largest population of untreated vision errors in the US. It's also an opportunity to inspire Chicago's youth to develop their own "vision" for their lives and to encourage "big dreaming"; no matter how crazy it may sound ... you know, like renovating a bus and touring the city of Chicago providing free eye exams to kids :) To learn more about Dinai and her work visit www.dinaiyelverton.com
Thank you so much for supporting my vision! I hope this project not only seeks to solve a problem with vision health for our babies, I'm hopeful that it will inspire others to create and live out their own visions they've set for themselves. Dream big, unapologetically! -Dinai 
Habakkuk 2:2 
The Campaign FAQs
Frequently Asked Questions:
When is the campaign slated to launch? 
May 2020 through August 2020
What communities are you looking to service?
While the tour dates have not yet been confirmed, we are looking at the following communities: Pilsen, Washington Park, Englewood, Austin, South Suburbs, Auburn-Gresham, Gage Park, and Kenwood
What happens if you don't raise the full amount? 
No negatively energy please. We WILL raise all the money!
If we are unable to raise the entire amount we will scale the project down by hosting a series of events providing services at specified locations. 
Where can I find more info about the campaign? 
Visit www.perfectvisioncampaign.com or shoot us an e-mail at [email protected] 
The uDe Agency (formerly known as unDINAIable Events) is an experiential event and marketing agency based in Chicago that brings community together through curated experiences. We've worked with a variety of clients in helping to ensure their events and campaigns are brought to life. Take a look at some of our previous events (pre-COVID). 
The 2020 Perfect Vision Campaign is our take on a mobile tour that marries both cause marketing and experiential marketing strategies; creatively solving problems in the memorable way! 

Angelica Gardner
04/01/2021
Monetary Contribution
$125

Monetary Contribution
$100

American Express
11/17/2020
Monetary Contribution
$25,000

Monetary Contribution
$100

Carolyn Rodgers
09/15/2020
Monetary Contribution
$100

Monetary Contribution
$100

Brenda Yelverton-Singleton
08/26/2020
Monetary Contribution
$100

Dalyr l Bryant-Fisher
08/25/2020
Monetary Contribution
$25
Monetary Contribution
Any and all is appreciated! Thank You! 
35 Supporters
Select this reward
Rewards
Monetary Contribution
Any and all is appreciated! Thank You! 
35 Supporters
Select this reward