Five x Five: Birthday lessons learned
BY KAREN CAHN
FOUNDER AND CEO, IFUNDWOMEN
I can't believe it's been five years! It feels like 10 years—at least that's what the lines on my face and the greys in my hair would tell me, although you, my favorite audience, will never see them if I have it my way. 
They say that necessity is the motherhood of invention; my cofounders and I started IFundWomen because we were women founders who could not raise funding. We slogged it out for two years in our first startup and then it failed. Womp womp. 
One evening after we sunsetted startup #1, my co-founders and I were having what Alex Steinman, Co-Founder of The Coven, calls "sad margaritas" at a bar in Chelsea. It was during those sad margaritas when Kate, Sarah, and I realized that so much of our business struggles were due to a lack of funding and resources. So, in true IFundWomen fashion, we didn't sit around and complain about the funding problem—we did something about it. Enter: IFundWomen, the company we started to tackle the funding gap head-on. 
To be totally honest, I didn't know what I was getting myself into. I could have never anticipated the amount of success we've had so quickly, which further goes to show the urgency of the problem IFundWomen is addressing.
It's been a rollercoaster ride, as entrepreneurship often is, and I've learned more than I ever imagined I would. Since it's our birthday week, I thought I'd share some of the biggest lessons I've learned along the way.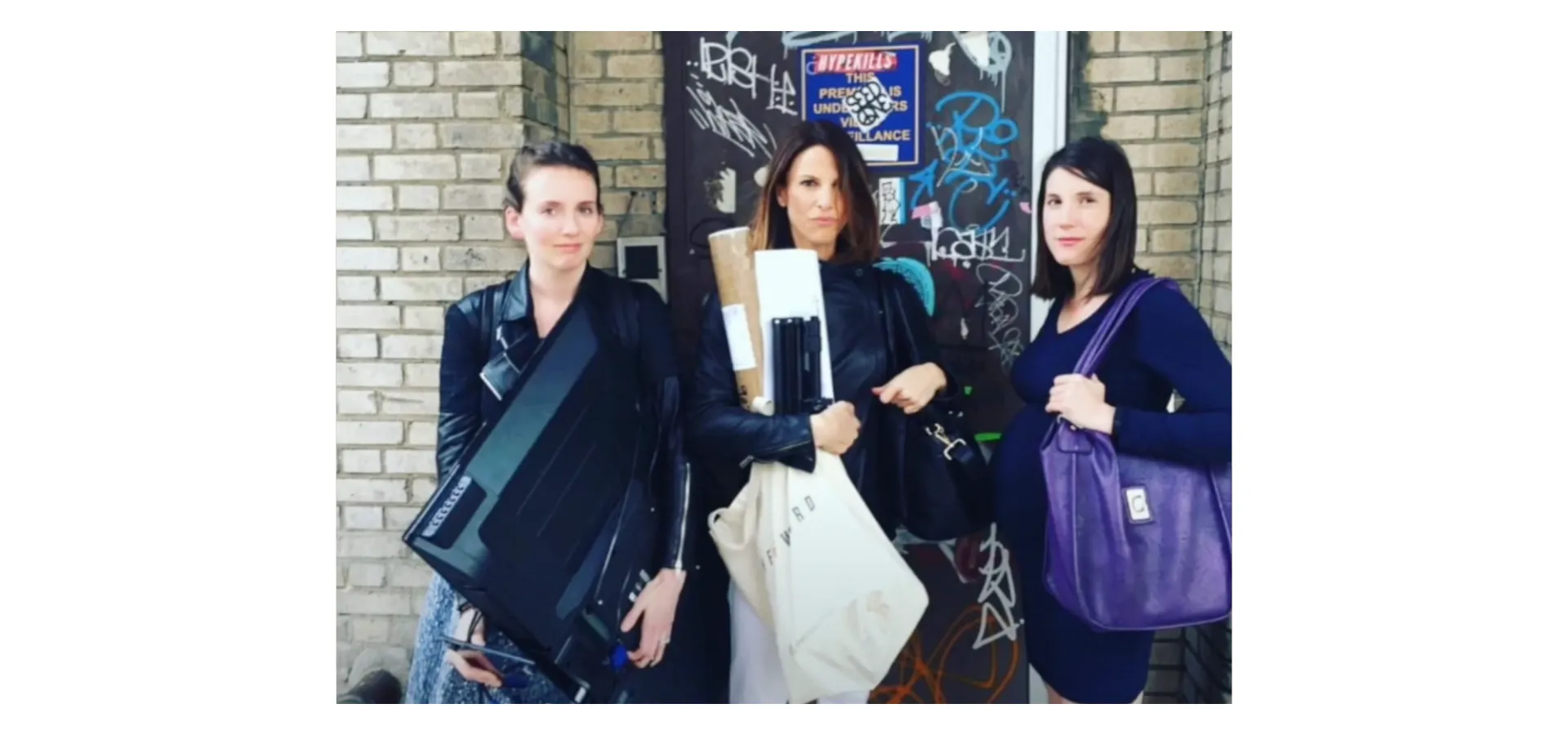 Lesson 1: Who you hire says everything about you and your company.
Firstly, and arguably most importantly, I've learned that who you hire says everything about you and your company. A core principle that I innately knew was that you need to hire people who look like your customers. It's simple logic, but only the earliest of wokedy-woke people knew this, i.e. people who give a shit. I am one of those people. 
When we got past our successful beta launch in Q4 of 2016, we started digging deeper into our customer research and we learned that out of the over 1,800 net-new businesses started EVERY DAY in this country, 89% were started by women of color. So, naturally, we hired diverse talent from the jump. Our team is full of extremely talented, brilliant individuals who all come from different experiences and backgrounds, so we never had to play the DE&I catch-up game. People want to work where they can see themselves in the executive leadership team.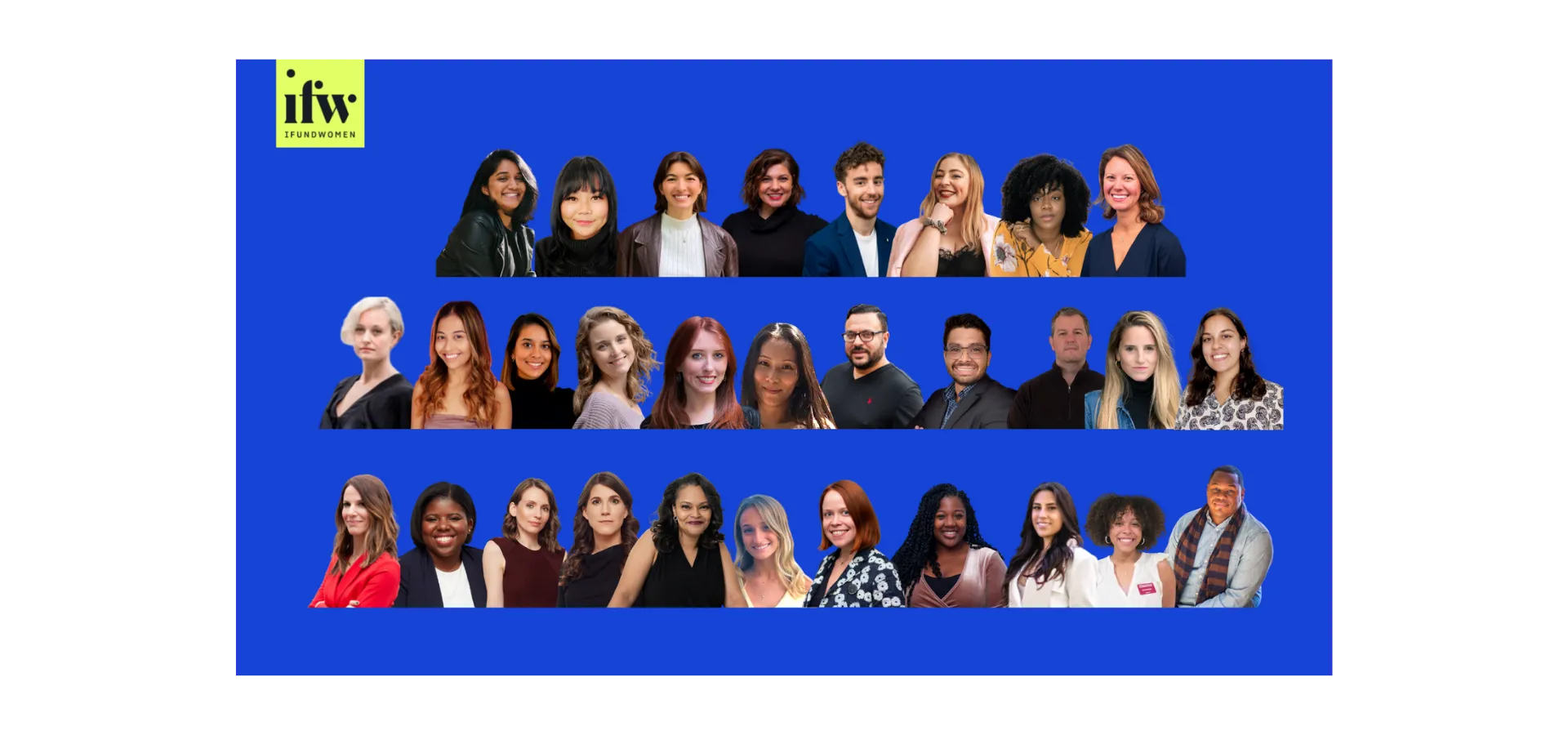 Lesson 2: There are multiple paths to funding.
This lesson is MAJOR. Only 1% of businesses in the U.S. ever get VC, and women-owned businesses only receive 2.3% of VC dollars. More importantly than these dismal VC stats, there actually are multiple ways to fund your business, so here's the Sparknotes version of our funding journey thus far: 
We crowdfunded $30K to build our MVP (minimum viable product). From our first startup, we learned that we can't go into debt funding our proof of concept. We opted to crowdfund, which was the best decision. We tested the waters to see if women entrepreneurs actually wanted what we were building. Spoiler alert: they did. 
 
We started to generate revenue. The best type of funding there is! Former Google Chairman and CEO, Eric Schmidt, always told us, "revenue solves all known problems." In year one, we did $111K in revenue with no money for marketing and a super janky MVP that we called "Frankenstein." I miss it. It was ugly and slightly mortifying, but it worked.
 
In late 2018, we entered a pitch competition and won a $100K equity investment into our company—our first official investment. That experience (which was terrifying btw), gave us the validation we were seeking to confirm that our company was "VC fundable" and the confidence we needed to go out and raise our seed round. We were determined to get our sliver of the 2.3% pie of VC dollars.
 
We capitalized on the momentum and press that the pitch competition garnered us, and started strategically planning our seed round. With the help of a VC coach (huge shout out Annie Evans at Dream Ventures) we raised our seed round during Women's History Month, 2019. It's important to point out that when we raised our seed, we had an ARR of $420K and 1,200 customers. We knew we needed to show major traction before we could raise VC because of our gender. Women can't just show up to the VC table with a pitch deck and an idea.
 
Another way we raised capital was through the 2020 Paycheck Protection Program, which is a forgivable loan designed to help employers keep their teams intact and working during the COVID-19 pandemic. That PPP check was a lifesaver as it helped us keep our entire team (16 people at the time) employed throughout the pandemic. Not so fun fact: Even though women own roughly 40% of the businesses in the U.S., we received a paltry 5% of the original PPP loans deployed—gross, America. 
 
This year, we secured a line of credit from our bank that we can tap into at any time if we need cash. 
Like I mentioned before, there is no one way to raise capital for your business. There are a lot of options, albeit many of them can be confusing. If you don't know about them, you just don't know. Hopefully, showing you our funding journey so far was helpful. Remember folks: the best funding any business can garner is from customers and revenue.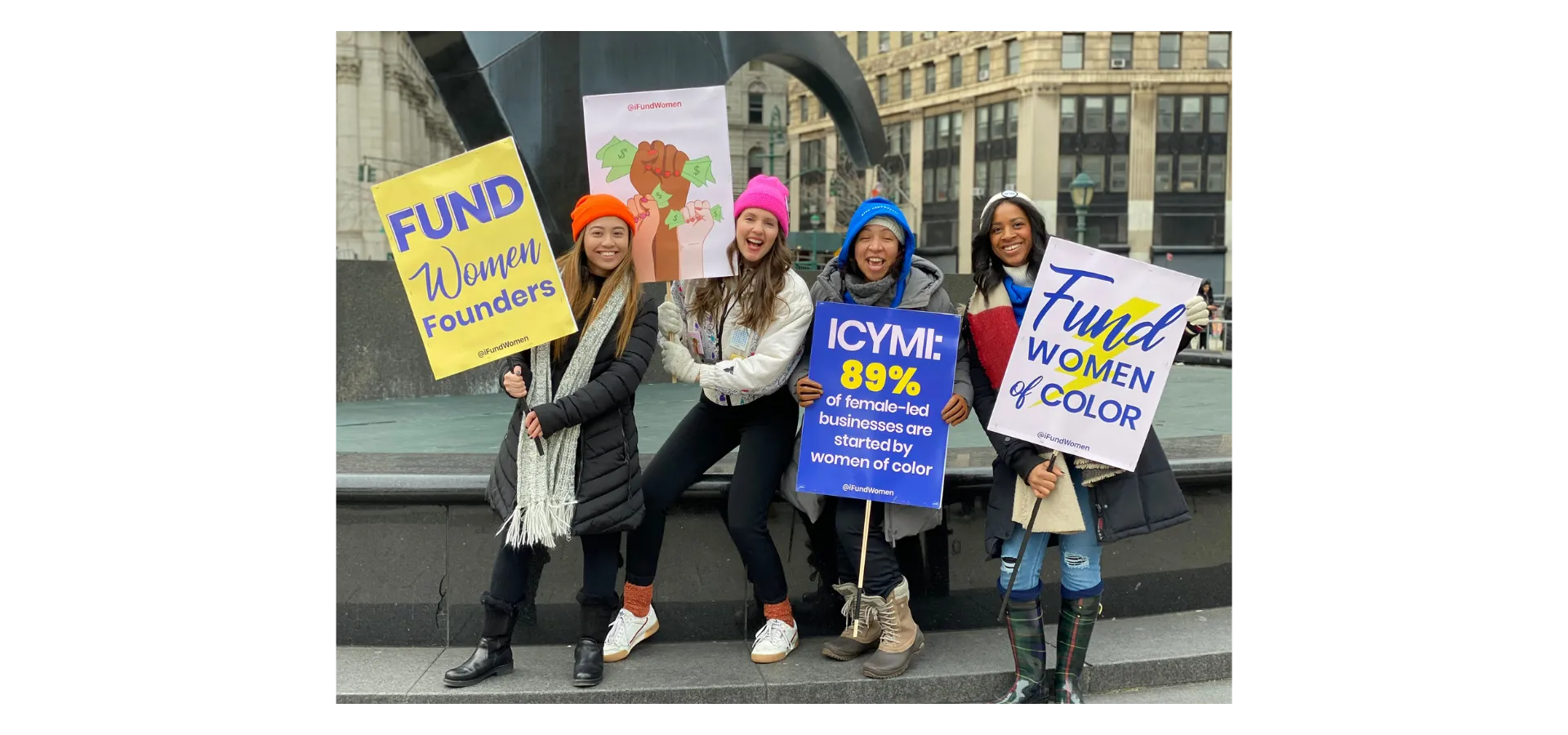 Lesson 3: All startups go through at least three near death experiences. 
Unfortunately, your startup is not a cat. It doesn't have nine lives. That said, you will face multiple near death experiences during your startup journey. I'll tell you one of ours:
When IFundWomen was in its early days, we were featured on a TV show and didn't realize it. Our website experienced such a rush of demand after the show aired that the site went down for five hours—longest five hours ever. I was on the New Jersey Turnpike coming home from driving my oldest to school. I had to turn off the Turnpike to a truck stop and work from my mobile, furiously getting in touch with our developers in the Ukraine while simultaneously talking to GoDaddy. Entrepreneurs were blowing up my phone because their supporters could not get through to fund their campaigns. We were losing revenue. I thought to myself, "Dude, this is it. IFundWomen is dying." We didn't die. 
Lesson 4: Celebrate the wins, big and small.
As startup founders, we are often so focused on executing on the businesses that we don't stop to celebrate the wins. Sure, we celebrate the big milestones like a successful beta test of a new product, raising a VC round, or crushing a sales goal. But, there are so many small wins along the way that deserve celebrating! For example, every time we get a love note commending our team on a job well done, we celebrate on our team Slack. Here are just a few of the hundreds of love notes we get at IFundWomen. We read and we celebrate them all.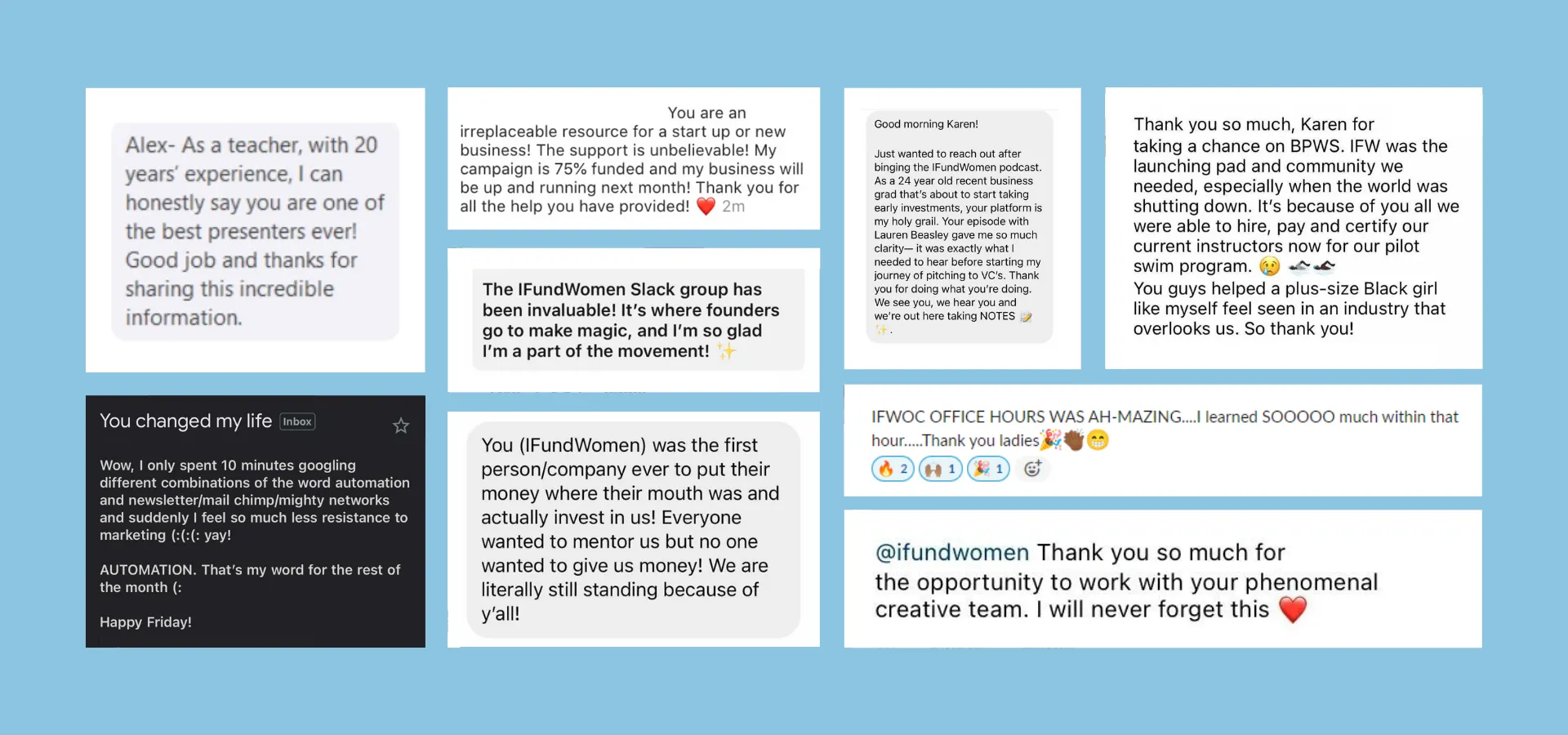 Lesson 5: Your network is your net worth
This is the holy grail. Over the past five years, I've seldom asked for help from our incredible network of investors, most of whom are highly successful women entrepreneurs. How dumb am I? Why didn't I ask for help?
I was always so focused on operationalizing the company and inventing new products that I didn't focus on cultivating this network of women who, when shit hits the fan, could come in and help or vice versa. I'm a true believer in what comes around goes around, and us ladies need to focus on the bigger picture: closing the funding gap. If we don't help each other we're not going to get there. 
I encourage you to be a cheerleader for other women who are trying to make systemic change. Put your money where your mouth is and fund something. Let's work together to get this shit done, quickly.
If you made this far in our birthday blog, we love you! Thanks for trusting us, thanks for funding us, thanks for cheering us on, and most importantly thanks for helping us close the funding gap.