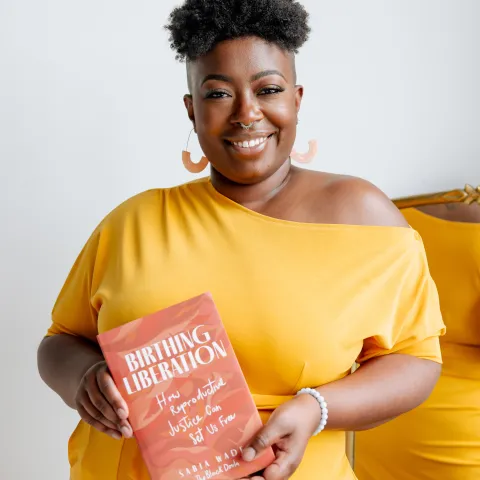 Sabia Wade, The Black Doula
Mentor & Coach
Sabia Wade (she/they), is a Black, Queer, CEO, Investor, Author, Educator, Full Spectrum Doula, and expander of Black Luxury. Sabia is the founder of Birthing Advocacy Doula Trainings, an accessible and inclusive training program for community care workers, and For the Village, a non-profit providing doulas at no or low-cost to low-income and marginalized communities in San Diego.
As a coach, board member, investor, educator, and programming development consultant for organizations throughout the Birth and Reproductive Health Industry, every part of Sabia's work centers on liberation of all people through Reproductive Justice. Her newest business, Loads of Pride, is a new frontier in the trucking industry, centering jobs for BIPOC & Queer individuals, and aims to show just how connected it all is. Her book, Birthing Liberation: How Reproductive Justice Can Set Us Free, is now available for purchase. 
At a glance:
Founder & CEO: The Black Doula Inc, Birthing Advocacy Doula Trainings (accessible & inclusive focused doula training)
Founder & CEO: For The Village Inc (non-profit providing low-cost to free doula services in the San Diego area)
Founder & CEO: Loads of Pride Logistics (BIPOC & queer focused trucking & logistics for the greater Atlanta Area)
Thinkific Top 1% Earner (two times in a row) 
Published Author, "Birthing Liberation: How Reproductive Justice Can Set Us Free", 2023 Chicago Review Press 
Features include Business Equality Magazine, The Advocate (2022 Advocate for Change), Insider, Capital B News, Ebony, Essence, Verywell Family, KPBS, San Diego Union Tribune, and more. 
Collaborating organizations include Cleo, Origin, Vanderbilt University, Baystate Health, March of Dimes, UCSD, National Perinatal Association, and more. 
Not seeing the service you need?
FAQ
What is the difference between Executive Coaching and Business Coaching?
Executive Coaching packages are reserved for more senior, high level executives often with outside funding, who are overseeing a larger organization with a bigger team. Business Coaching packages are reserved for start ups, small business owners and entrepreneurs who are not backed by outside funding and managing a much smaller business space.
What is the availability of the coach & mentorship sessions?
Typically, coaching sessions occur on Tuesdays or Wednesdays between the hours of 11-4pm ET, though I am happy to schedule time outside of this range as needed. Just reach out! 
Is there flexibility with cost?
Accessibility is important to me. That is why I offer a range of package options. If cost is a barrier, please feel free to reach out to me directly to discuss a possible arrangement.