Description

Updates

FAQ

Backers
Project Description
Everyone Wants a Healthy Scalp and Shiny Hair!

Lotus Rx Hair Solution first originated with my search for an everyday shampoo that provides moisture rich hair without stripping the color, as well as a healthy scalp (goodbye to dandruff). My goals were to use fresh healthy ingredients and make the packaging as green as possible. Since such a product did not seem to exist on the market, I used my biology background to design and formulate a shampoo and conditioner to fill this niche.  I researched every ingredient, sulfate free formulation and filled my kitchen counters with essential oils.  Working closely with an amazing chemist, after many batches of product we finally got it right!  Sustainable packaging required 100% recycled bottles printed with nontoxic dye, which was also a must. The blue lotus symbolizes the victory of the spirit and wisdom to use knowledge, which are core beliefs that guided me in creating Lotus Rx. Lotus Rx is already in circulation and is getting AMAZING reviews. I am excited for you to try out your new products and also be a part of the CLEAN and GREEN movement. – Katharine
Click Below to read the Buzz about Lotus Rx
http://www.lotusrxhairsolution.com/dandruff-con…
http://editiondigital.net/publication/?i=371849…
http://www.huffingtonpost.com/entry/cosmoprof-b…
http://icmad.org/innovators/icmad-city-awards-2016/product-innovation-haircare
http://www.beautynewsnyc.com/beauty-the-best/be…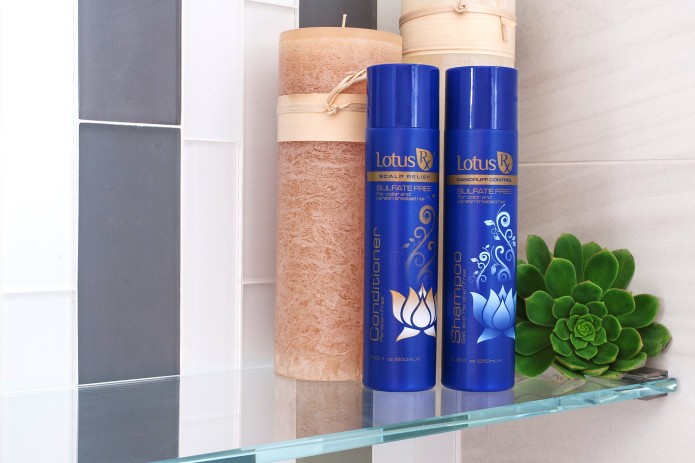 The Impact of Your Contribution
You will not just be pre-purchasing a bottle of each product in its new packaging, you will essentially be part of the CLEAN and GREEN movement. Lotus Rx Hair is packaged in unbleached plastic made from 100% recycled milk jugs  in a green manufacturing facility. Part of this "face lift" is also to replace a couple of ingredients from the original formulation. The new and improved Lotus Rx formulation is 100% CLEAN and GREEN. Supporting Lotus Rx Hair is moving toward a healthy alternative for both your body and the environment.
In addition, Lotus Rx Scalp relief conditioner is under investigation to be potentially used to alleviate the itchy, red, rash like symptoms associated with chemotherapy induced seborrheic dermatitis of the scalp (chemocap). This condition is similar to cradle cap in babies and commonly occurs when women undergo taxane based chemotherapy for breast, ovarian, fallopian, uterine, cervical etc. cancers. Currently there are no great treatments for this condition and one that can alleviate the itching and heal the raw skin underneath would be ideal. Initial results show that Lotus Rx does just that!
Additional info re Lotus Rx Hair Solution:
Formulation: sulfate, salt, dye, phalthate and paraben free. Chamomile and nettle added for reduction in redness and inflammation associated with a dry/dandruff or chemotherapy irritated scalp. Fat from baby coconut added for extra moisture

Scent: organic essential oils of sweet and bitter orange, grapefruit, vanilla. People tell me that its the best smelling dandruff shampoo they have ever smelled and they kind of want to drink it 🙂

Packaging: the bottles are manufactured at M&H plastics and are made of unbleached recycled milk jugs. The dye on the outside of the bottles is soy based. M&H is in the top 3 greenest factories in the US. They use high efficiency lighting, reuse all excess plastics (almost zero waste) and 100% recycled shipping pallets

Shipping: 100% recycled paper shippers

Customer Samples: ecofriendly, recycled cardboard samples (no aluminum lining) from Xela Pack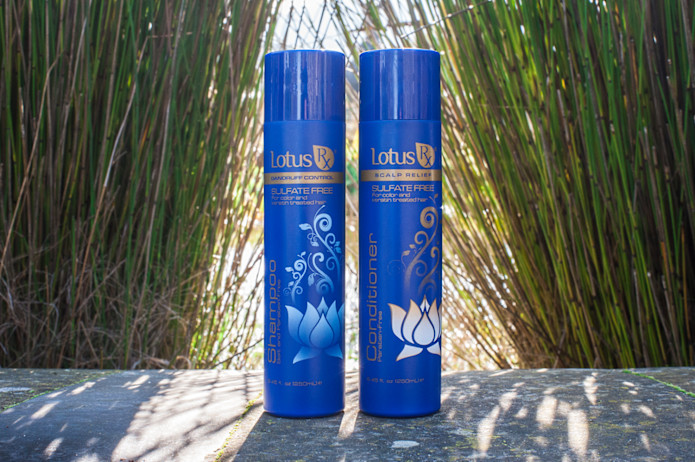 Why Pledge to this iFundWomen Campaign?
Indie brands fail every day due to the incredible and mounting challenges that come with breaking through the barriers inducted by the big box brands! Supporting a small independent, woman started business  allows for competition in the marketplace. It's good for business BUT it also has a greater good in that this allows people a choice in what sorts of products they want to use or consume. Whether it's pesticide free food or clean and green beauty, supporting independent development of goods and products is essential in today's monopoly driven world.
In addition, doing good while doing business is paramount to Lotus Rx. After 20 years of doing primary oncology research and caring for my own Mom throughout her breast cancer journey, I have learned that the need for gentle, alternative treatments to help get through the cancer process is increasingly important. Lotus Rx Scalp Relief was initially used on my Mom when she experienced chemo cap during a round of chemotherapy. Zinc based products are often suggested to relieve this condition but are reported to "burn" or be minimally effective. The Lotus Rx healing botanicals, anti inflammatory properties and nourishing oils treat both the flaky, itchy condition as well as the raw skin underneath. Ideally, we would like to be partnering with cancer support organizations that provide assistance to women undergoing chemotherapy. Further development in this area requires your contribution and support!
How This all Works



Pick an amount to pledge to the right and receive the perk associated with that package. If you pick the reformulated, repackaged Lotus Rx, these bottles will be ready to ship by January 2018, at the very latest. If you pick a Movember perk, I will immediately email you for your T-Shirt choice and size, these will be shipped out within a week so that you can ROCK your T-Shirt all November long! The collated beauty bags will all ship in 2-4 weeks post fund close. Finally, the WARRIOR Woman tribute and Founder's Friends posting will go up within a few days of your pledge. I will reach out to you personally to connect and see how you would like these two postings to be displayed.
SO , all that's left for you to do is pick your pledge amount!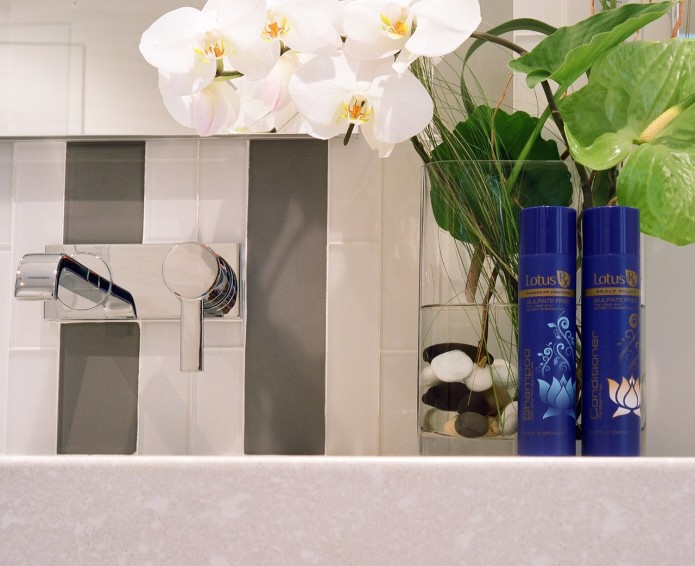 Other Ways That You Can Help…..
In addition to picking a perk to the right , lets get the word out!
You might not be able to contribute to this campaign with a lot of $$ and that is OKAY, but that doesn't mean that you cannot support this movement!
Please help get the word out and make some NOISE about this campaign.
Forward this link onto friends and colleagues that you think would find this interesting!

Share this campaign on Facebook and Twitter.

Follow @LotusRxHair on Instagram and tag your friends!
THANK YOU for Helping To LAUNCH Lotus Rx Hair Solution to the Next Level!
The Project FAQs
The Timeline:
When will you get your new and improved shampoo? The target is to complete the reformulation and packaging no later than the end of January 2018. The process has already started so chances are this target time frame will not just be met but exceeded!
Risks and Challenges:
As with any project there are risks. Lucky for both of us, I am both a biologist AND a project manager with over 20 years of results driven experience! The new formulation is underway and the design team has started the new packaging! I would categorize this contribution as little to no risk. I know that you are going to LOVE your new Lotus Rx Hair Shampoo and Conditioner and I'm excited for you to be a part of this! THANK YOU so much for your support!!